page 14

Pardon me
are you the janitors wife

page 147
caught a Greyhound
Bus from Monterey to Salinas. On the
Bus I was the person
woman with about
sixty Italian fishermen
and I've never met
sixty such charming gentlemen—they
were wonderful. Some
company was sending them
downstate where their boats
and (they hoped) fish were
waiting for them. Some
could hardly speak english
not only do I love Greeks
[illegible] I love Italians.
they're warm, lusty and friendly
as hell—I'd love to go to
Italy someday.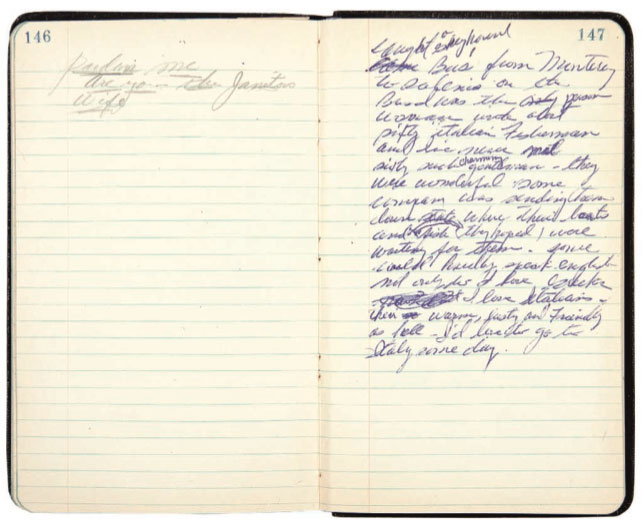 From a 1951 notebook, written by Marilyn during filming of Love Nest. The first line is from the script; the second may have been written during filming of Clash by Night in Monterey less than a year later, shortly after her love affair with Italian-American baseball star Joe DiMaggio began.
This and other excerpts from Fragments: Poems, Intimate Notes, Letters are featured in 'Marilyn and her Monsters', an article for November's Vanity Fair. A complementary piece, 'The Writing on the Wall', analyses Marilyn's large, extravagantly looped handwriting (which I have often seen as a reflection of her open, generous yet somehow elusive spirit.)