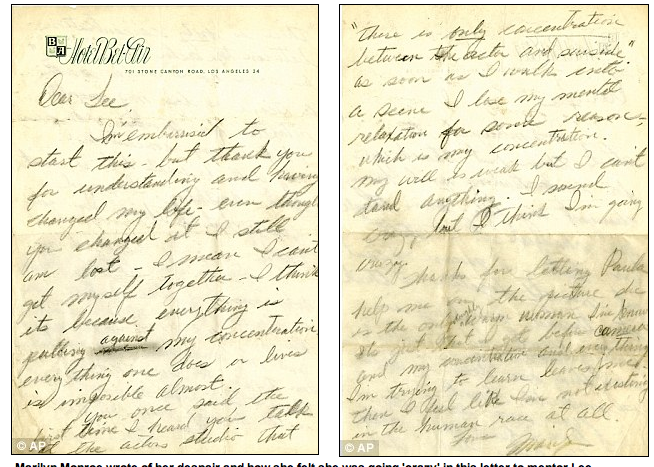 A very private and rather sad letter that Marilyn wrote to Lee Strasberg is to be auctioned by Profiles in History on May 30th. It will also be included in a preview exhibition at the Douglas Elliman Gallery on Madison Avenue, New York, from April 8th-16th, reports Yahoo.
Personally, I find it distasteful that such an item has been put on the open market – especially since many news sites have sensationally  described it as 'suicidal'.
All of Marilyn's letters have historic value, of course, and should be preserved – but in a university, library, or museum. Her emotional pain should not be exploited for profit.
It was written on Hotel Bel Air paper, and so may date from the filming of Some Like it Hot, a notoriously stressful shoot.
Her handwriting is quite difficult to read, but members of the Everlasting Star forum have been working on a transcript:
"Hotel Bel Air
701 Stone Canyon Road Los Angeles

Dear Lee,

I'm embarrassed to start this but thank you for understanding and having changed my life – even though you changed it I still am lost. I mean I can't get myself together – I think it's because everything is pulling against my concentration, everything one does or lives is impossible almost. You once said, the first time I heard you talk at the Actors' Studio that 'there is only concentration between the actor and suicide.' As soon as I walk into a scene I lose my mental relaxation for some reason, which is my concentration. My will is weak but I can't stand anything. I sound crazy, but I think I'm going crazy.

Thanks for letting Paula help me on the picture. She is the only thoroughly warm woman I've known. It's just that I get before the camera and my concentration and everything I'm trying to learn leaves me. Then I feel like I'm not existing in the human race at all.

Love
Marilyn"