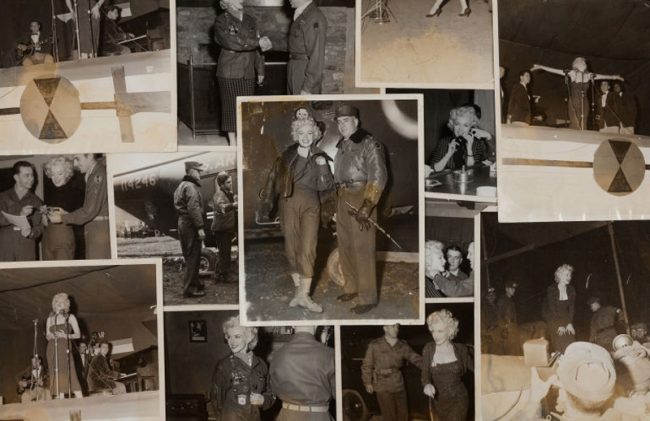 Heritage Auctions are holding an Entertainment & Music Memorabilia sale on August 10th, including several very desirable Marilyn-related items. Among the lots, two sets of rare Korea photos have attracted the attention of the Daily Mail:
"A set of 13 black and white photographs, taken by an official army photographer, capture touching behind the scenes moments from the tour.

Monroe, who was aged 28 at the time, is seen in combat boots and black trousers and a flight jacket chatting to soldiers and signing autographs in the 8ins by 10ins prints.

Several images show her on stage wowing crowds in a sparkling cocktail dress while in others she is wearing her famed houndstooth dress from her film Gentlemen Prefer Blondes.

A set of four colour slides depict Monroe mingling and laughing with troops and signing autographs.

A 90-second clip of unseen footage from the visit shot by a young soldier shows her arriving in an army helicopter, meeting troops then leaving in the helicopter.

The images were bought by a collector in the 1990s direct from the photographer and have never been published.

Margaret Barrett, director of entertainment at Heritage Auctions, said: 'These photos came from a collector who bought them about 18 years ago for very little money.

'It isn't known who shot the photos but we think it would have been an official Army photographer because they are professional images.

'There were thousands of soldiers there all with their cameras but these photos show Marilyn behind the scenes posing for the camera and signing things for VIPs.

'It was the only trip she did to see troops and in fact she only ever visited England after that trip – she wasn't a world traveller.

'These photos are really nice and have never been seen before. The photographer was with Marilyn at all the events she went to while in Korea.'

'There are not too many quality photos of this trip, especially ones such as these which capture the behind the scenes moments.'"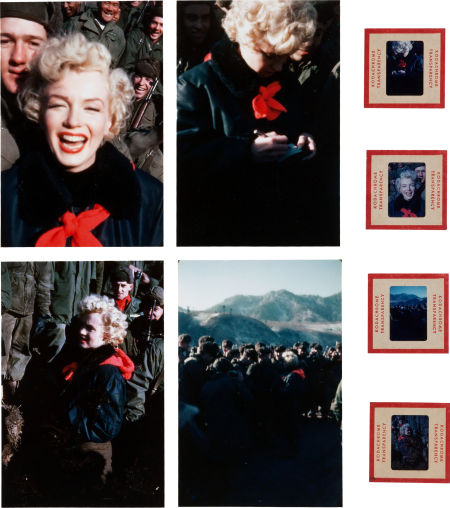 Also on offer is the 'possibly worn' silver evening gown from Love Happy; some offscreen clothing; letters from Jean Negulesco and William Inge, and one from Marilyn to Inez Melson; two books owned by MM; and scripts for Don't Bother to Knock, Gentlemen Prefer Blondes, How to Marry a Millionaire and Let's Make Love.

And finally, this rather sweet photo was taken on the set of Love Nest in 1951.