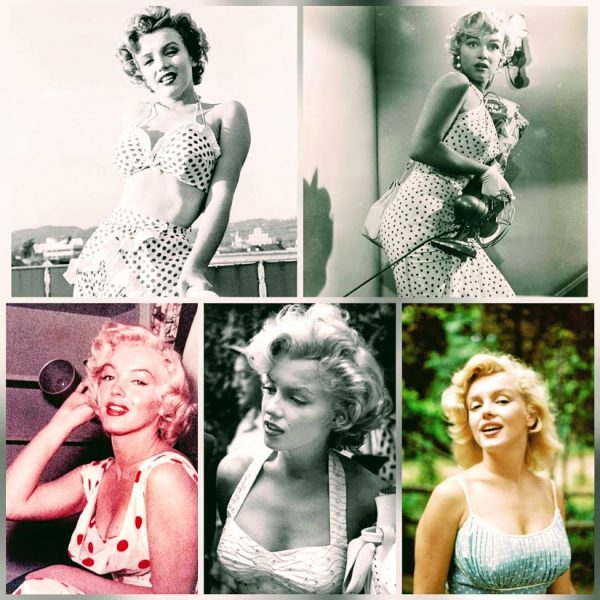 As Shelby Rowe Moyer notes in her 'History of the Polka Dot' for South Sound magazine, Marilyn wore a number of polka-dot dresses (and a bikini) to great effect. Originally known as Dotted Swiss, the print took off during the Industrial Revolution and later renamed after the Polka, a Czech peasant dance popularised in the 1830s.
In 1926, the year Marilyn was born, Norma Smallwood seized victory in the Miss America contest wearing a polka-dot bathing suit, and launched a fashion craze. In 1952, Marilyn wore an ivory rayon Ceil Chapman dress with oversized red polka dots while visiting Atlantic City, where she greeted contestants in that year's Miss America pageant. A year prior, she had caused sensation on the Love Nest set by sporting a bikini with hot pink polka-dots designed by Renié, and considered daring for the era.
The white cotton halter-neck sheath dress that Marilyn wore to Grauman's Chinese Theatre in 1953, designed by Dorothy Jeakins, wasn't quite 'polka-dot' but spotted with eyelets. Marilyn makes her first entrance in The Seven Year Itch (1955) wearing a polka-dot dress, one of Travilla's spectacular designs for the film. And finally, she wore a blue polka-dot sundress for a photo shoot with Sam Shaw in 1957.