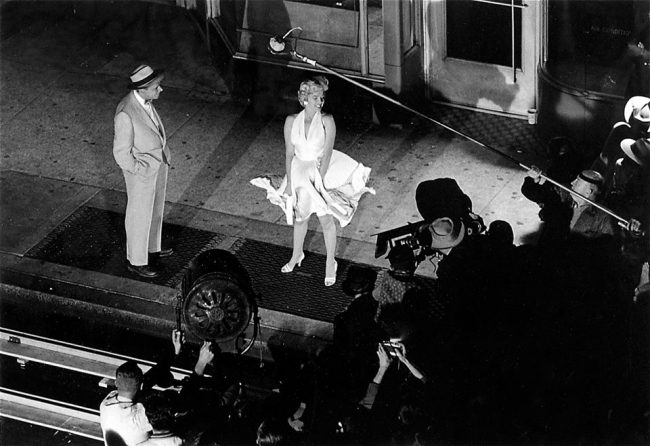 Over at the Village Voice, Molly Fitzpatrick looks at New York's many iconic movie locations with blogger Nick Carr (Scouting New York) and Sarah Louise Lilley, a guide for TCM's On Location tours.
"At times, there was an almost virtual reality–like quality to the experience, when Lilley's commentary and film clips, cued up to play on overhead monitors when we passed the real-life locations within them, transformed the present-day city seen from the bus windows into a long-lost version of itself … Had Lilley not pointed it out, the subway grate at 52nd Street and Lexington Avenue where Marilyn Monroe famously posed in The Seven Year Itch could have been any one of the city's thousands and thousands more just like it, unglamorously trod on every day by locals and visitors alike.

Sutton Place, as seen in 'How to Marry a Millionaire'

Both Lilley and Silverman cited Sutton Place Park as their favorite movie landmark on the tour, a tiny, peaceful lookout onto the East River with a stunning view of the Queensboro Bridge … Sutton Place is the swanky, townhouse-lined neighborhood that lies just south of the bridge. 'The history of New York and the history of film is beautifully interwoven there,' Lilley says. In the early-twentieth century, the same stretch of East River waterfront was home to not only luxurious apartments with views to match, but poverty-stricken tenements and the gangs who inhabited them, as depicted onscreen in 1937's Dead End. By 1953, Sutton Place had become the must-have address for the trio of enterprising husband-seekers — Marilyn Monroe, Betty Grable, and Lauren Bacall — in How to Marry a Millionaire."

The interior of the Sutton Place South building was recreated in Hollywood – but Marilyn would rent an apartment there in 1956.