In our final post ahead of the closing bids in the November 11 event at Julien's Auctions, A Southern Gentleman's Collection, we focus on Marilyn's marriage to Arthur Miller and the last years of her life. (You can read all posts about this sale here.)
"A group of six audio recordings including: 1) a late 1950s-era 3-inch reel tape (Type 151) featuring interviews Monroe conducted with Look magazine and Chicago disc jockey Dave Garroway, housed in its original box with handwritten annotations reading in part 'May Reis' [Monroe's longtime New York-based secretary]; 2) a 33 1/3 RPM record labeled "M. Monroe – Belmont / Side 1 / Side 2[her 1960 interview with Georges Belmont for Marie Claire]; 3) another 33 1/3 RPM record identical to #2 but sides 3-4; 4) another 33 1/2 RPM record identical to #2 but sides 5-6, content unknown on all; 5) a 78 RPM record on the RCA Victor label of the star singing 'The River of No Return' and 'I'm Gonna File My Claim;' and 6) a 45 RPM record same as the 78; further included with a CD of the reel tape; all originally from the Estate of May Reis. And sold separately, a publicity still from River of No Return, autographed by Marilyn."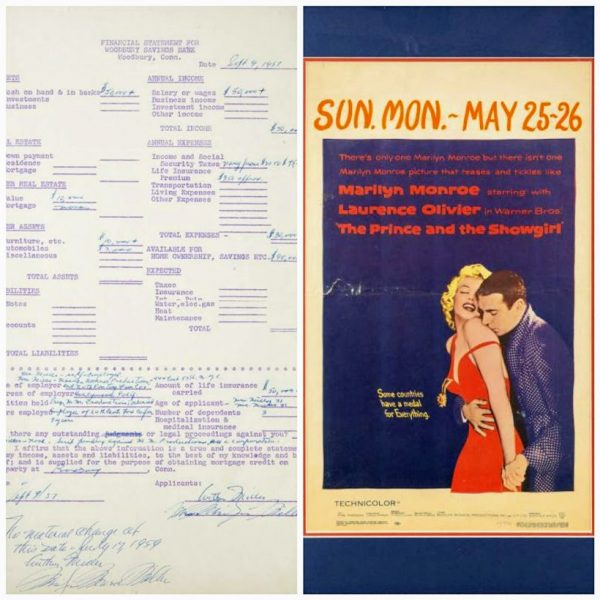 "A legal-sized financial document from Woodbury Savings Bank in Connecticut, two hole punch marks on left side, dated 'Sept. 9, 1957,' filled out in blue fountain pen ink by Arthur Miller, briefly outlining the couple's finances, noting their annual income as '$50,000,' interestingly, Miller adds that there is a 'suit pending against M.M. Productions,' both signed twice on the lower margin, with MM's reading 'Marilyn Monroe Miller;' also included is a related photocopied document from the same bank." And sold separately, a window card for The Prince and The Showgirl (1957.)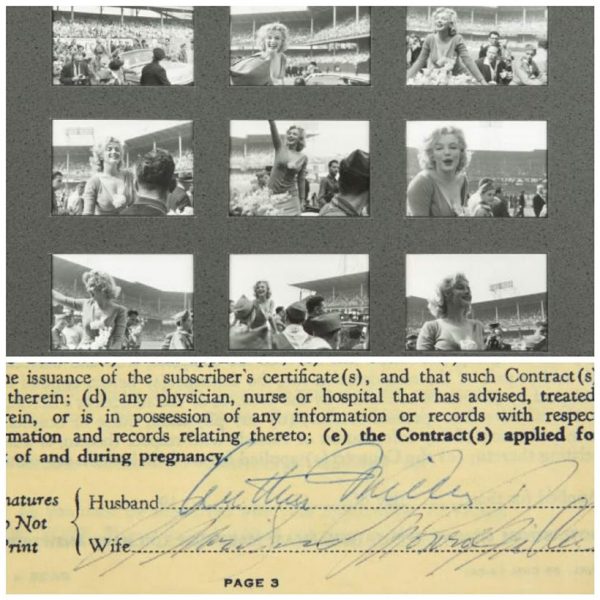 "Nine original snapshots depicting Marilyn at Ebbets Field in Brooklyn on May 12, 1957 as she makes a guest appearance at a soccer match between the U.S. and Israel. And sold separately, a medical insurance form from Associated Hospital Service of New York, entirely filled out in blue ballpoint ink by Miller when the couple was applying for insurance, noting their address on 'Tophet Road, Roxbury, Conn.' and noting Monroe's health issues as 'Appendix Removed / 5% (hearing) impairment, Ectopic Pregnancy,' oddly, Miller checked off 'no' under 'female trouble' for his wife, signed by Miller on page 3 and further signed by Monroe right below but in different blue ballpoint ink."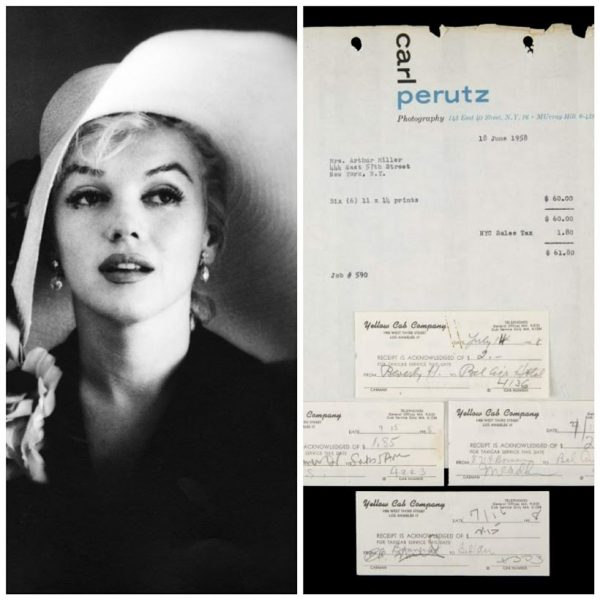 "Miscellaneous paperwork from 1958 including: an invoice from Carl Perutz Photography sent to Marilyn at her NYC address on '18 June 1958;' and four receipts from the Yellow Cab Company of Los Angeles ranging in date from July 14 to July 16, 1958, showing that MM was at the Hotel Bel Air, Saks Fifth Avenue, and a mysterious address at 8719 Bonner Drive; though her name does not appear anywhere on the receipts, they come from the same files as the Perutz invoice."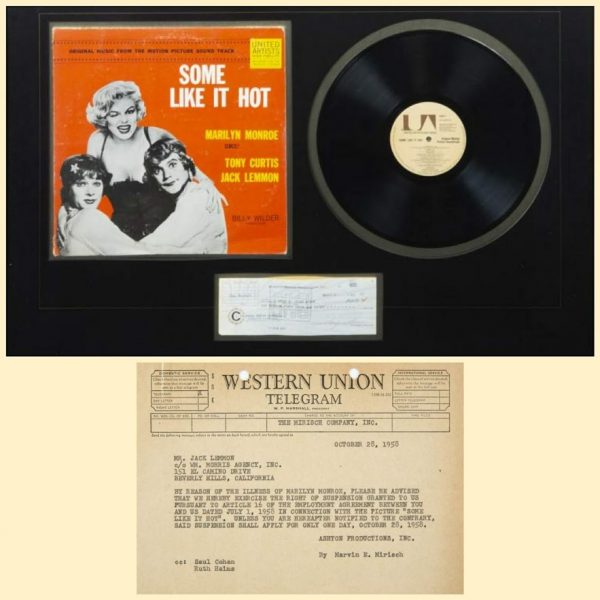 "Telegram dated October 28, 1958, sent to Jack Lemmon by the producer of Some Like It Hot, reading in part 'By reason of the illness of Marilyn Monroe, please be advised / that we hereby exercise the right to suspension…;' and sold separately, a standard check from the 'Marilyn Monroe Productions, Inc.' account … matted under a 1970s-era re-issue soundtrack album from Some Like It Hot."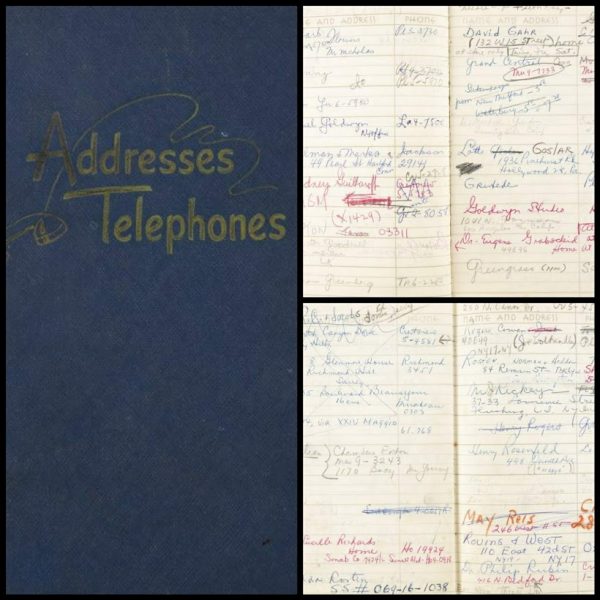 "A standard address book with navy blue leather covers and A to Z tabs, kept by May Reis [Monroe's longtime New York secretary] on the star's behalf for a number of years, inside pages contain Reis' handwritten entries in pencil or various colors of ballpoint ink for Monroe's personal and business contacts including (in alphabetical order): Rupert Allan, Elizabeth Arden, Richard Avedon, Kenneth Battale, Saul Bellow, Chateau Marmont, Michael Chekhov, Jack Cole, George Cukor, Lilly Daché, Agnes Flanagan, Bob Fosse, Ben Gazzara, Lotte Goslar, Sydney Guilaroff, Lillian Hellman, Hedda Hopper, Hotel Bel Air, John Huston, William Inge, Jax, Anne Karger, Marianne Kris, Leon Krohn, Ann Landers, Erno Laszlo, Jean Louis, Carson McCullers, Inez Melson, Isidore Miller, Berniece Miracle, Monroe Six, Eunice Murray, Jean Negulesco, Norman Norell, Clifford Odets, Louella Parsons, Lena Pepitone, The Plaza Hotel, Henry Rosenfeld, Hedda and Norman Rosten, Eva Marie Saint, Norma Shearer, Frank Sinatra, Sidney Skolsky, Allan Snyder, John Steinbeck, Paula Strasberg, Western Costume Co., Billy Wilder, and Shelley Winters, among a few others; also included are a few notes relating to the stars personal identification numbers as well as bank accounts; Reis' ownership signature is penned on the second page next to a date of '1958;' Monroe penciled in a note on the last page reading 'Roxbury Conn. / Tophet Rd.'"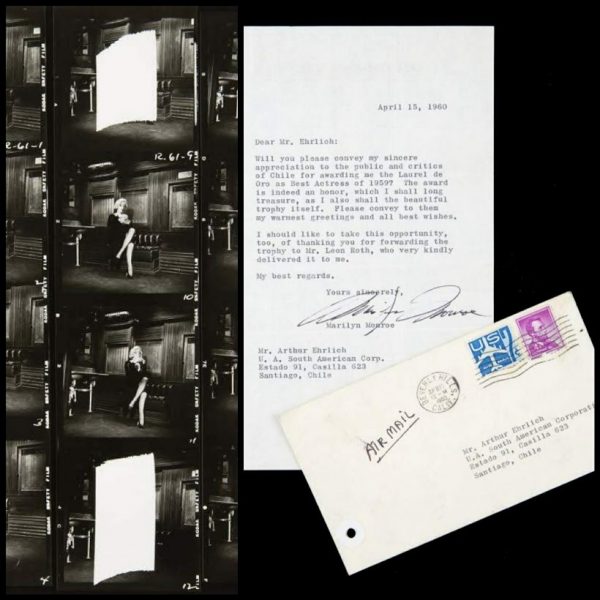 "A single page of personalized stationery, dated 'April 15, 1960,' to 'Mr. Ehrlich,' reading in part 'Will you please convey my sincere appreciation to the public and critics of Chile for awarding the Laurel de Oro as Best Actress of 1959,' signed in black fountain pen ink in the lower right corner 'Marilyn Monroe;' with its original transmittal envelope. And sold separately, a contact sheet showing Marilyn in a scene from Some Like It Hot (1959.)"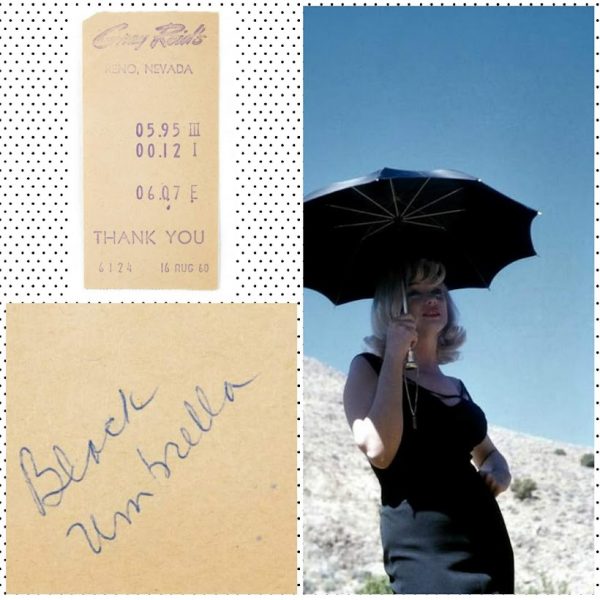 "A small receipt from Gray Reid's in Reno, Nevada noting a date of '16 Aug 60′ and that '$6.07' was spent, verso has a blue ballpoint ink handwritten annotation (not in MM's hand) reading 'Black / Umbrella' — probably the umbrella that Marilyn bought for her acting coach, Paula Strasberg, during shooting of The Misfits."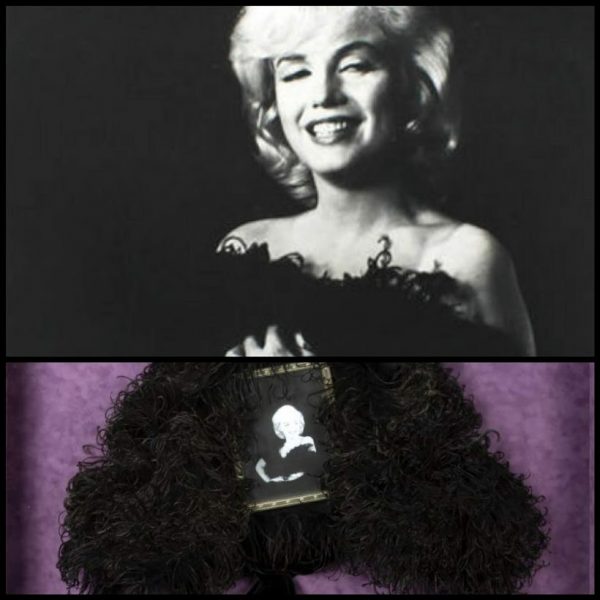 "A black silk and ostrich feather wrap with two black velvet arm straps, label reads 'Made to Order / Rex / Inc. / Beverly Hills / California;' displayed in a shadow box with a black and white image of the star wearing it during a 1960 photo shoot with Eve Arnold. Interestingly, this piece may have been used as a prop in MM's last and unfinished 1962 film, Something's Got To Give as a similar wrap can be seen in her tote bag in the sequence where she watches her children in the swimming pool. "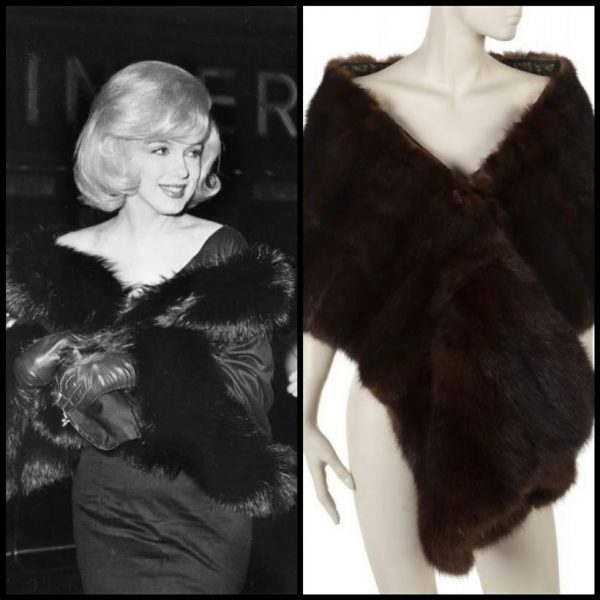 "A deep brownish-black mink fur stole, rectangular shaped with slightly flared ends, lined in a black and gold brocade textured raw silk, no labels present." [Worn by Marilyn to the premiere of The Misfits in 1961.]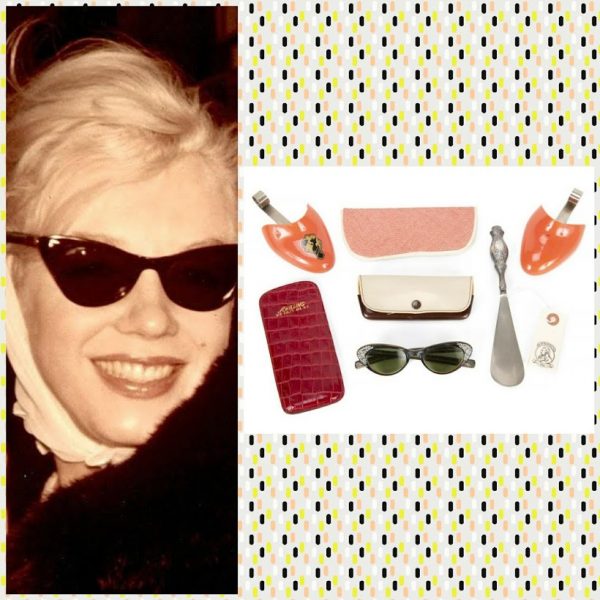 "A group of seven accessories including: 1) a pair of cat eye sunglasses with rhinestone detailing; 2) their case made of beige vinyl and brown plastic, stamped 'Cosmetan / Sun Glasses;' 3) a cordovan alligator eyeglass case stamped in part 'Schilling;' 4) a red cotton eyeglass case with a label reading in part 'Devonaire of California;' 5) a sterling silver shoe horn, stamped 'Sterling' on both sides; and 6-7) a pair of orange plastic shoe trees."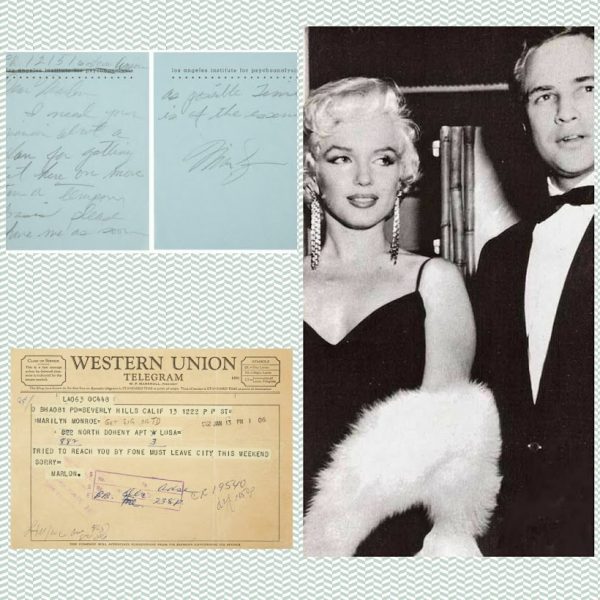 "A two page hand-written note on light blue pieces of notepaper from the Los Angeles Institute for Psychoanalysis, penciled by the star in full "'CR 12151 Western Union / Dear Marlon / I need your / opinion about a / plan for getting / Lee out here on more / than a temporary / basis please / phone me as soon / as possible / Time / is of the essence / Marilyn;' evidently written for a telegram that she was sending to Brando about Actors' Studio head Lee Strasberg. And sold separately, a telegram from Brando dated '1962 Jan 13,' sent to Marilyn at her '882 North Doheny Apt 3' address, reading in full 'Tried to reach you by fone must leave city this weekend / sorry / Marlon,' with a number of stamps and other handwritten delivery annotations evident; seeming to be Brando's response to Monroe's note."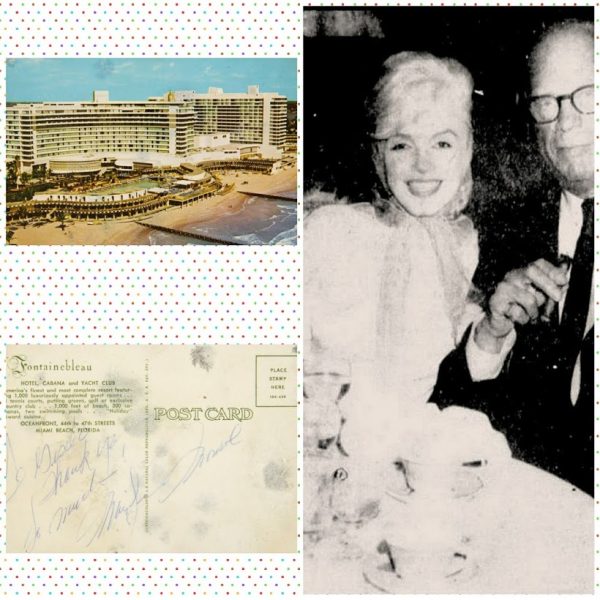 "A standard postcard from the Fontainebleu Hotel in Miami, signed in blue ballpoint ink on the verso 'To Gisele / Thank you / so much! / Marilyn Monroe.'" [Marilyn stayed overnight at the Fontainebleu in 1962 with her former father-in-law, Isidore Miller.]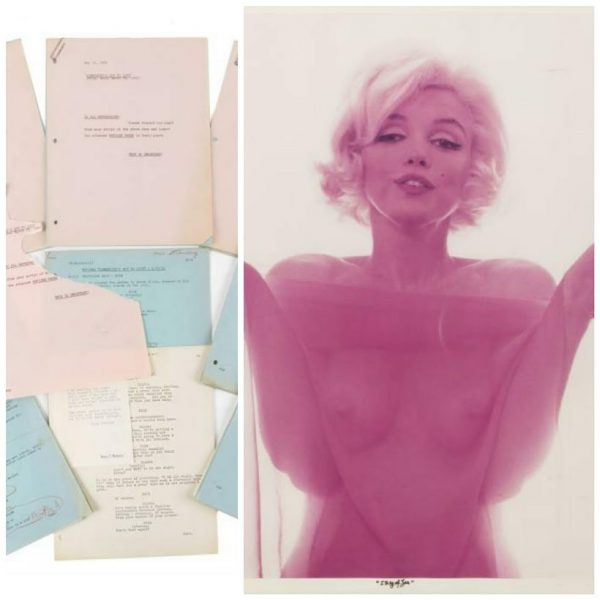 "A large collection of approximately 130 loose-leaf 'colored' script change pages given to the star throughout the production of Something's Got to Give, as the script was being revised on a regular basis, noting numerous and various dates in April and May of 1962, many pages are paper-clipped or stapled together by their revision date, a number of them have the star's name penned in the upper right hand corner (though not in her hand) or small notes addressed to her, Monroe's own handwritten annotations appear on a few pages, mainly as directions to herself such as 'drop voice – / lean against post' or additional dialogue she added such as 'if you'd take it out' and the like, she also circled her character's name ["Ellen"] on many pages; two pink pages are torn with one having Monroe's penciled annotation reading 'No good one.' And sold separately, an oversize colour photo taken during Marilyn's 1962 session with Bert Stern for Vogue magazine, entitled 'I Beg Of You'."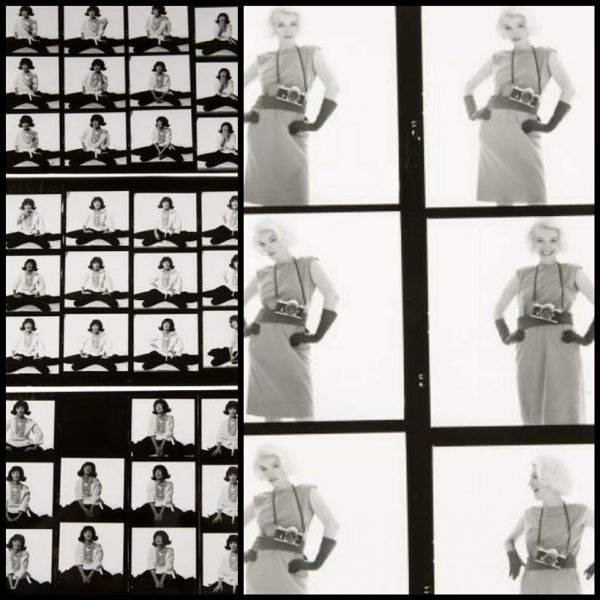 Sold separately, these contact sheets are among several lots featuring photos by Bert Stern.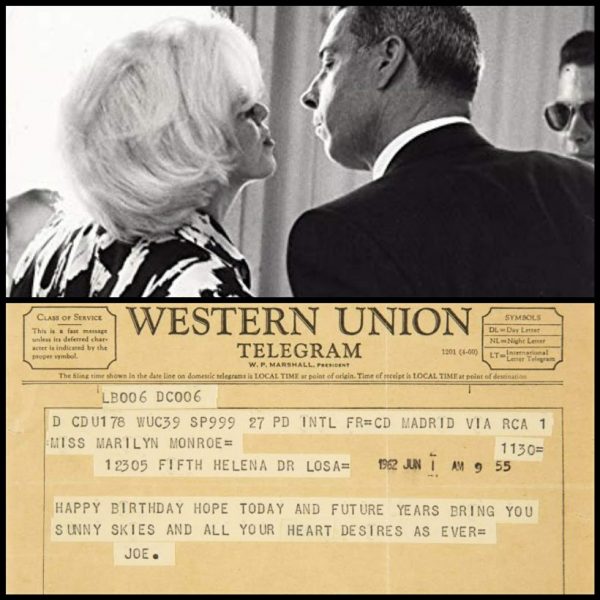 "A telegram dated '1962 Jun 1 AM 9 55,' sent to Marilyn at her Fifth Helena Drive address in Brentwood, CA, reading in full 'Happy Birthday Hope Today And Future Years Bring You / Sunny Skies And All Your Heart Desires As Ever / Joe' — most likely DiMaggio as it was sent from 'Madrid Via RCA.'"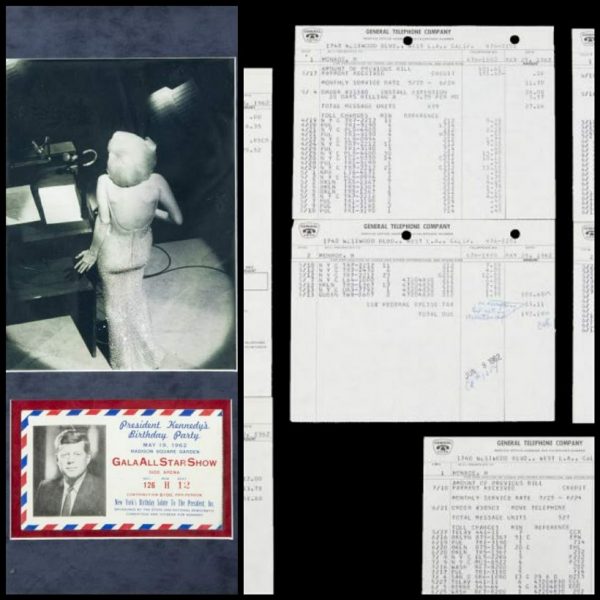 "A ticket reading in part 'May 19, 1962 / Madison Square Garden / Gala All Star Show' — the now-historic event celebrating President John F. Kennedy's 45th birthday, plus a photo of Marilyn during her performance of 'Happy Birthday, Mr President'. And sold separately, a group of four telephone bills, sent to "M. Monroe" from General Telephone Company, ranging in date from April 30 to July 30, 1962, listing all the long distance calls she made to cities noted on the bills as 'NYC, Bkln, Queen, Wbury, Engla, Telav' and, most interestingly, to 'Wash' a number of times in July — so maybe she was calling the Kennedys?"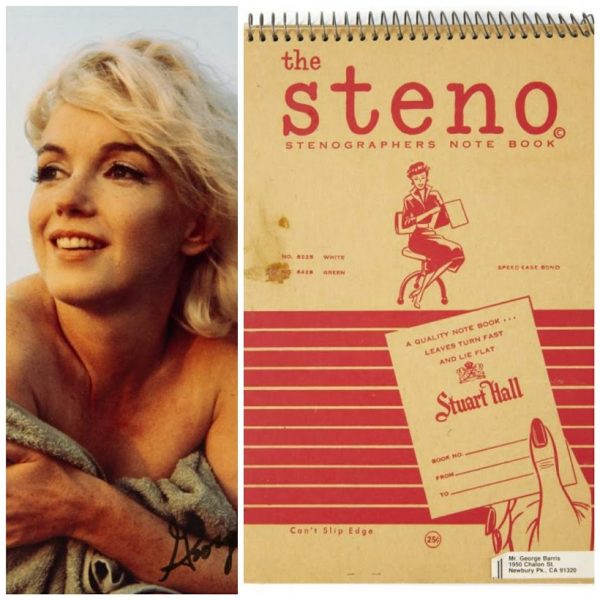 "A 1960s-era Steno spiral-bound notebook filled with about 45 pages of notes and reminiscences penned in blue ballpoint ink that George Barris wrote down while he was working with the star in the summer of 1962; appearing to be taken verbatim from conversations the two had, the subjects mentioned are quite varied and range from Monroe's favorite films to her health to people on her mind at that particular time such as President Kennedy, Arthur Miller, Joe DiMaggio, Cyd Charisse, Marlon Brando, Paula Strasberg, and Greta Garbo; other topics include living in California, nude scenes in films, her termination from her last film, sex, on being a sex symbol, marriage, children, and life philosophy in general; some of the notes appear to have been jotted down later or even after the star's death but in any case, it's a fascinating look into the star's psyche as recounted by someone who closely worked with her at the very end of her life. And sold separately, a signed photo by Barris.