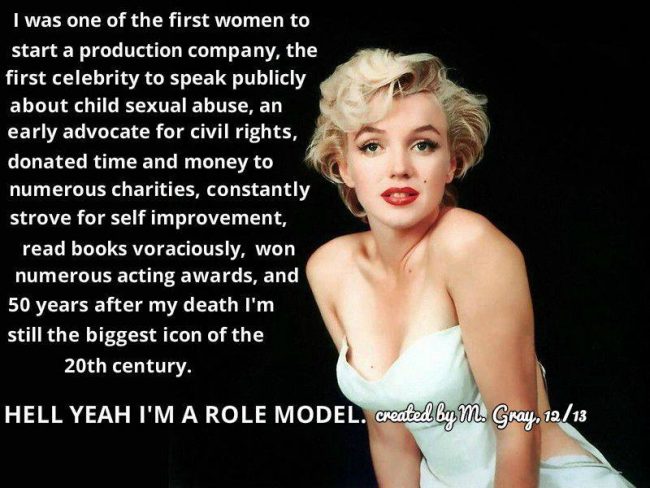 In recent weeks, two articles have been posted online, suggesting that Marilyn is a bad influence on young fans. Firstly, Jenna Sauber's 'Marilyn Monroe Not a Positive Role Model for Today's Women', published at K-State Collegian; while on Thought Catalog, Charlotte Green writes, 'Young Women, Please Stop Idolizing Marilyn Monroe.'
If nothing else, the similarity of these posts show that these concerns are hardly original. Their sentiments have also been echoed in more offensive, 'slut-shaming' memes. It doesn't help that a lot of these prejudices are based on unconfirmed rumours and misattributed quotes.
Firstly, I think it's a mistake to set up celebrities as role models. They are only human, with flaws like everyone else. But secondly, as the meme posted above illustrates, Marilyn had many admirable qualities and achieved a great deal in her short life. And thirdly, young people aren't as dumb as they're sometimes labelled. They are perfectly capable of forming their own opinions. Fourthly, I believe that most fans respond to Marilyn's warmth, intelligence and talent, and not just the glamorous image.
To understand the real Marilyn, and why she still has such a strong impact on our culture, I recommend reading a reputable biography (such as Michelle Morgan's MM: Private and Undisclosed), or Marilyn's own writings, My Story and Fragments. And for starters, try Marijane Gray's article, The Underestimation of Marilyn Monroe.