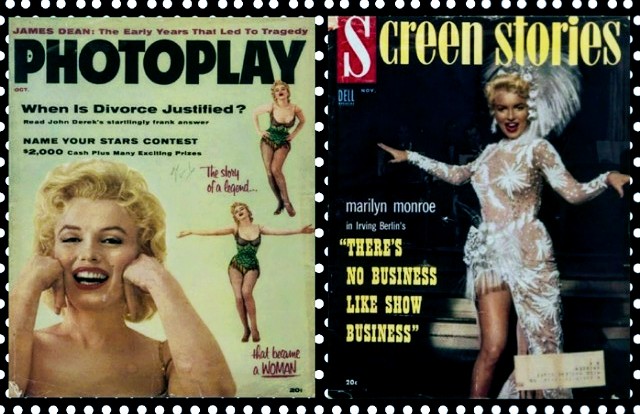 This is my final post before tomorrow's sale at Julien's, Property From The Life and Career of Marilyn Monroe. (You can read all my posts on the auction here.)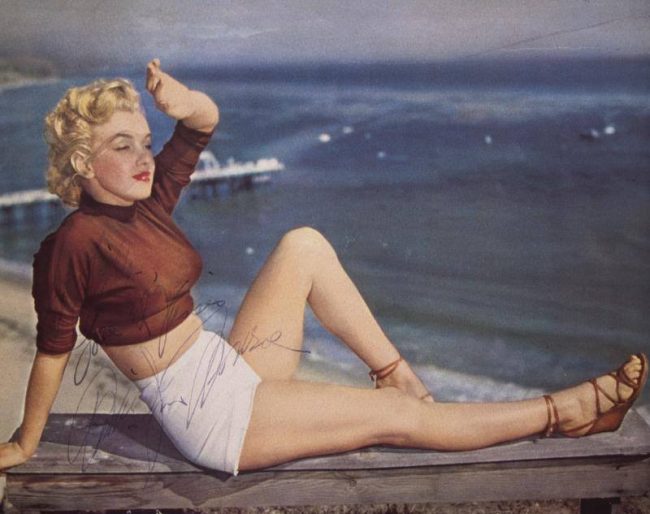 "A page likely removed from a magazine and then glued to a piece of black construction paper, depicting MM posing by the ocean, signed in blue fountain pen ink on the left side 'To Linda, / Love and Kisses, / Marilyn Monroe' — Linda being child actress Linda Bennett who had the star sign a number of items for her."


SOLD for $4,480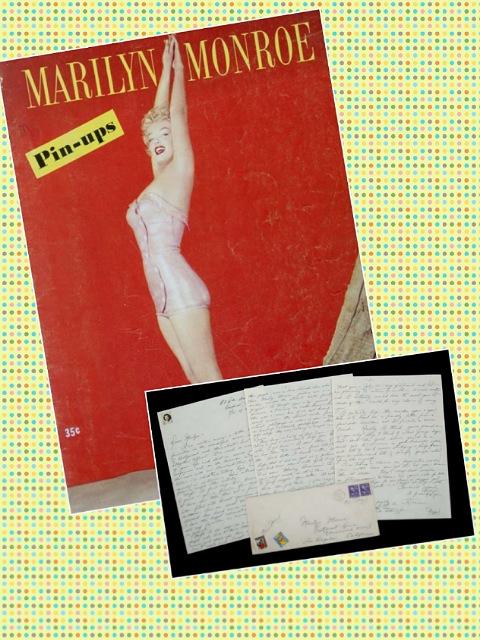 "A vintage fan magazine, and (sold separately) a three-page handwritten letter from a fan by the name of Irene Nagy, in which Nagy offers advice to Marilyn Monroe on how to become a serious actress. The letter, dated November 18, 1952, reads in part, 'If you're going to be a dramatic actress and hope to be one, you certainly can't expect to wear frilly thin nighties or low cut gowns all the time.' While criticism is offered based on the clothing Monroe wears, the fan also offers encouragement and support: 'I like you also as a person. I love to see you with your blonde short curly hair-do, you're very pretty, you've got pretty eyes and when you laugh whole-heartedly you sound like lots of fun.' Overall, a very interesting look into the type of mail Monroe received from fans. The original envelope is also included."


Pin-Ups magazine SOLD for $1,920; fan letter SOLD for $125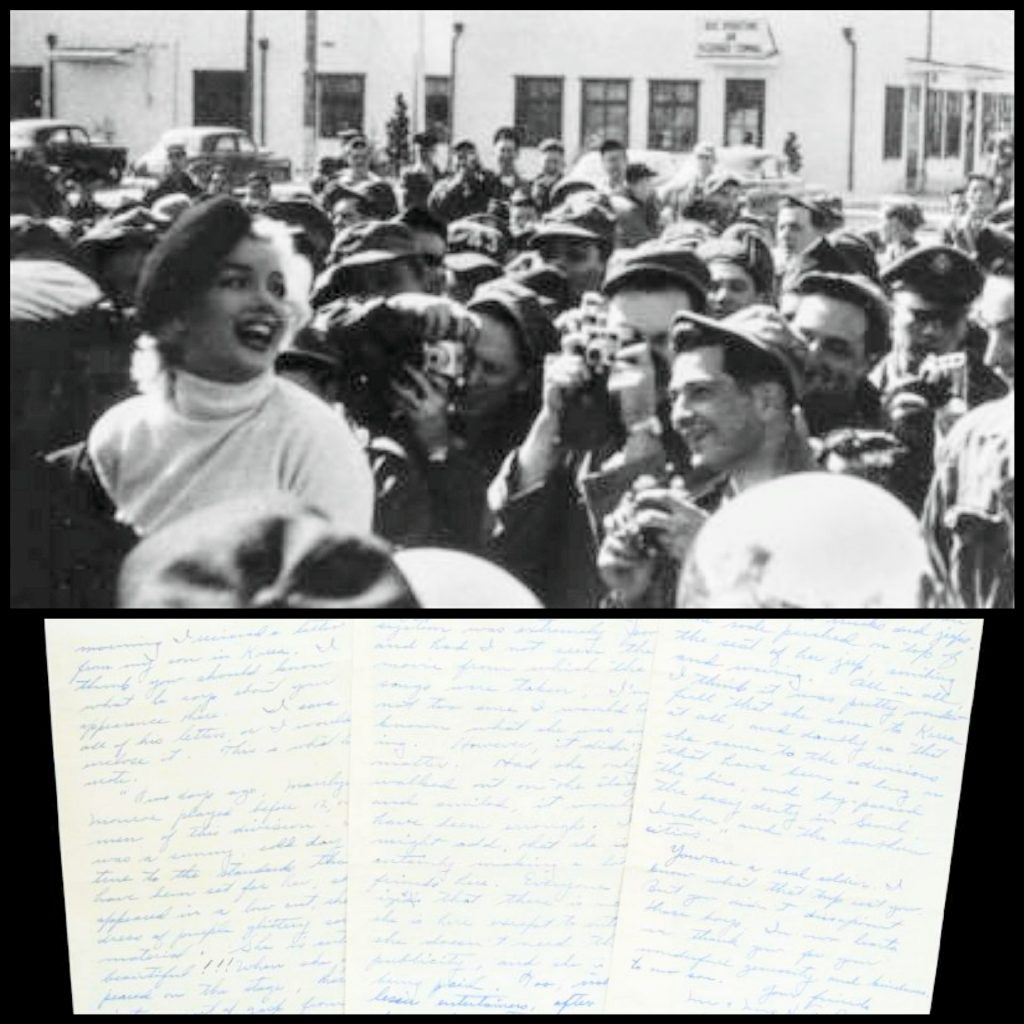 "A framed photo of Marilyn visiting Brady Airbase, Japan; and sold separately, a three-page handwritten letter from the mother of a United States soldier stationed in Korea who had recently seen Marilyn Monroe perform for the troops there as part of a USO tour. The February 25, 1954, letter reads, 'This morning I received a letter from my son in Korea. I think you should know what he says about your appearance there. I save all of his letters, or I would enclose it. This is what he wrote. Two days ago, Marilyn Monroe played before 12,000 men of this division. It was a sunny, cold day but true to the standards that have been set for her, she appeared in a low cut, sheathe dress of purple glittery sort of material. She is certainly beautiful!!! When she appeared on the stage, there was just a sort of gasp from the audience – a single gasp multiplied by the 12,000 soldiers present, what quite a gasp. The broadcasting system was extremely poor, and had I not seen the movie from which the songs were taken, I'm not too sure I would have known what she was singing. However, it didn't matter. Had she only walked out on the stage and smiled, it would have been enough. I might add, that she is certainly making a lot of friends here. Everyone realizes that there is no reason she is here except to entertain. She doesn't need the publicity, and she is not being paid. Too, unlike lesser entertainers, after the show she autographed, chatted, and posed for pictures. Then thru all the trucks and jeeps she rode perched on top of the seat of her jeep, smiling and waving. All in all I think it was pretty wonderful that she came to Korea at all, and doubly so that she came to the divisions that have been so long on the line, and by-passed the easy duty in Seoul, Inchon and the southern cities. You are a real soldier. I know what that trip cost you. But you didn't disappoint those boys. In our hearts we thank you for your wonderful generosity and kindness to our son. Your friends, Mr. and Mrs. N. T. Rupe, 6315 So Yakima, Tacoma, Wash.'"


Photos SOLD for $896; letter SOLD for $448.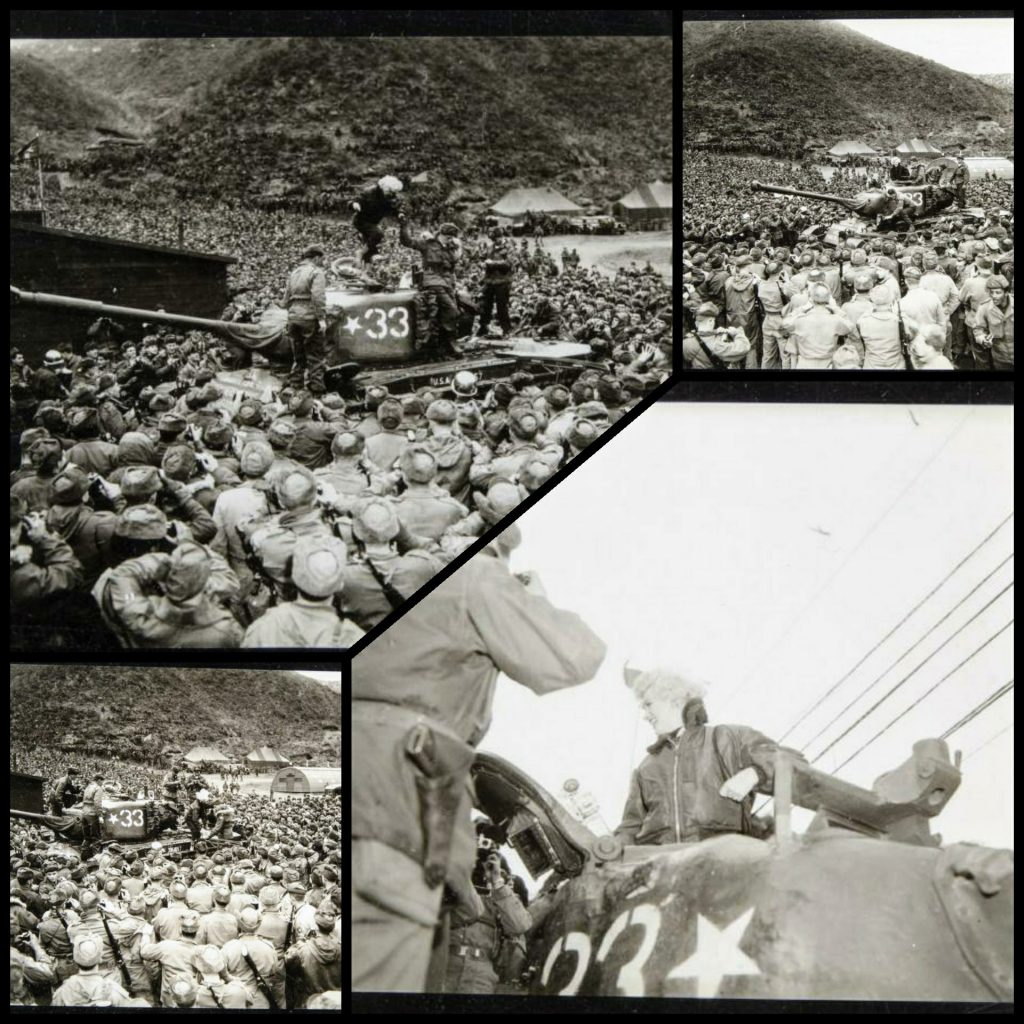 A group of 4 candid photos, showing Marilyn on top of a military tank with soldiers surrounding her during her 1954 tour of Korea for American troops.
SOLD for $448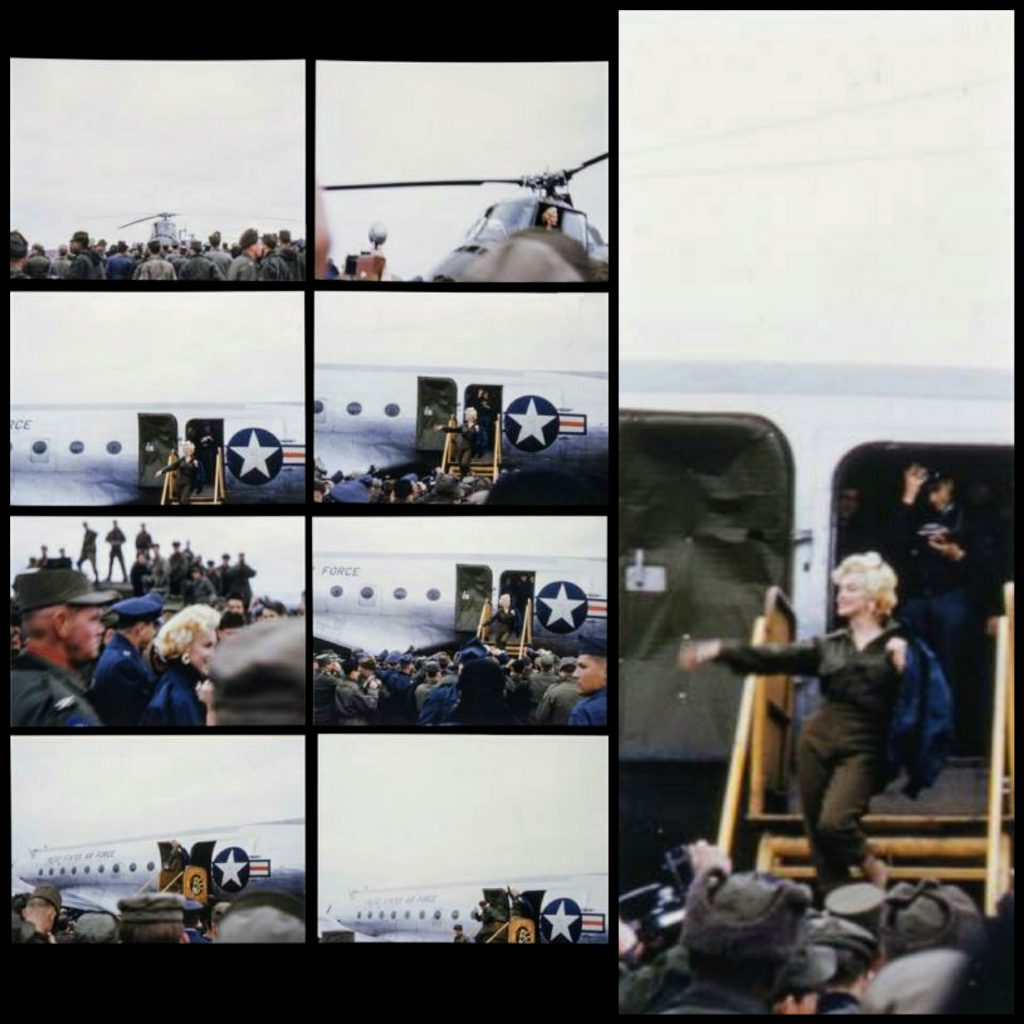 A group of six colour slides and corresponding photographs of Marilyn Monroe in Korea. Copyrights to these images will be transferred to the winning bidder.
SOLD for $1,562.50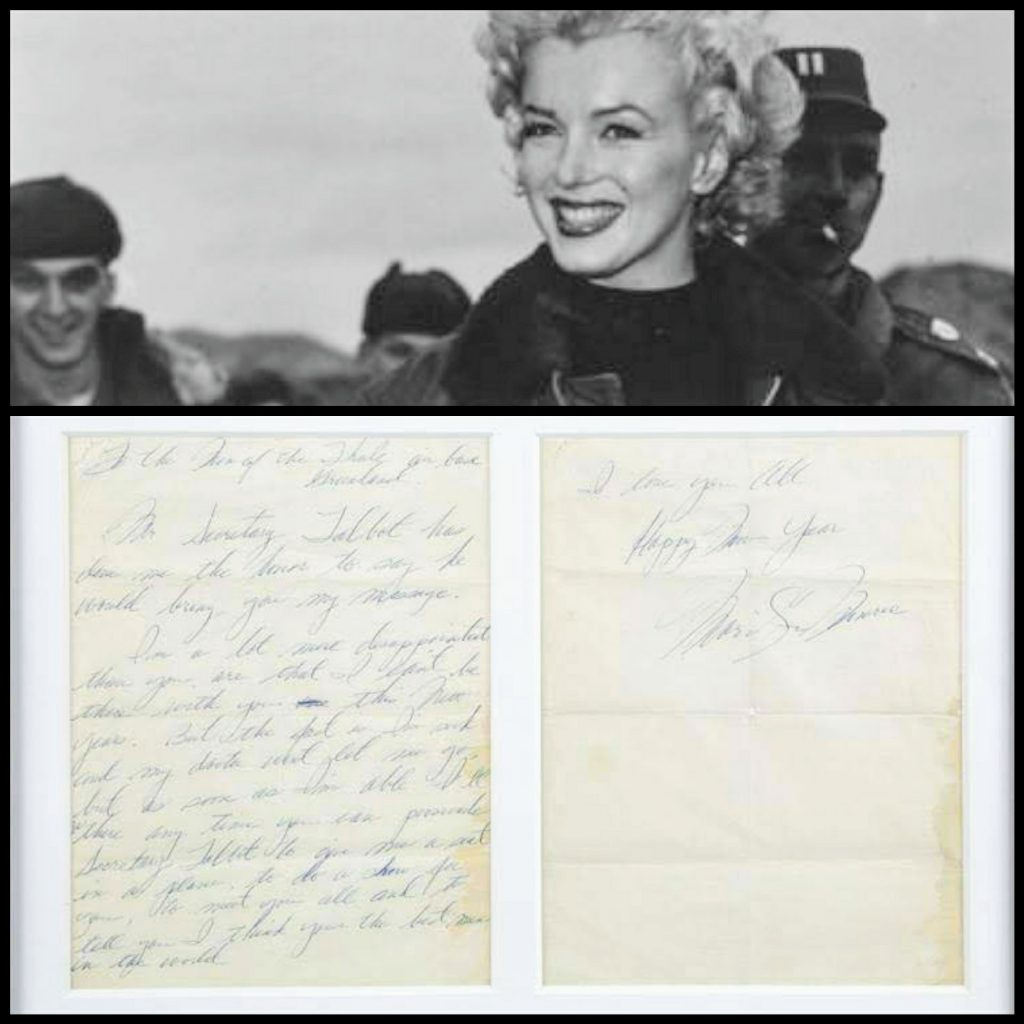 A framed photo of Marilyn; and, sold separately, a two-page document on plain white paper, no date but circa 1955, penned in blue ballpoint ink, 'To the Men of the Thule Air Base / Greenland,' apologizing to them for not being able to visit, signed on the second page 'I love you all / Happy New Year / Marilyn Monroe.'"


Photo SOLD for $1, 024; letter SOLD for $7,500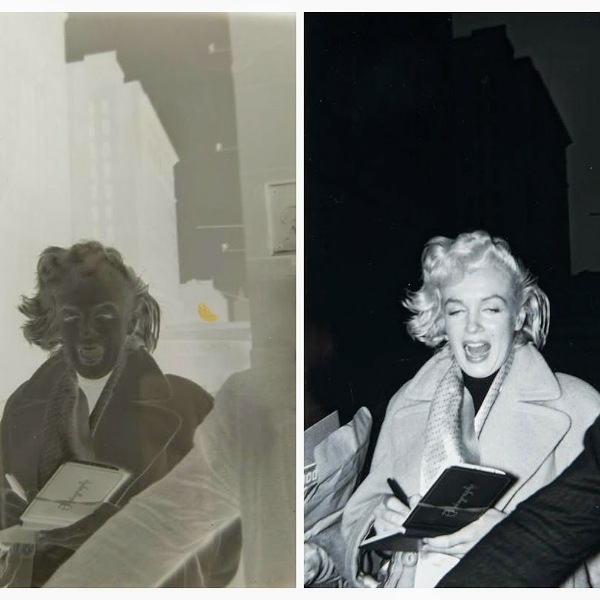 "A negative image of Marilyn Monroe taken while the actress signed an autograph book for a fan in New York City circa 1955. Together with a black and white photograph printed from the negative, believed to have been previously unpublished."


SOLD for $576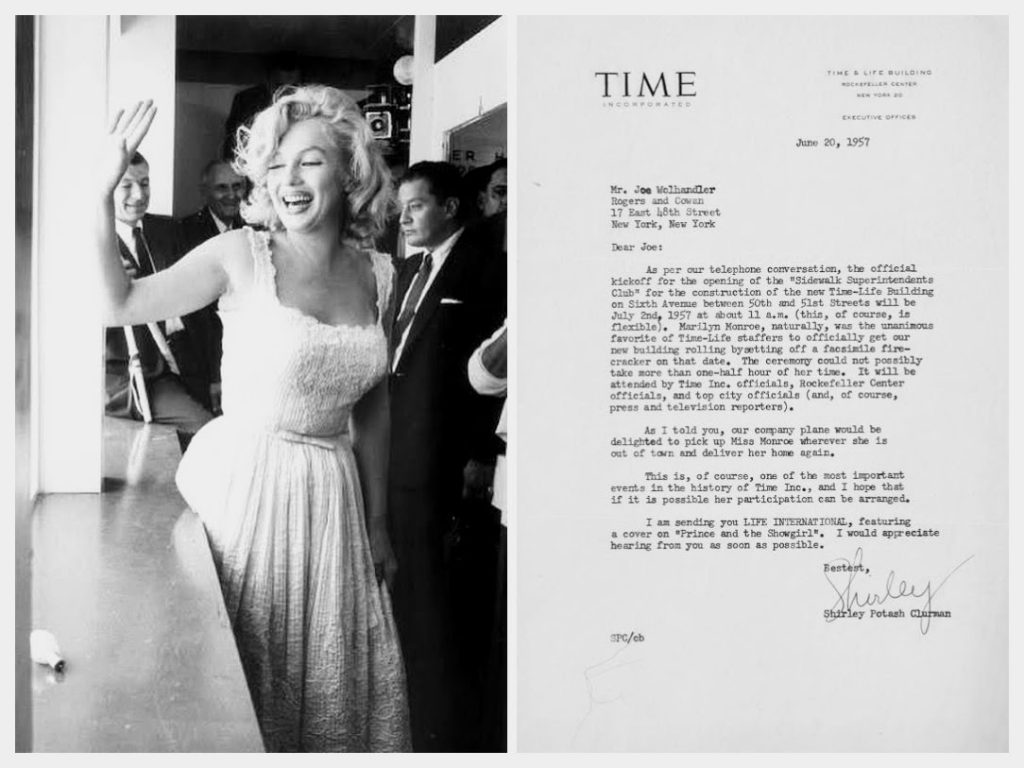 "A typed letter from Shirley Potash Clurman from TIME Incorporated regarding Marilyn Monroe's appearance at 'the official kickoff for the opening of the Sidewalk Superintendents Club for the construction of the new Time-Life Building.' The June 20, 1957, letter reads in part, 'Marilyn Monroe, naturally, was the unanimous favorite of Time-Life staffers to officially get our new building rolling by setting off a facsimile fire-cracker.' The letter continues, 'As I told you, our company plane would be delighted to pick up Miss Monroe wherever she is out of town and deliver her home again.' Monroe did appear at this event on July 2, 1957, and she did light the aforementioned firecracker."


SOLD for $256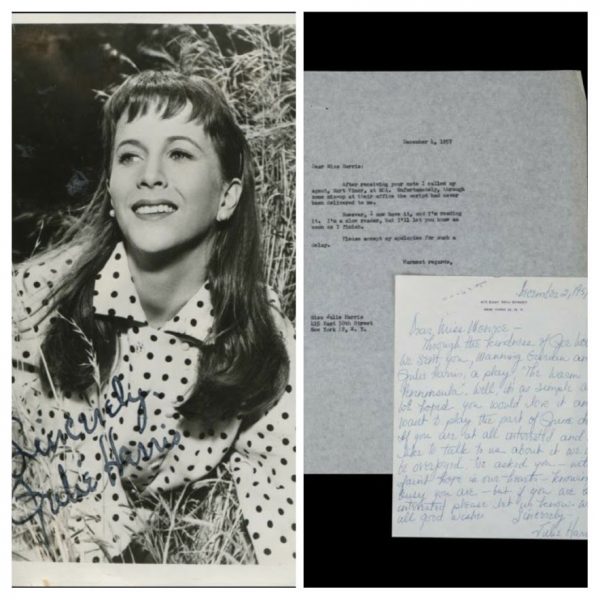 "A handwritten letter from actress Julie Harris. The December 2, 1957, letter reads, 'Dear Miss Monroe, Through the kindness of Joe Wolhandler we sent you, Manning Gurian and I, Julie Harris, a play, The Warm Peninsula. Well, it's as simple as that! We hoped you would love it and would want to play the part of June de Lynn. If you are at all interested and would like to talk to us about it we would be overjoyed. We asked you – with a faint hope in our hearts – knowing how busy you are – but if you are at all interested please let us know. With all good wishes, Julie Harris.' A carbon copy of the letter sent in response, dated December 4, 1957, reads, 'After receiving your note I called my agent, Mort Viner, At MCA. Unfortunately, through some mix-up at their office the script had never been delivered to me. However, I now have it, and I'm reading it. I'm a slow reader, but I'll let you know as soon as I finish. Please accept my apologies for such a delay.' The letter's signature line reads 'Warm Regards.'"


SOLD for $384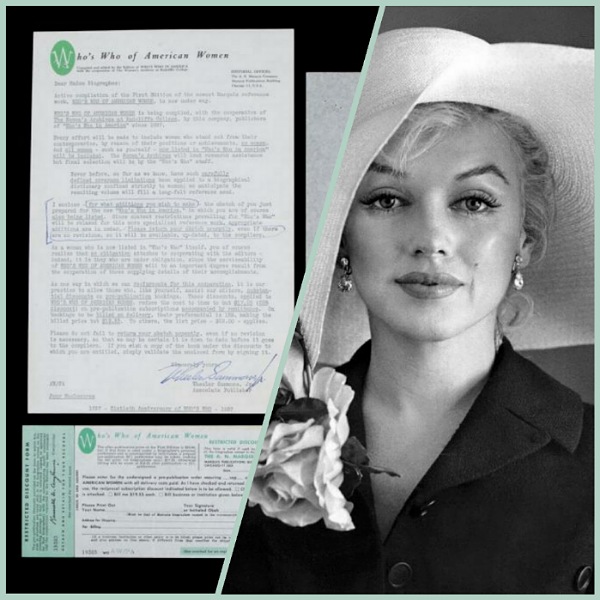 "An undated typed letter on 'Who's Who of American Women' letterhead referencing Marilyn Monroe's listing in the 1958 publication. The letter reads in part, 'Active compilation of the First Edition of the newest Marquis reference work, WHO'S WHO OF AMERICAN WOMEN, is now under way' and 'I enclose – for what additions you wish to make – the sketch of you just prepared for the new "Who's Who in America," in which you are of course also being listed.' A carbon copy of a letter from Monroe's secretary, dated December 4, 1957, reads in part, 'Enclosed herewith is the sketch of Marilyn Monroe to be inserted in the next edition of Who's Who in America. Please make the following corrections: The name in parenthesis should be Norma Jean Mortenson. The name of her first husband is Jim Daugherty [sic], her second Joe DiMaggio, from both of whom she was divorced. She is now married to Arthur Miller. The title The Sleeping Prince should be eliminated inasmuch as that is the name of a stage play in which Miss Monroe did not appear.' Also included is a pre-publication order form for Who's Who of American Women."


SOLD for $256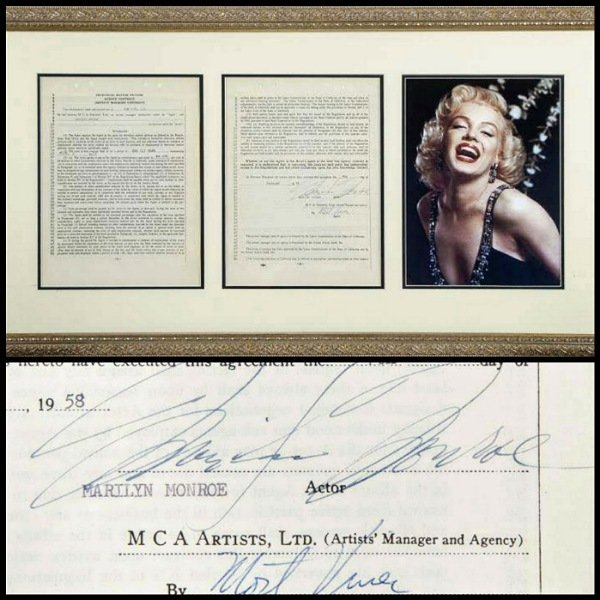 "A six page document, dated 'Feb. 7, 1958,' outlining an agreement the star had with MCA Artists, Ltd. for that organization to act as her agent for television work, signed in blue fountain pen ink on the last page 'Marilyn Monroe.'"

SOLD for $3,750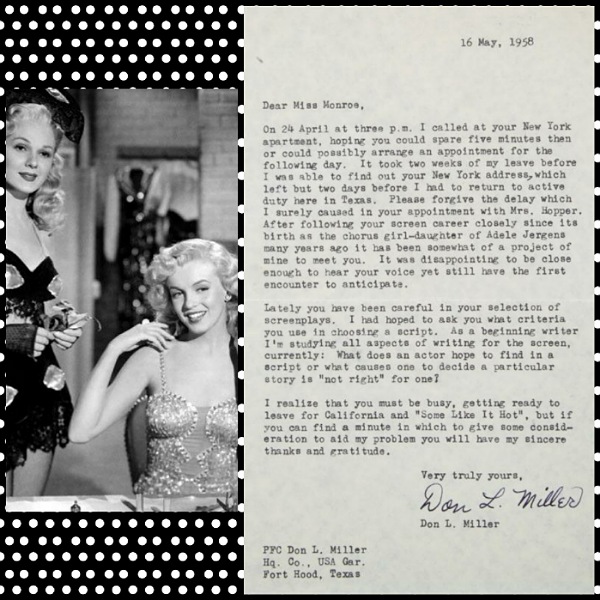 "A one-page letter to Marilyn Monroe from Private First Class Don L. Miller of the United States Army. The May 16, 1958, letter reads in part, 'On 24 April at three p.m. I called at your New York apartment, hoping you could spare five minutes then or could possibly arrange an appointment for the following day. It took two weeks of my leave before I was able to find out your New York address, which left but two days before I had to return to active duty here in Texas. Please forgive the delay, which I surely caused in your appointment with Mrs. [Hedda] Hopper. After following your screen career closely since its birth as the chorus girl-daughter of Adele Jergens many years ago [in Ladies of the Chorus, 1948] it has been somewhat of a project of mine to meet you. It was disappointing to be close enough to hear your voice yet still have the first encounter to anticipate.'"

SOLD for $192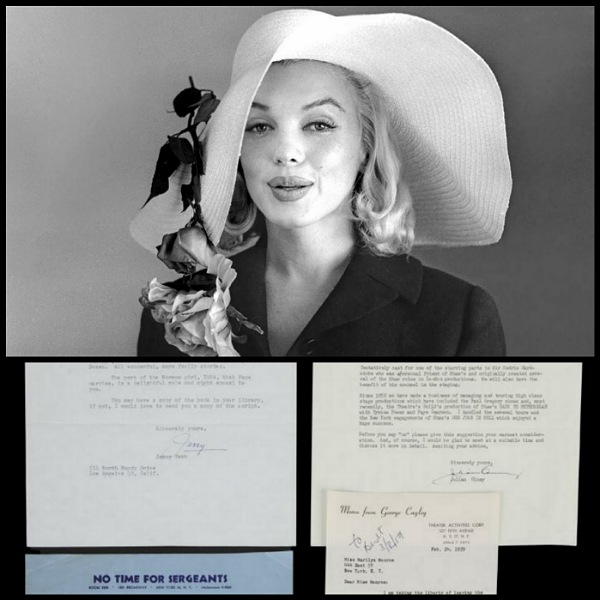 "A group of four letters related to possible acting roles for Marilyn Monroe. One letter, dated May 26, 1958, is from Jerry Webb, former test director at Twentieth Century-Fox. Webb proposes to Monroe a project titled Papa Married a Mormon and suggests that Monroe play the role of 'Tena.' Another letter, dated February 24, 1959, is from George Cayley, who sent Monroe a script for The First Chewinks and suggested it would start on Broadway that spring. The third letter, dated March 11, 1957, is from Tony Award winning Broadway producer Edward Padula, who suggests that Monroe consider Lie Down in Darkness, the novel by William Styron, 'both for its theatrical and motion picture possibilities.' The fourth letter, dated August 12, 1958, is from Julian Olney asking if Monroe would be interested in playing Nell Gwynn in a new stage production of In Good King Charles' Golden Days by George Bernard Shaw. "

SOLD for $384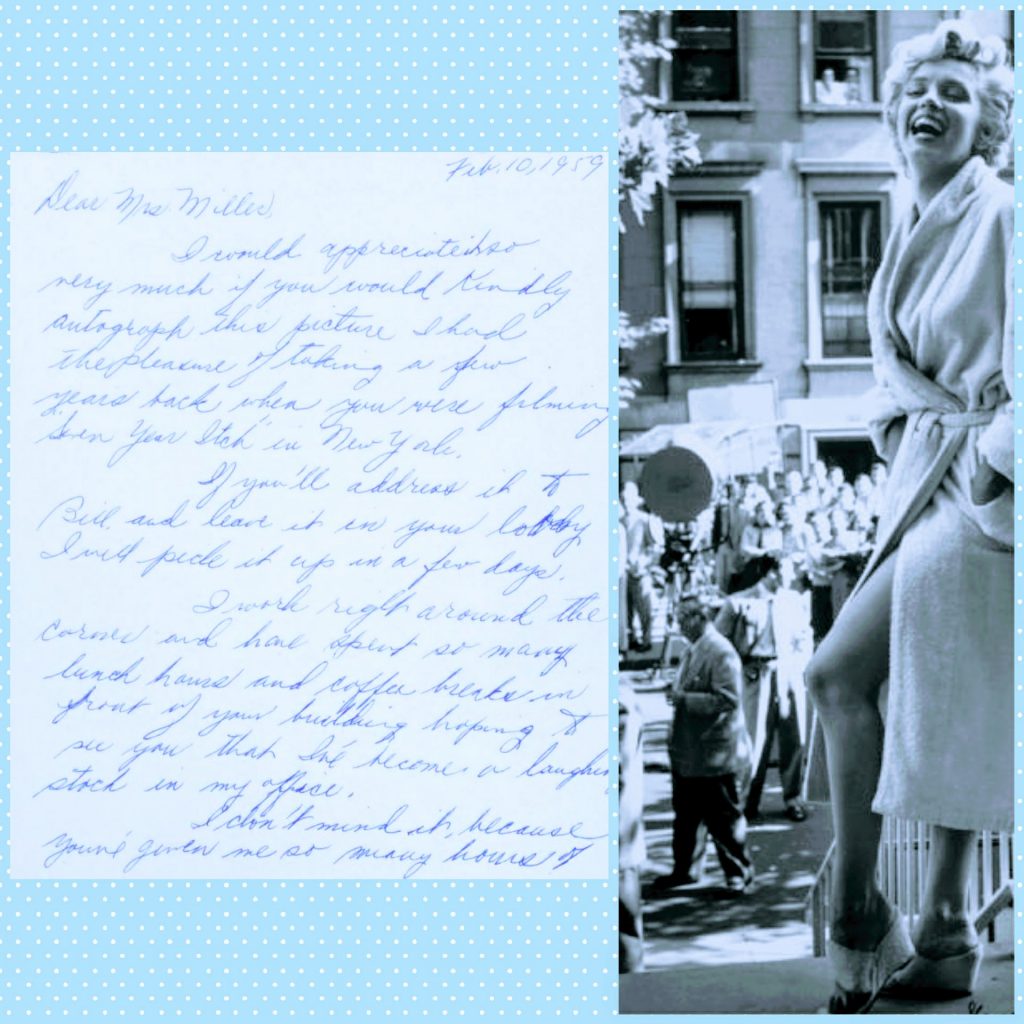 A signed George Barris photo; and, sold separately, a handwritten letter to Marilyn Monroe from a fan by the name of William Perez. The heartfelt letter reads, 'I would appreciate it so very much if you would kindly autograph this picture I had the pleasure of taking a few years back when you were filming Seven Year Itch in New York [not included here]. If you'll address it to Bill, and leave it in your lobby I will pick it up in a few days. I work right around the corner and have spent so many lunch hours and coffee breaks in front of your building hoping to see you that I've become a laughing stock in my office. I don't mind it, because you've given me so many hours of pleasure in your movies. Your [sic] my favorite star, and I hope you'll continue to make more and more movies.' This February 10, 1959, letter is signed 'Thank you so much for your patience and understanding. Sincerely, William Perez.'"

Photo SOLD for $1,250; letter SOLD for $192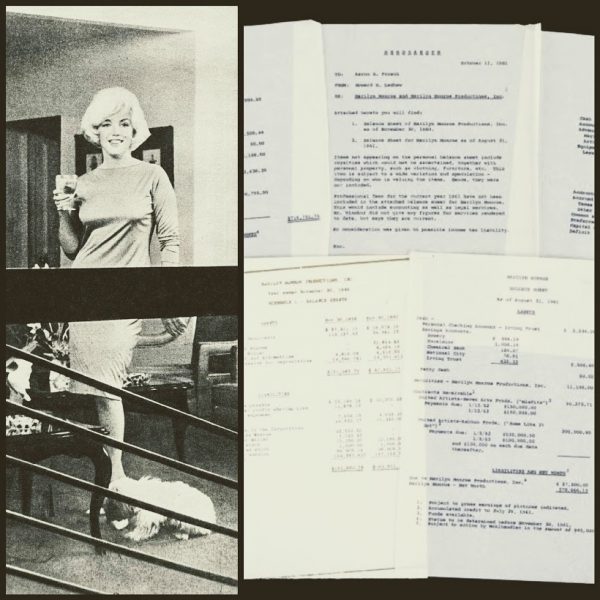 "An October 11, 1961, memo to Marilyn Monroe's attorney Aaron Frosch from Howard O. LeShaw regarding balance sheets for Monroe and for Marilyn Monroe Productions. The statements clarify Monroe's cash on hand, together with receivables and liabilities. As of October 10, 1961, Monroe's net worth, according to these statements, was $716,791.74, an astonishing amount of money for the time. Also included is a one-page Schedule L balance sheet for 'Year Ended November 30, 1960.' Five pages total."

SOLD for $768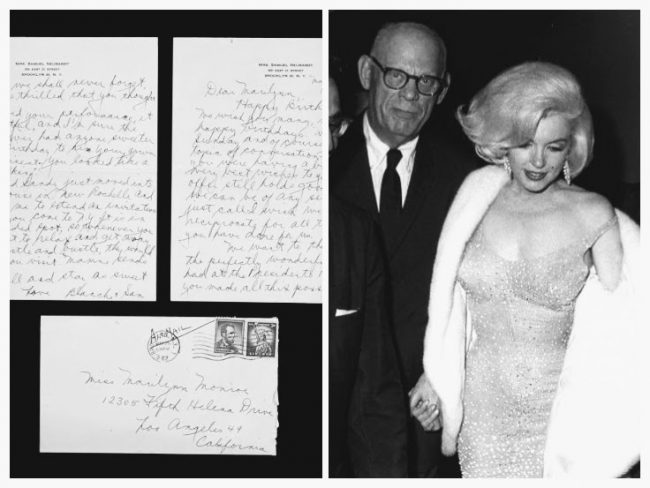 "A two-page handwritten letter dated May 29, 1962, from Blanche Neubardt, Arthur Miller's aunt. The letter reads in part, 'Happy birthday to you! We wish you many, many more happy birthdays. We saw Dad Sunday and of course you were the topic of conversation. Dad told us you were having a birthday.' 'Dad' in this case is Isidore Miller, Arthur Miller's father. Marilyn often referred to him as 'Dad,' and he even signed his letters to her that way. Sadly, this would be Monroe's final birthday as she would pass away in the coming August. The letter continues, 'We want to thank you for the perfectly wonderful time we had at the President's birthday. And you made all this possible. It is something we shall never forget, and we are thrilled that you thought of us. We loved your performance, it was delightful, and I'm sure the President never had anyone sweeter sing Happy Birthday to him. Your gown was magnificent. You looked like a dream walking.' The letter is signed, 'Keep well and stay as sweet as you are. Love, Blanche and Sam.' Records from Monroe's archives show that she purchased five tickets to the JFK birthday gala held on May 19, 1962. It is documented that Monroe's date was her former father-in-law, Isidore Miller. Publicist Pat Newcomb also accompanied Monroe to the event. However, it has never been known for whom the other two tickets were purchased. This letter indicates that Monroe likely bought them for Samuel and Blanche Neubardt, who lived at 550 East 21st Street in Brooklyn. Photos of the July 1 Monroe/Miller wedding published in the July 16, 1956, issue of LIFE magazine show that Blanche was present for the nuptials. The original envelope, addressed to Monroe at her Fifth Helena Drive home in Brentwood, California, is included."

SOLD for $1,280