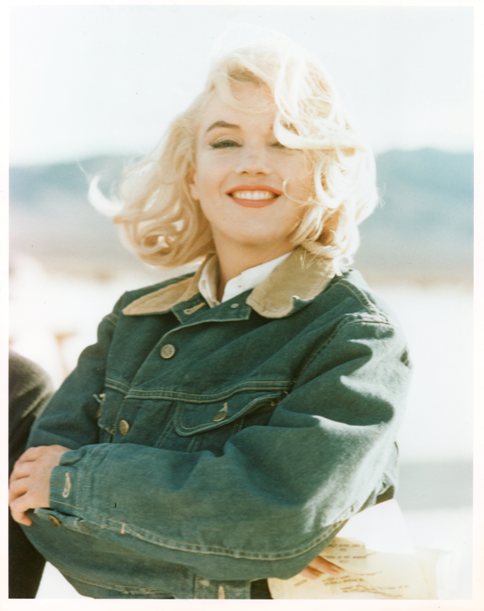 Marilyn famously made denim stylish for women in The Misfits. Writing for the Levi Strauss blog, Tracey Panek revisits the Nevada locations where the movie was shot.
It is a very interesting article. However, it should be noted that Marilyn stayed with the cast and crew at the Mapes Hotel in Reno for most of the shoot, although she did move into another suite after her marriage to Arthur Miller hit the rocks.
As Panek notes, she also briefly stayed at a country inn, which offered her a brief respite – but this was only while filming scenes on location in nearby Dayton.
"I started my journey in the Comstock at Virginia City's Edith Palmer's Country Inn, the place where Marilyn stayed while filming The Misfits.

'She didn't want to stay with the rest of the crew,' said inn owner Leisa Findley. 'Marilyn's chauffeur picked her up and dropped her off here every day.' Theorizing about Monroe's motivation for separate living quarters (her room pictured below) Leisa explained, 'It was during the time that she was leaving her husband.'

I interviewed the inn owner about her memories of The Misfits. Leisa was only ten years old during the filming and recalled the memorable scene when Monroe makes a ruckus beating a paddle ball in a cowboy bar. 'I could hear them,' Leisa said, 'The entire crew would count aloud.' During the scene, Monroe hits the paddle ball repeatedly and the entire bar erupts into counting. While the film makes it looks seamless, it took Monroe multiple takes to capture the continuous paddling.

Although Monroe wore a dress for the bar scene, she donned Lady Levi's® jeans in other key scenes in the film, a flattering fit for her signature curves. In one scene Monroe wears jeans while gardening, her sexy silhouette prompting admirers to purchase their own Levi's® jeans.

After Virginia City, I drove to Dayton, the place where The Misfits was filmed. Monroe's Levi's® jeans may have been purchased at Braun & Loftus General Merchandise in Dayton. The town remains much the same is it did during the filming. I spotted the Braun & Loftus building, today a restaurant, by its colorful exterior sign.

I finished my journey viewing the flat lakebed near Dayton where one of the final film scenes was shot. Wild horses still roam the area and I was fortunate to spot a few in the distance. In the climactic scene, Monroe is distraught as she watches Gable breaking a wild horse. She is dressed in Levi's® jeans as she runs across the open lakebed and pleads with Gable to stop. Monroe looks at once rugged and practical, cowgirl Western yet stylish and cool.

Despite her death from an overdose one year later, Monroe left an imprint on the places and people she touched in The Misfits. 'To Edith Palmer and her oasis in the desert and warm hospitality,' Monroe wrote to the inn owner who made her feel at home during the filming. 'May I always be a welcome guest. Marilyn Monroe.' Despite its lack of popular appeal, the film received critical acclaim. More importantly, Monroe's appearance in Levi's® jeans helped popularize the denim pants — women wanting to dress as Marilyn bought their own blue jeans."