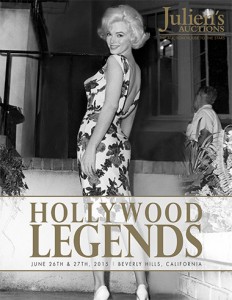 A backless, floral shift dress worn by Marilyn in her final, shelved movie, Something's Got to Give – as designed by Jean Louis – is a highlight of an upcoming Julien's Auctions Hollywood Legends sale, set for June 26-27, with an estimated value of at least $400, 000, reports Artfix Daily.
"The figure hugging silk crepe dress is printed with scattered painterly roses in shades of persimmon and deep cherry with a plunging V back. The interior of the studio constructed dress has hand finished details, is lined with ivory soufflé and has boning to the waistline."

'Frankie and Johnny' (1966)
Another item on offer is a script owned by Marilyn, entitled Frankie and Johnny. Could this be an early version of the eponymous 1966 film starring Elvis Presley – opposite Donna Douglas, best-known as Ellie Mae Clampett in TV's The Beverly Hillbillies?
"Other highlights chronicling the personal life and career of the world's most intriguing screen icon include rare items including a Marilyn Monroe black velvet bustier (Estimate: $8,000-$10,000), a black silk underskirt from the Estate of Marilyn Monroe (Estimate: $6,000-$8,000), Marilyn Monroe's personal copy of behind-the-scenes footage of The Misfits (Estimate: $3,000-$5,000), Marilyn Monroe Frankie and Johnny script (Estimate: $10,000-$20,000), a 1961 black and white photograph of Marilyn Monroe and Clark Gable on the set of The Misfits ($5,000-$7,000), a photo layout sheet of four Marilyn Monroe color photographs (Estimate: $5,000-$7,000), a Marilyn Monroe owned hat (Estimate: $7000-$9000), a Marilyn Monroe side view x-ray from Cedars of Lebanon Hospital/Drs. E. Freedman and S. Finck dated 11-10-54 which was used by the radiology resident at Cedars for teaching which Marilyn was aware of. The x-rays are said to be from her visit to the hospital for her chronic endometriosis (Estimate: $8,000-$10,000). Also included are a collection of signed vintage gelatin silver photographs of Marilyn Monroe by Bruno Bernard known as Bernard of Hollywood (Various estimates), Marilyn Monroe eyeliner pencils (Estimate: $800-$1,200), a Marilyn Monroe cosmetic jar (Estimate: $2,000-$4,000), a Marilyn Monroe signed white glove (Estimate: $8,000-$10,000), a Marilyn Monroe grave marker (Estimate: $2,000-$4,000) and many more items from the life and career of Monroe."