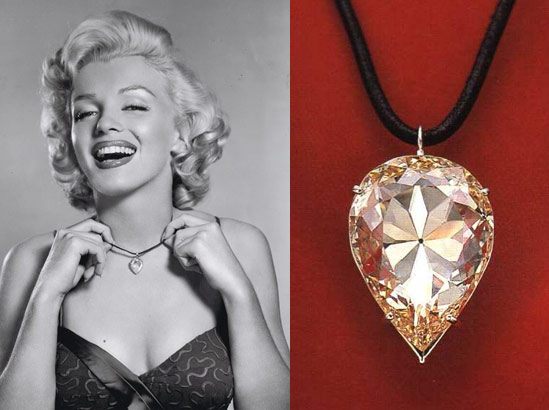 On July 8, 1953, Frank Powolny photographed Marilyn wearing one of the world's largest diamonds, the so-called 'Moon of Baroda'. It was then owned by Meyer Rosenbaum, a jeweller from Detroit, and was loaned to Marilyn for the shoot, in which Sidney M. Brownstein, president of the Jewellery Academy, presented her with a special award for her role in Gentlemen Prefer Blondes, proclaiming her 'the best friend a diamond ever had.'
But as the Times of India reports today, the Barodian royal family want their precious jewellery – also including the world's most expensive pearl carpet, the 'Star of the South' – to be returned home for a public exhibition.
The Moon of Baroda was last displayed at the Antwerp World Diamond Centre in 2008. In 2012, a 'Mr Matsuki' appeared on a Japanese television show with what he claimed was the legendary gem. It was authenticated and valued at 150 million yen.
The Mad About Marilyn fan club chronicled the Moon of Baroda's history in 2013, including a bizarre rumour that Marilyn fell victim to the diamond's curse.