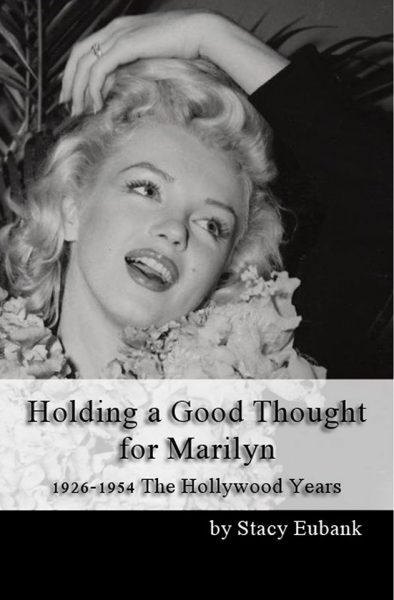 Holding a Good Thought For Marilyn: 1926-1954, The Hollywood Years is a new book by Stacy Eubank, who will be well-known to Everlasting Star members as 'chickeyonthgo'. Stacy is the most knowledgeable Marilyn fan I've ever known (and believe me, I don't say that lightly!)
She is also an extremely modest and generous lady, always willing to share her wisdom. Holding a Good Thought for Marilyn is a project she has been working on throughout the eleven years that I've known her, and The Hollywood Years is its first fruition. A second volume, The New York Years, is also planned after Stacy takes a well-earned break.
Some may compare this book to Gary Vitacco-Robles' two-part biography, Icon. But Stacy is truly in a league of her own. She previously served as a research assistant for Lois Banner, and I'm sure Dr Banner would say the same as author Maurice Zolotow once did about James Haspiel – that Stacy could have written an even better biography than hers.
Fortunately, Stacy has risen to the challenge, using her extraordinary collection of vintage magazines and newspapers as the basis of her work. There are no photographs inside the book, but Stacy has instead provided her own illustrations – she is also a talented artist, and was previously featured in Roger Taylor's Marilyn in Art.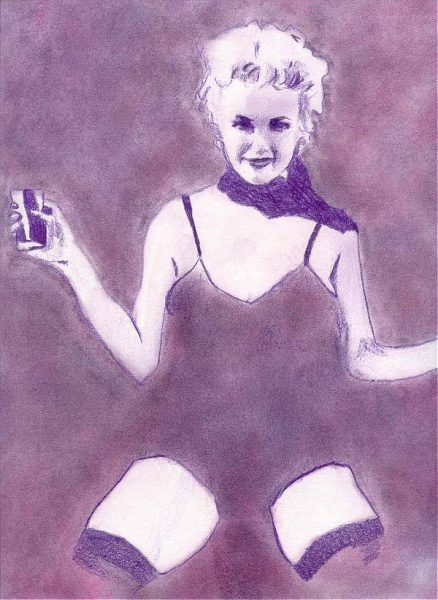 Marilyn herself admitted that she owed her stardom in part to the men who served in Korea, and 5% of the profits from sales of this book will be donated to the Korean War Memorial Veterans Foundation. Holding A Good Thought for Marilyn is available now in paperback from Amazon (UK, £14.58; US, $24.95.)
UPDATE: here is my review…
"This 562-page tome covers Marilyn Monroe's tumultuous early life and rise to fame. What makes it different to most biographies is the in-depth focus on how her career was chronicled in the media. The wealth of material on how Marilyn was perceived in her own time is unprecedented, and even the most well-read Monroe fan will learn many significant facts that have been overlooked by other authors. The reader is also able to understand how Marilyn's public image shifted from one-dimensional sex object to beloved American icon in just a few years. And the private Marilyn – sensitive and intelligent – is not neglected. A full chapter is devoted to her trip to Korea, to entertain the US troops who helped to make her a star. Reading the many tales of her kindness and generosity, one is impressed by her being clearly so at ease with ordinary men – much more so, in fact, than she would ever be in Hollywood. Fittingly, a percentage of the profits from sales of this book will be donated to Korean War veterans. The book is illustrated with drawings of Marilyn, giving it a unique charm. An accomplished artist herself, Stacy also examines Marilyn's work with still photographers. Having started out as a model, she was more confident, and able to take control in a way that simply wasn't possible on the sets of her movies. While some of her early photo shoots were formulaic, with her best photographers – including Andre de Dienes, Philippe Halsman, and Milton Greene – Monroe posed for images that would establish her as one of the 20th century's defining beauties. A second volume, covering 'the New York years' – is forthcoming, but while this might be a heavy read for new or more casual fans, 'Holding a Good Thought for Marilyn' deserves to be known as one of the best, and most fully-researched volumes ever published about the ultimate screen goddess."