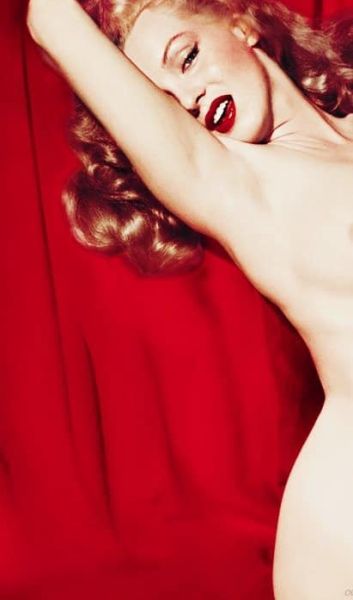 The award-winning novelist, Salman Rushdie, has praised the lyrics of Canadian rapper Drake in a video for Pitchfork, noting an allusion to one of Marilyn's most famous quotes in 'What's My Name', Drake's 2010 duet with pop star Rihanna.
"He also complements Drake on a subtle Marilyn Monroe reference in the What's My Name line 'Okay, away we go/Only thing we have on is the radio'. As he explains, 'She [Monroe] posed in the nude and she was asked if she had nothing on, and she said 'I have the radio on'."
As Stacy Eubank reveals in her excellent book, Holding a Good Thought For Marilyn: The Hollywood Years, Marilyn's remark was first reported by gossip columnist Erskine Johnson in August 1952, while she was filming Niagara on location in Canada. Marilyn's candid humour won over the public, though her detractors questioned whether the quote was really her own.
In 1955, Roy Craft – Marilyn's publicist at Twentieth Century-Fox – dispelled the rumour, telling the Saturday Evening Post's Pete Martin, "To give it a light touch, when she was asked, 'Didn't you have anything on at all when you were posing for that picture?' we were supposed to have told her to say, 'I had the radio on.' I'm sorry to disagree with the majority, but she made up those cracks herself."
Photographer Tom Kelley – who shot the nude calendar in 1949 – told Maurice Zolotow in 1955, "It wasn't the radio. It was a phonograph. I had Artie Shaw's record of 'Begin the Beguine' playing. I find 'Begin the Beguine' helps to create vibrations.'
In a 1956 interview with Milton Shulman, Marilyn herself explained, "It was a large press conference, and some very fierce woman journalist – I think she was Canadian – stood up and said: 'do you mean to tell us you didn't have anything on when you posed for that nude picture?' Suddenly, an old nightclub joke popped into my head. 'Oh, no,' I said. 'I had the radio on.' I just changed the words around a bit, but I thought everybody knew it."