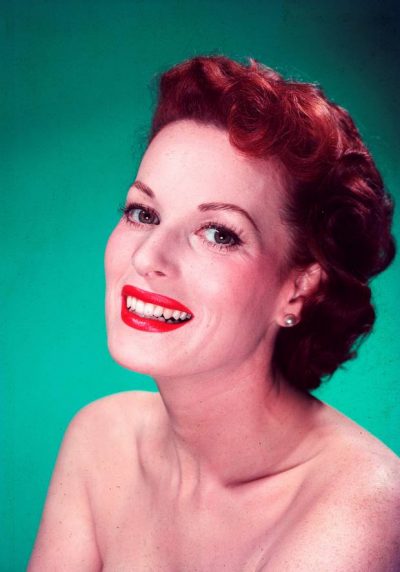 Actress Maureen O'Hara has died in her sleep at her home in Boise, Idaho aged 95, reports the Washington Post.
Maureen FitzSimons was born in Dublin, Ireland, in 1920. From early childhood she dreamed of going on the stage. While training at the Abbey Theatre, she went to London for a screen test. The footage was seen by actor Charles Laughton, who was so impressed by Maureen's red-haired beauty and large, expressive eyes that he signed her to his movie production company, Mayflower Pictures.
Her first major role was as Mary Yellen in Jamaica Inn (1939), Alfred Hitchcock's adaptation of Daphne du Maurier's classic novel. She was then cast as Esmerelda, opposite Laughton in The Hunchback of Notre Dame.
Now under contract to RKO in Hollywood, Maureen starred in John Ford's Oscar-winning How Green Was My Valley (1941.) By 1947, she had moved to Twentieth Century-Fox, playing the mother of a young Natalie Wood in the classic Christmas movie, Miracle on 34th Street. In the same year, Natalie appeared in another Fox production, Scudda Hoo! Scudda Hay! – which is chiefly remembered as Marilyn Monroe's screen debut.
In Sitting Pretty (1948), O'Hara starred opposite Clifton Webb. Marilyn was photographed with Webb in a promotional shot for the comedic movie, though she had no part in it. By the time Sitting Pretty was released, Marilyn was working at Columbia.
In 1950, Maureen appeared with actor John Wayne in a Western, John Ford's Rio Grande. O'Hara and Wayne became one of cinema's great couples, making five films together, and were good friends. They were reunited in Ford's The Quiet Man (1952), perhaps Maureen's most celebrated film.
By then, Marilyn had returned to Fox and would appear alongside Charles Laughton in O'Henry's Full House (1952.) She never worked with Maureen, but the stars were on good terms. In her autobiography, 'Tis Herself, O'Hara shared a personal memory of Marilyn.
"Marilyn had called and asked me to play a joke on her husband, Joe DiMaggio. Apparently, Joe was a fan of mine and always teased Marilyn about how attracted to me he was. She was sick and tired of hearing her husband talk about me and I don't blame her. She asked me if I would mind being wrapped in a big box with a ribbon tied in a bow around it, to be her gift to Joe on his birthday. The huge box would be on a large table, and right before he opened it, she was going to say, 'Now, Joe, after I give you this, I don't ever want to hear about Maureen O'Hara again.' Then as he pulled the bow and ribbon off, I was supposed to pop out of the box while the crowd shouted, 'Surprise!' I thought it would be great fun, sadly, they separated just before it could be done."
A gifted soprano, Maureen sang on numerous television shows, and recorded two albums. Her later films include Our Man in Havana (1959) and The Parent Trap (1961.) After her third marriage in 1968, she went into semi-retirement, returning to the big screen in 1991 for Only the Lonely, opposite John Candy.
After suffering a stroke in 2005, Maureen moved permanently to County Cork, Ireland. In 2011, she hosted a classic film festival, with Susan Bernard (daughter of photographer Bruno Bernard) introducing a screening of Marilyn's timeless comedy, Some Like it Hot.
Following reports of elder abuse in 2012, Maureen left Ireland to live with her grandson in Idaho. In 2014, she received an honorary Oscar from the Academy of Motion Picture Arts and Sciences, attending the Los Angeles ceremony.