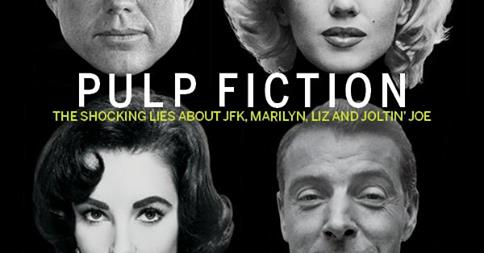 Writing for the Columbia Journalism Review, Ryan Chittum adds to the mounting criticism of C. David Heymann's posthumously-published Joe and Marilyn: Legends in Love. 
The article includes an acknowledgement to ES Updates: 'Marilyn Monroe fan sites saw through this right away. The British blogger Tara Hanks wrote this in July, several weeks before the Newsweek piece appeared.'
Furthermore, Ryan Chittum has investigated some of Heymann's controversial sources:
"Heymann claimed to have talked to Lotte Goslar, Monroe's mime teacher, for the book. But Goslar died in 1997. Susan Strasberg, another source, died in 1999. Monroe's makeup artist, Allan 'Whitey' Snyder, whom Heymann cites two-dozen times, died in 1994. Yankees legend Bill Dickey died in 1993, and gossip columnist Doris Lilly died in 1991.

These supposed interviews fit a pattern, as Johnston noted in Newsweek: Quotes and new information attributed to dead sources who can't say whether Heymann ever actually talked to them.

In the book, Heymann extensively quotes Robert Solotaire, whose father George was a good friend of Joe DiMaggio's, discussing DiMaggio's supposed use of prostitutes and his tiffs with Monroe, among other titillating anecdotes. Robert Solotaire died in 2008. Benjamin Solotaire, Robert's son, tells me the quotes were made up.

'He would never have shared such intimate details about what Joe said,' Benjamin says. 'My father said that George, my grandfather, would look away when having dinner with Joe and Marilyn whenever they were being affectionate. My father continued respecting that privacy. And the quotes just aren't the way dad spoke. They are too crass and detailed for him.'

'It is bothersome to me and my family that these made-up, embarrassing quotes are attributed to my father,' he continued. 'George and dad were great friends of Joe and would never have tarnished his or Marilyn's reputation.'"
Chittum also mentions Dr Judd Marmor, a psychiatrist who briefly treated Marilyn. Heymann previously quoted him in his pulped biography of Barbara Hutton, claiming the heiress had an affair with his patient, James Dean. But Dean's biographer, Val Holley, also approached Dr Marmor, who rightly refused to discuss his former patient with any author. Marmor died in  2003.
In Joe and Marilyn, Heymann claimed that Dr Marmor revealed confidential details about Marilyn's relationship with Elia Kazan; and that Marilyn was then treated for a year Dr Rose Fromm, which – as the Newsweek article has already established – is untrue.
"Fromm's appearance in Chapter 3 allowed Heymann to fill in lurid details about Monroe's youth, including a supposed sexual incident with 'Roxanne Smith,' a 'pretty and well developed' sixth-grade classmate, whose existence, 'despite the best efforts of the dozens of biographers who have written about Marilyn Monroe over the years,' had never been reported until Heymann came along. These and many other anecdotes and quotes from Monroe's childhood, including details about her sex life with her first husband, come from Fromm in vivid detail 50 years after the fact (Heymann wrote that Fromm 'kept notes on her meeting with MM, and these notes were made available to the author')."
Finally, Ryan Chittum challenges Simon & Schuster, who published Joe and Marilyn, to answer these charges:
"You can't libel the dead, as biographer Kitty Kelley noted in that Post story, and Heymann made a living off of that. But Simon & Schuster looked the other way.

It continues to do so. Johnston says the book's editor, Emily Bestler, hung up on him when he started asking about Heymann's fabrications, and that Simon & Schuster declined to talk to him. Bestler did not respond to my requests for comment, and Simon & Schuster and CBS Corporation declined to comment on questions Johnston and I have raised. "Thank you for checking in on this again before you go to press. Once again, we will have no response to Mr. Johnston's article in Newsweek, nor any comment on your questions," says Adam Rothberg, Simon & Schuster's senior vice president of corporate communications.

That doesn't cut it.

Simon & Schuster and CBS need to answer questions about whether Bestler actually had the book factchecked, and if so, how that process went so wrong. They need to talk about why they haven't recalled books that have been so thoroughly discredited. They also need to say why they signed someone like Heymann in the first place."