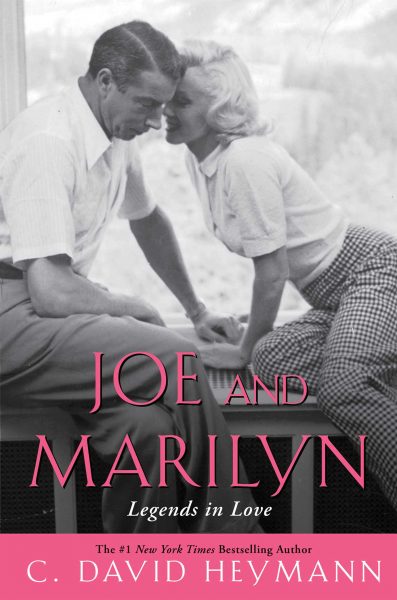 Joe and Marilyn: Legends in Love is the final book by celebrity biographer C. David Heymann, whose previous subjects included Elizabeth Taylor and the Kennedy family.
Born in Manhattan in 1945, Heymann was a literary scholar whose first books, about Ezra Pound and Robert and Amy Lowell, were published in the 1970s. "I learned from this," he told the New York Observer in 1999, "never write a book about a poet if you want to sell books."
In 1983, Poor Little Rich Girl – his biography of heiress Barbara Hutton – was withdrawn by its publisher because of factual errors, as Heymann's New York Times obituary explains:
 "That December the book's original publisher, Random House, recalled and destroyed 58,000 copies of the book because of factual errors. Chief among them was Mr. Heymann's assertion that Edward A. Kantor, a Beverly Hills doctor, had prescribed excessive drugs for Ms. Hutton in 1943.

Dr. Kantor, who became Ms. Hutton's physician in the late 1960s, graduated from medical school in 1954. In 1943, as the news media reported after the error came to light, he would have been 14.

Mr. Heymann, who did not dispute this and other errors ascribed to the book, attributed them to researchers he had engaged to conduct interviews on his behalf.

After the book was withdrawn, Mr. Heymann later said, he attempted suicide. He moved to Israel for a time; there, he told interviewers afterward, he worked for Mossad, the Israeli spy agency.

On Thursday, Mr. Heymann's wife said that while he had sometimes spoken to her of having worked for Mossad, she could not confirm that assertion.

In 1984 Mr. Heymann's biography of Ms. Hutton was republished, in what was described as a revised and corrected version, by Lyle Stuart, an independent publishing house known for renegade titles.

The flap over Mr. Heymann's Hutton book put his earlier work under scrutiny. After that book was withdrawn, news organizations reported on a charge by the Pound scholar Hugh Kenner that had received comparatively little attention at the time:

In 1977, writing in the magazine The Alternative: An American Spectator (a forerunner of The American Spectator), Mr. Kenner accused Mr. Heymann of having taken an interview with Pound by an Italian interviewer, published in Venice, and presented it in his book as if it he had conducted it himself.

Mr. Heymann denied the accusation, calling it retribution for a negative review he had written of one of Mr. Kenner's books."
Heymann went on to write A Woman Named Jackie, a bestselling biography of Jacqueline Kennedy; and Liz: An Intimate Biography of Elizabeth Taylor (1995), both of which were made into TV movies.
He first became known to MM fans in 1999, when RFK: A Candid Biography of Robert F. Kennedy was published. In this book, he claimed that Peter Lawford told him that he and Kennedy had visited Marilyn on the day she died, and that she had threatened Kennedy with a knife.
This interview is often cited by those authors who believe Marilyn was murdered by order of the Kennedys, though others doubt that Kennedy visited Marilyn that day (he was photographed on a friend's ranch near San Francisco with his family on the same weekend.)
The controversy surrounding Heymann deepened in 2009, with the publication of Bobby and Jackie: A Love Story. Many Kennedy scholars disputed his claim of an affair between Robert Kennedy and his brother's wife. "It's a new low, and you just wonder how far people are willing to go," Laurence Leamer, author of three books about the Kennedys, told the New York Daily News.
Heymann died in May 2012. Joe and Marilyn was originally due to be published in April 2013, but the release date was repeatedly pushed back. It has now been published, and was heralded by a rather scurrilous article in the New York Post:
"In one of the book's more outrageous claims, DiMaggio spent $10,000 on a life-size sex doll made in Monroe's image. One year after Monroe filed for divorce, he showed it to a stewardess he was seeing.

'She's Marilyn the Magnificent,' DiMaggio said. 'She can do anything Marilyn can do, except talk.'"
Joe and Marilyn contains numerous factual errors. For example, Heymann claims that Ana Lower took Norma Jeane to visit her mother in a mental hospital. In fact, it was Grace Goddard; Ana did not meet Gladys until much later. Heymann also writes that Marlon Brando sent Marilyn a fake signed photo of Einstein as a joke. In fact, the prankster was Eli Wallach. He later claims that John Huston first directed Marilyn in Ladies of the Chorus (actually, it was The Asphalt Jungle.)
Among the book's more bizarre claims are that Marilyn smoked dope with Arthur Miller; that Miller's young son was a cross-dresser; that she ran naked through the Mapes hotel and casino; and had sex in public with Jose Bolanos.
Heymann claimed to have interviewed many people close to Joe and Marilyn, including press agent Rupert Allan; make-up artist Alan 'Whitey' Snyder; George Solotaire's son, Robert; Dom DiMaggio; Joe DiMaggio junior; Marilyn's mime teacher, Lotte Goslar; and her masseur, Ralph Roberts.
However, many of the quotes attributed to them seem paraphrased from previously published material. And most of these people were known for their discretion, which makes much of what is said therein hard to believe.
In the case of Lotte Goslar, there is no evidence that she was a longterm confidante of Marilyn's. Doris Lilly, author of the 1951 novel, How to Marry a Millionaire, is also named as a close friend, without corroborating evidence. Other alleged sources, such as psychiatrist Rose Fromm and journalist Kurt Lamprecht, also seem to have appeared from nowhere.
While Heymann acknowledges that Robert Slatzer's story of a secret marriage to Marilyn has been debunked, he nonetheless asserts that Slatzer's story of a clash with Joe DiMaggio is true. He also claims to have interviewed Jeanne Carmen, Marilyn's self-styled 'best friend', whose stories have also been widely discredited.
As Margalit Fox noted in her New York Times obituary: "Though some critics admired Mr. Heymann's biographies for their comprehensiveness, others were far more caustic. Their concerns included his use of single rather than multiple sources in reconstructing historical events, and his reliance on hearsay accounts by people not directly involved in incidents he was describing."
With all this in mind, I cannot recommend Joe and Marilyn: Legends in Love as a reliable biography. It is so utterly riddled with mistakes, exaggerations and distortions that it soon becomes impossible to tell whether any of it is real. I suspect that what little grains of truth this book may contain are largely thanks to the earlier work of other, more rigorous authors.