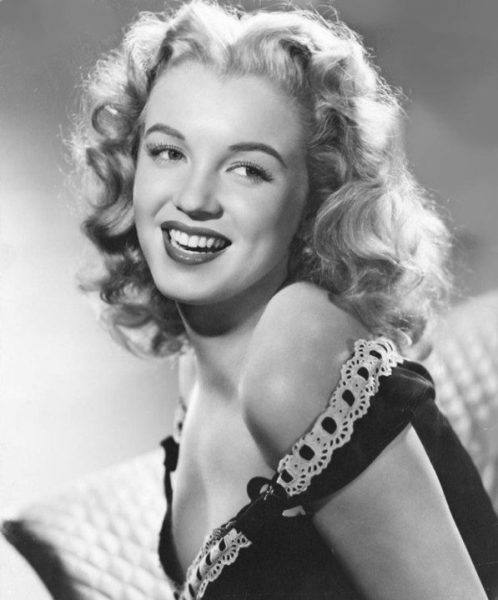 My Lunches With Orson is a new book featuring filmmaker Henry Jaglom's conversations with the maverick Hollywood actor-director, Orson Welles. In it, Welles mentions dating Marilyn before she was famous, during a discussion about Darryl F. Zanuck, reports the Huffington Post: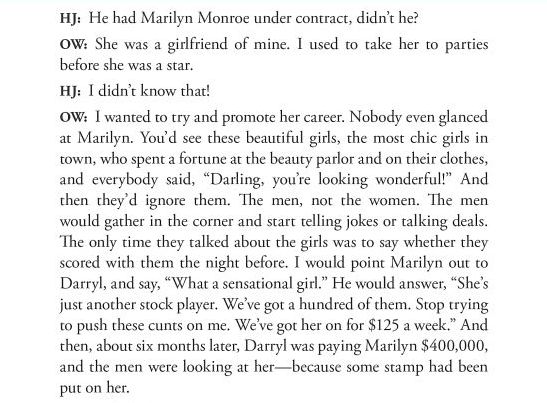 The way Welles depicts Zanuck is quite believable, as he never really respected Marilyn (even after she became his biggest star.) Another story linking Welles to MM is mentioned in a Guardian article from 2003, so their alleged affair pre-dates this book.
· 1947 
Made The Lady from Shanghai with Hayworth. A brief fling with unknown starlet Marilyn Monroe ended with an angry husband (not hers), wrongly convinced that Welles was with his wife, bursting in on Welles and Monroe and thumping the filmmaker in the jaw.
What is strange, though, is that The Guardian places Welles's encounter with Marilyn in 1947. Success, for her, didn't come 'six months later' – it took several years. And even in 1955, when she was a worldwide star, she had to fight for better pay. So I don't know where his figure of $400,000, as told to Jaglom, comes from.
Exaggerations aside, though, his story may be true – Marilyn was certainly attracted to strong, intellectual men. And Welles was a well-known ladies' man, on the rebound from his marriage to another beautiful actress, Rita Hayworth.
While Marilyn never mentioned an affair with Welles publicly, this is not all that surprising, as she was generally a very discreet person. It may not even have been a very long, or significant relationship for her, despite Welles's fame. During her single days, and like many other pretty starlets, Marilyn would often be dating several men at any given time – but this is not to imply that she slept with every man she went out with.
In If This Was Happiness, Barbara Leaming's 1989 biography of Rita Hayworth, the Welles-Monroe rumour is also firmly placed in 1947. Leaming interviewed Welles; she had published a biography of Welles in 1988, and of course, would later write about MM.
"When Rita returned home to California that September, there was one last matter to be taken care of before she went back to work at Columbia: in October she officially filed for divorce. Not a word of protest came from Welles, who, meanwhile, had been hurriedly shooting a low-budget Macbeth at Republic Studios, enjoying a fling with Marilyn Monroe, and preparing to decamp for Italy to star in a film about Cagliostro. By the time of the divorce hearing in November, he was already out of the country."
1947 was a shadowy year in Marilyn's life, and it remains little-documented. The Cursum Perficio website notes that Marilyn's contract with Twentieth Century Fox (Zanuck's studio) lapsed in July. From September to November – the most likely time-span of the alleged fling with Welles – Marilyn was also in Los Angeles, playing a role in a stage production called Glamour Preferred, at the Bliss-Hayden Theatre.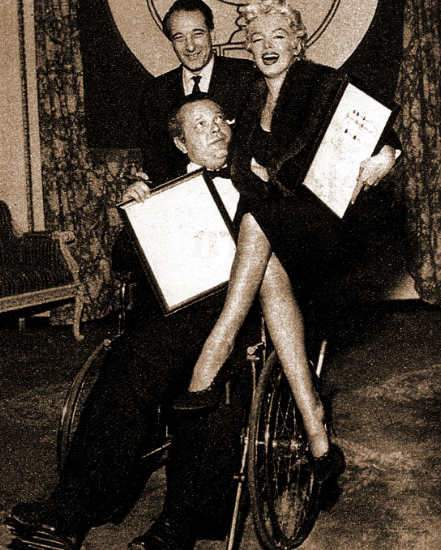 The only known photo of Welles with Marilyn was taken eight years later, in January 1956, when she received the award from the 'Women's Division of the Jewish Philanthropies of New York City.' Since her arrival in New York a year before, Marilyn had done a great deal of charitable work; and she would convert to Judaism a few months later, just before marrying Arthur Miller.
Welles also won an award that day; behind them is Victor Borge, the comedian, conductor and pianist dubbed 'the Clown prince of Denmark.'