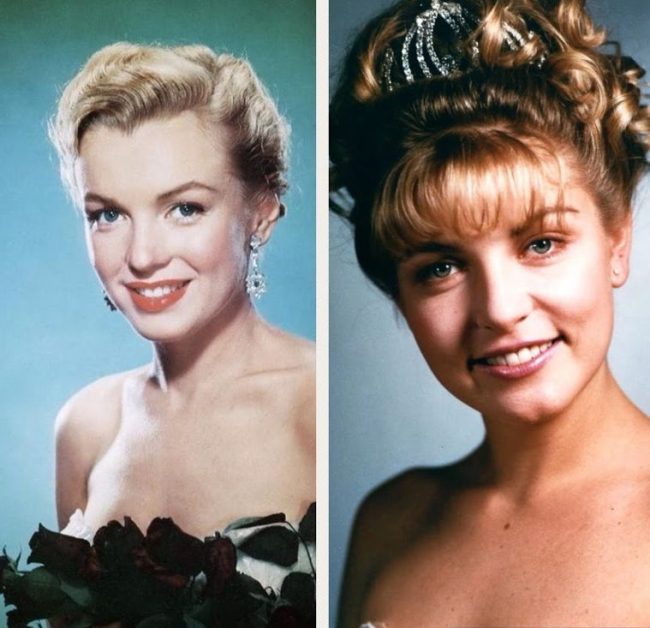 If you're a fan of cult TV series Twin Peaks, you'll already know that director David Lynch and writer Mark Frost created it after shelving an earlier collaboration based on Anthony Summers' Goddess.) There are striking parallels between the main female protagonist, Laura Palmer (played by Sheryl Lee), and Marilyn, which go beyond their mysterious deaths.
In last year's Twin Peaks revival, Marilyn's Bus Stop co-star Don Murray played a key role. Actors Russ Tamblyn and Miguel Ferrer also had real-life links to Marilyn. I was also reminded of her sensual performance in Niagara during a scene where beautiful FBI agent Tammy Preston (Chrysta Bell) is filmed walking away from the camera, while ditzy casino hostess Candie (Amy Shiels) resembled Lorelei in Gentlemen Prefer Blondes, even wearing a pink tutu with matching gloves and diamonds, not unlike Marilyn's costume in the 'Diamonds Are a Girl's Best Friend' number….
But maybe that's all just wishful thinking on my part. Going back to the original series, Zach Gayne explores the similarities between Marilyn and Laura in 'Twin Peaks and the Point of No Return', an essay for Screen Anarchy.
"Lately, I've been thinking a lot about Marilyn Monroe and the abandoned project that first united David Lynch and Mark Frost – the two were apparently interested in co-adapting Anthony Summers' expose, Goddess: The Secret Lives of Marilyn Monroe. While this is absolute conjecture, I can't help but wonder if the two minds, who'd bonded over their interest in detailing the story of a fallen goddess – adored by all, but understood by few, who's shadow ultimately overcame her angel – felt that the exploring Monroe when she was still Norma Jeane wouldn't be the more effective way to detail the all-too-common American tragedy of a bright young woman succumbing to purveyors of darkness.

Laura Palmer is nothing if not a high-school Marilyn Monroe – a magnetic soul who draws no shortage of desire from, not only the hottest boy in school, but many of the town's adults, like the local psychedelic psychologist or the wealthy hotel tycoon. One might say she brought out the best or worst in people, depending on their innermost natures. Laura, a supreme beacon of light, in addition to attracting love of the purest kind also attracted fire, and for her sins of merely existing, from a young age she was met with dark temptations as old as the ghostwood forest, like so many generations of distressed damsels and lads before and after her."