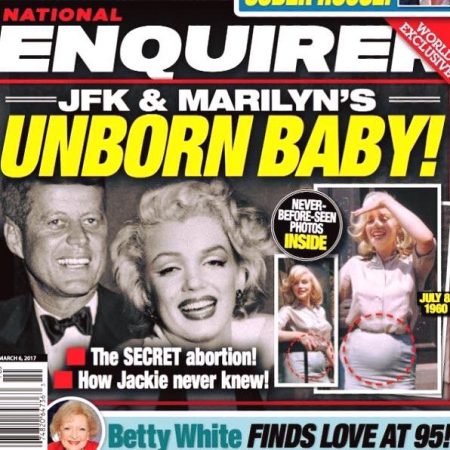 Last week, ES Updates reported on a Daily Mail story concerning a group of candid photos taken by Monroe Sixer Frieda Hull, showing Marilyn during test shots for The Misfits, and the rather spurious claim by Las Vegas croupier Tony Michaels, a former acquaintance of the late Ms Hull who purchased the photos at Julien's Auctions last November, that Marilyn was carrying Yves Montand's child.
As I explained last week, no pregnancy at this time has ever been noted, and there are numerous similar photos of Marilyn with a slightly prominent tummy over the years. Therefore, there is no reason to believe she was pregnant. At the time, I wondered whether this would qualify as the silliest Marilyn-related story of the year – but only days later, the US-based National Enquirer went one step further, claiming John F. Kennedy was the father, and that Marilyn had an abortion (presumably at his behest.)
Many moons ago, I would buy the Enquirer for a cheap laugh, fully aware that most of their stories were probably untrue. In this age of viral news, however, the damage done by unfounded gossip cannot be so easily dismissed.
The front cover image depicting Marilyn with Kennedy appears to be a digital manipulation. There is only one verified image showing them together, after his birthday gala in May 1962. There is no evidence of the pair having met before late 1961 or early '62, and Frieda Hull's photos of Marilyn were taken in July 1960.
Could it be possible that the Enquirer's editors decided that Montand was not quite famous enough for their readership, and reverted to the more familiar rumours about Marilyn and the former president instead? Their rather crude red circling of Marilyn's tummy shows how innocuous her alleged 'baby bump' really was.
Whatever the truth of Marilyn's relationship with John F. Kennedy, this story is plainly absurd. While both 'victims' are long dead, their reputations are still being sullied today. What makes this all the more sad, for those who care, is the knowledge that Marilyn desperately wanted children but, after several miscarriages and failed operations to relieve her chronic endometriosis, would never have a baby of her own.