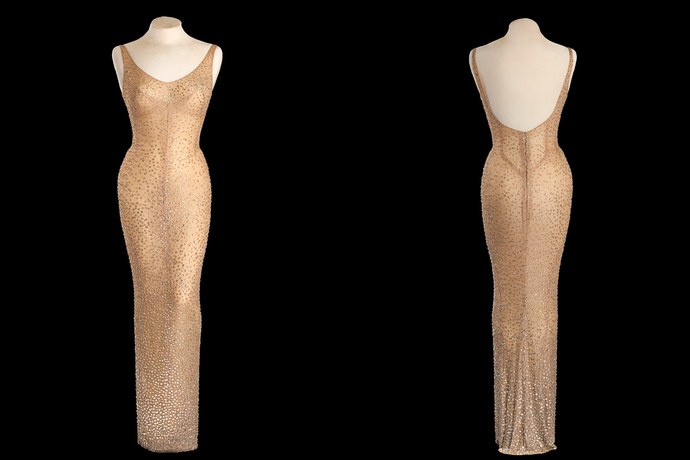 While Marilyn's white halter dress from The Seven Year Itch may be her most iconic movie costume, the beaded 'nude' gown she wore to sing Happy Birthday to President John F. Kennedy in 1962 is perhaps the greatest marker of her place in history. After selling for $1.627 million at Christie's in 1999, it will now be the star item in the Marilyn-only sale at Julien's Auctions in November, Vanity Fair reveals.
As previously reported by ES Updates, the auction will also include the collections of David Gainsborough Roberts, Monroe Sixer Frieda Hull and Marilyn's estate.  Collector Scott Fortner, who is helping to curate the sale and touring exhibition, has offered fans a chance to win tickets to the event and a limited edition box-set catalogue. To enter the contest, visit his MM Collection Blog.
UPDATE: The 'Happy Birthday' dress was sold at Julien's for $4.8 million on November 16, 2016, making it the most lucrative dress in auction history. The buyer is Ripley's Believe It Or Not museum, who plan to showcase the dress in future exhibitions. Read a full report from Scott Fortner on his MM Collection Blog.