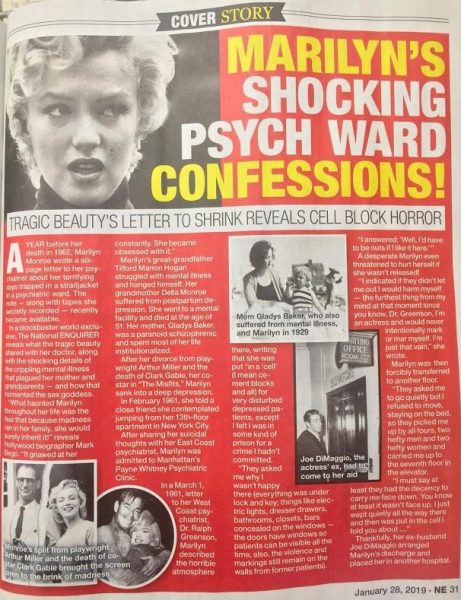 Marilyn's 1961 letter to Dr Ralph Greenson, written while she was recuperating in New York's Columbia Presbyterian Hospital after a period of depression led to a brief and terrifying stay in the psychiatric ward at Payne Whitney, is the subject of an article in this week's National Enquirer. Author Mark Bego, who has written biographies of Madonna and others, brought the letter to the magazine's attention.
Unusually for the Enquirer, the story is fairly accurate, if sensationalised – and not, as they claim, a 'blockbuster exclusive'. The letter was first published in its entirety by Donald Spoto in 1992, and is also featured in Fragments, the 2010 collection of Marilyn's personal writings. (You can also read it on the Letters of Note blog.)
You can find the Enquirer article in the latest issue, dated January 28 (with Lisa Marie Presley on the cover.) However, as noted by All About Marilyn today, the same article also appears in the current issue of the National Examiner (with Betty White on the cover), although the Examiner is currently available in the US only.