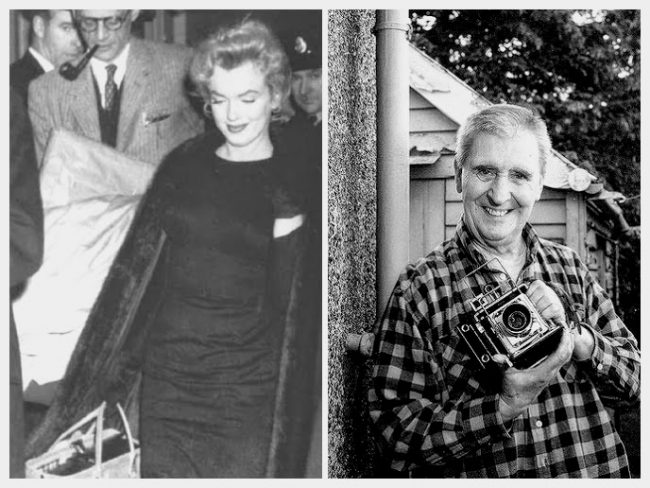 Fleet Street photographer Horace Ward, who captured Marilyn and many other celebrities on film, has died. Ward photographed Marilyn at London Airport on November 20, 1956, during a final press conference before she and husband Arthur Miller departed for New York. Sir Laurence Olivier and his wife, Vivien Leigh, were also present. The atmosphere was far more muted that day than when Marilyn had arrived to film The Prince and the Showgirl four months previously, perhaps because of her fractured relationship with the British press (not to mention Olivier.) "What I do remember vividly, the coldness that night standing on the tarmac," he wrote later. "I was frozen to the ground – just glad the flashbulbs went off."
Horace was interviewed by author Michelle Morgan for the 2012 edition of her definitive biography, Marilyn Monroe: Private and Undisclosed.  He recalled: "I remember a crowded press conference in the old tin-hut terminal with dreadful drab green curtains they had up as a backcloth, which everyone moaned about. There were hardly any fans about; it was mostly airport staff and a few police."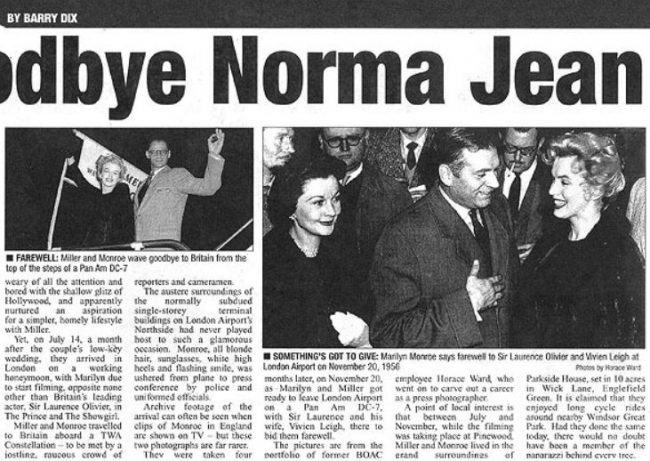 In his bio for EPhotoZine, Horace noted that he began taking photographs in 1949. Self-taught, his first newspaper picture was published that year. After serving in the army, he worked in the photographic department of a national airline. By the early 1960s, he had moved to Fleet Street, with up to five pictures published each day. As well as Marilyn, he captured other blonde bombshells including singer Kathy Kirby, plus actresses Brigitte Bardot, Jayne Mansfield and Vera Day (who had earlier dyed her hair red to play Marilyn's friend Betty in The Prince and the Showgirl.)
He was commissioned to photograph the legendary dance troupe, The Tiller Girls, for London's Evening Standard in 1960. The British Music Hall Society has featured his photographs of Adam Faith, Alma Cogan, Anthony Newley, Kathy Kirby (a glamorous blonde singer whose looks were compared to Marilyn's), Charlie Drake, Bernard Bresslaw, and Cliff Richard on their website.  He also photographed Vera Day (who played  on The Prince and the Showgirl) many visiting entertainers, including Pat Boone and Connie Francis.
Among his most famous subjects were Winston Churchill, Bob Hope, and Marilyn's Gentlemen Prefer Blondes co-star, Jane Russell. Horace later became chief glamour photographer for a leading magazine. Further examples of his work can be found on the personal website of the Belgian actress Bettine Le Beau, who died in 2015. In later years he preferred to photograph steam trains (his father had worked for the Great Western Railway.)
"Horace was a brilliant photographer and a wonderful friend," Michelle Morgan wrote today. "I knew Horace for fourteen years and he was always so kind, funny and supportive. I'll always remember him with great warmth and affection." You can read her tribute here.