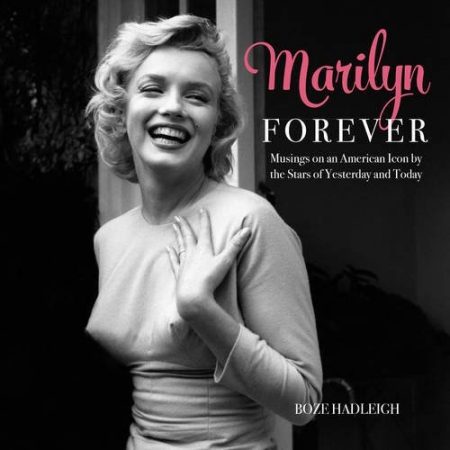 Marilyn Forever : Musings on an American Icon by the Stars of Yesterday and Today is a new collection of quotes about Marilyn, compiled by author Boze Hadleigh. Those who knew and worked with Marilyn are featured here, alongside a wide range of public figures from past to present. Marilyn Forever is illustrated with around twenty full-page photos, all well-known. Hadleigh has researched his subject thoroughly, as many of the comments in this book were new to me. Not all of these are flattering to Marilyn, and some are highly speculative, but overall the tone is sympathetic.
My main criticism is that Hadleigh, who has written several books about gays and lesbians in classic Hollywood, seems determined to include Marilyn in their number, though in reality the evidence of anything more than curiosity on her part is rather scant. He focuses in particular on her close relationship with drama coach Natasha Lytess. Hadleigh also devotes several pages to the scandal of Marilyn's nude calendar, framing her as a pioneer of the sexual revolution. While this may be true, there are other remarkable aspects of her life which are lesser known.
Nonetheless, Marilyn Forever is not overly sensationalised. When discussing the rumours about Marilyn and the Kennedys, Hadleigh gives equal weight to those who believe the allegations and other, more sceptical opinions. A brief epilogue features quotes from Marilyn herself, and I was relieved not to see any of the misattributed remarks which have become so rife on the internet in recent years. Marilyn Forever is well worth adding to your library, and I hope Boze Hadleigh will now consider writing a sequel, based on Marilyn's own words.