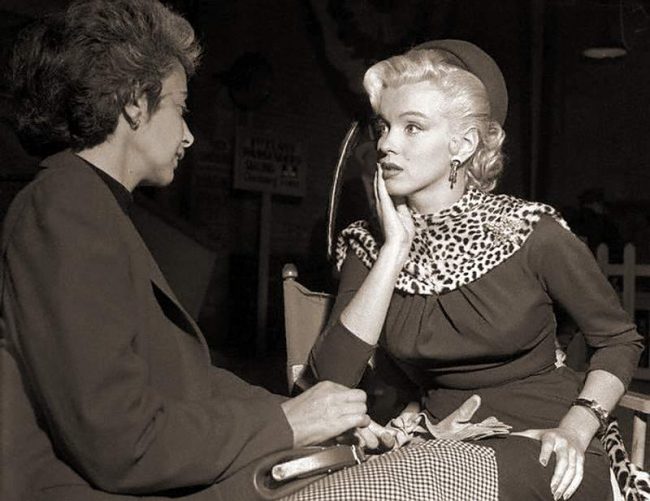 A rather misleading article by David Gardner appears in today's Mail, claiming that Marilyn had a 'lesbian affair' with her dramatic coach, Natasha Lytess. This rumour is nothing new – but while there is some evidence to suggest that Natasha was infatuated with her pupil, there is no proof that Marilyn reciprocated.
Gardner cites Ted Jordan, author of Norma Jean: My Secret Life With Marilyn Monroe (also known as Norma Jean: A Hollywood Love Story, published in 1989), as hearing Marilyn remark about her supposed affair with Natasha, 'Sex is something you do with people you like. What could be wrong with a natural act?'

However, Jordan has been widely discredited as a fantasist. There is no proof of his alleged association with Monroe. Even his ex-wife, Lilli St Cyr, said his stories about Marilyn were fabricated.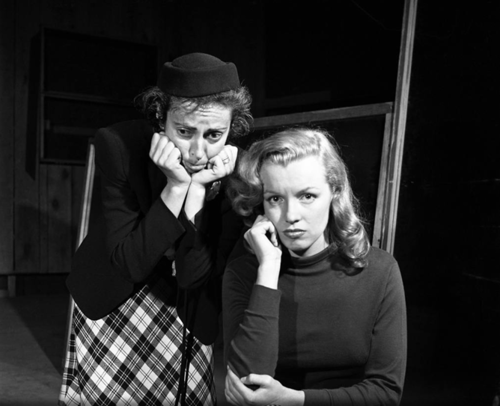 A more reliable source is Marilyn herself, who addressed the subject in her 1954 memoir, My Story (co-written with Ben Hecht.)
"Sex is a baffling thing when it doesn't happen. I used to wake up in the morning, when I was married, and wonder if the whole world was crazy, whooping about sex all the time. It was like hearing all the time that stove polish was the greatest invention on earth.

Then it dawned on me that people – other women – were different from me. They could feel things I couldn't. And when I started reading books I ran into the words 'frigid,' 'rejected' and 'lesbian.' I wondered if I was all three of these things.

A man who had kissed me once had said it was very possible that I was a lesbian because apparently I had no response to males – meaning him. I didn't contradict him because I didn't know what I was. There were times even when I didn't feel human and times when all I could think of was dying. There was also the sinister fact that a well-made woman had always thrilled me to look at.

Now, having fallen in love, I knew what I was. It wasn't a lesbian. The world and its excitement over sex didn't seem crazy. In fact, it didn't seem crazy enough."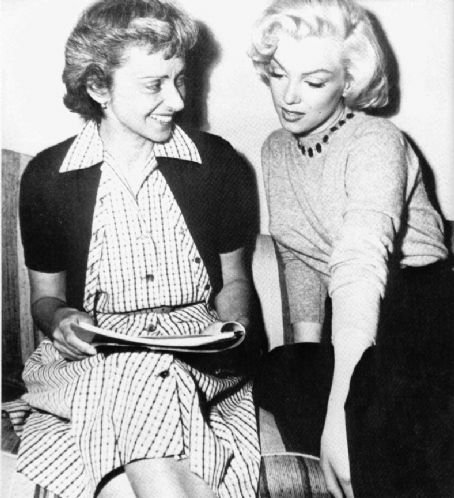 Marilyn first met Natasha when she was briefly signed to Columbia in 1948. Lytess became her dramatic coach for six years. Marilyn grew close to Natasha, and would often stay at her home. This is not unusual – Marilyn also often stayed at the home of her friends the Kargers, who lived nearby. (An apartment in the same building, on Harper Avenue in West Hollywood, was recently up for sale.)
Over time, others close to Marilyn – especially Joe DiMaggio – came to feel that Natasha was too fixated and controlling of Marilyn. Such was Monroe's deference to Lytess, directors tried to have her thrown off the set. Nonetheless, Lytess commanded a high salary thanks to her association with the rising star. Marilyn was exceedingly generous with money, which Natasha also benefited from.
By 1954, it seemed Marilyn agreed with Natasha's critics. After leaving Hollywood for New York, she broke off all contact with her former teacher. When she returned in 1956, Marilyn had a new acting coach – Paula Strasberg. Lytess lost her job at Fox and never saw Monroe again.
Perhaps understandably, Lytess was extremely bitter. She wrote a memoir, My Years With Marilyn, which has never been published in its entirety, but has been widely quoted by Monroe's biographer. Natasha died of cancer in 1964.
While Marilyn may have experimented sexually on occasion, and was supportive of her gay friends, the rumours are pure conjecture. The quotes from Natasha cited in the Mail seem to be drawn from a 1961 interview, unseen until it was picked up by the soft-porn magazine, Penthouse, in 1991.
What is most noticeable about this interview – and the Mail article – is that while it may suggest that Natasha was strongly attracted to Marilyn, it gives no indication that she shared these feelings.
Lytess also gave an interview on French television in 1962. It can be seen on Youtube, and has been translated on the Everlasting Star forum (members only.)
Donald Spoto described their relationship best in Marilyn Monroe: The Biography (1992.)
"Dependent on Natasha though she seemed to be, Marilyn had an independence and a strength as well, an ingrained ambition that overcame countless disappointments, lonelinesses and setbacks. The sad truth is that Natasha Lytess was more profoundly dependent on Marilyn and Marilyn's need of her, and therein may lie the reason why she endured six years of emotional crisis. Even as she was doomed to frustration, Natasha loved so deeply she could not bring herself to the action that would have freed her – separation from Marilyn."