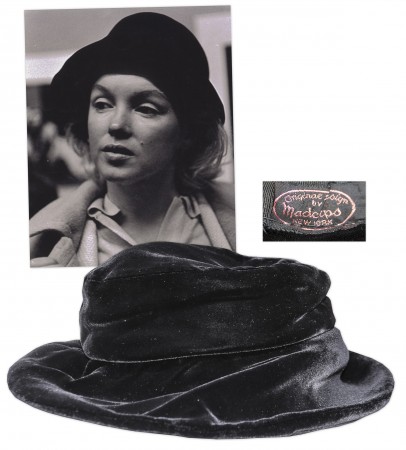 A black velvet floppy hat with upturned brim – belonging to Marilyn, and worn in a photo taken by Roy Schatt at the Actors Studio circa 1955 – is on offer for a starting bid of $20,000 at Nate G. Sanders Auctions this coming Thursday, August 27. The hat label reads, 'Original Design by Madcaps New York.' Apart from a tear in the lining, the hat is in good condition. It was originally sold at the Personal Property of Marilyn Monroe auction at Christie's in 1999.
A cheque for sixty-one dollars, signed by Marilyn to her secretary, May Reis (with 'Marilyn Monroe Prods.' written underneath), is also on offer for a starting bid of $2,500. It is dated October 9, 1958 – Marilyn was filming Some Like it Hot at the time.
UPDATE: Marilyn's hat went unsold.