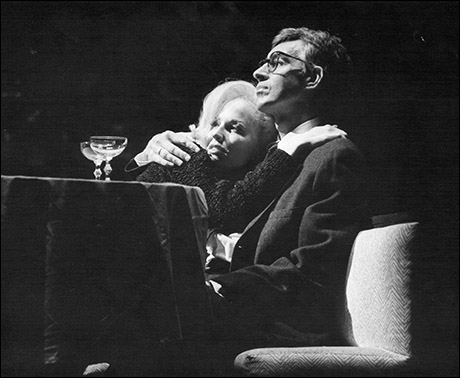 I've said before that there are so many plays about Marilyn being produced lately that it's hard to keep track of them all – and frankly, most of them are best forgotten. Marilyn: Forever Blonde, the long-running, one-woman show starring Sunny Thompson, has bucked the trend and become a firm fan favourite. And back in 1983, British actress Stephanie Lawrence gained critical acclaim for her role in Marilyn! The Musical, although the show was panned.
So is Marilyn's life the stuff that great plays are made of? 'I think the best way to present Marilyn Monroe's life is on the stage rather than in a movie,' says MM biographer Carl Rollyson. 'Why? Because in this case the right actress can project an image of Marilyn Monroe that is not dependent on camera closeups which keep reminding us the actress is not Marilyn Monroe. In the theatre so much can be done when the audience is not right smack up against the actors.'
As the makers of TV's Smash try to bring their Marilyn-inspired musical, Bombshell, to Broadway, author Mark Robinson looks back at another ill-fated 1983 production, Marilyn: An American Fable, in an article for Playbill.
"It was never a bad idea to tell Monroe's story through the conventions of musical theatre. It simply needed to be done in a way that served to honor the icon and the human being behind it. Bombshell, or at least the TV show that was the genesis of its creation, is already a hit and continues to be a subject of intrigue for those who want to see how a mythical fairytale about the creation of a Broadway musical concludes. It's the inevitable payoff for two season's worth of devoted viewership. With a strong book, the right casting and a production that delivers all the splash and flash worthy of Marilyn Monroe, all of the other ingredients are in place for a quality musical. This is not Marilyn: An American Fable, where very few things came together to transport us into this Hollywood legend's life. All signs point to a 'happy ever after' for Bombshell."