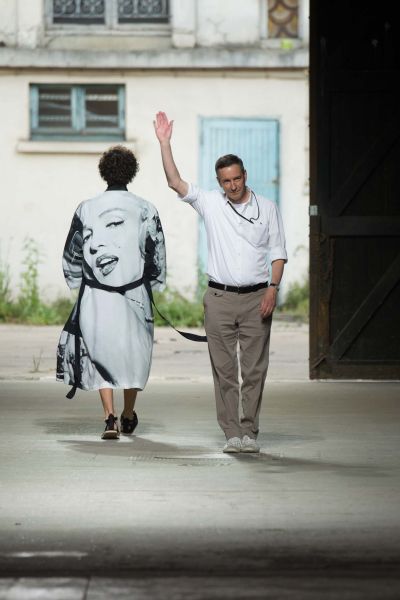 Marilyn has long cast a shadow over women's fashion, and now Belgian designer Dries Van Noten has made her a central focus in his Spring 2016 menswear collection.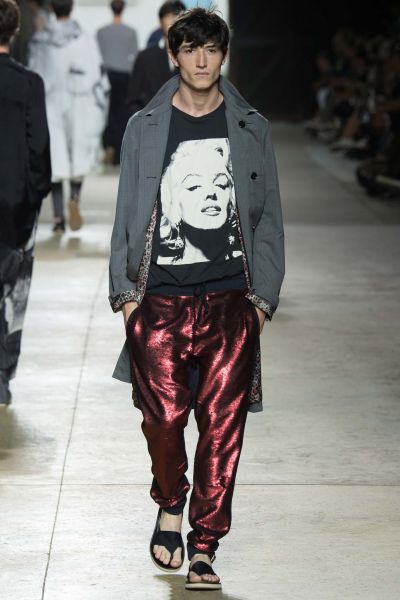 'Belgian designers have been standoffish about the celebrity craze,' Miles Socha writes for WWD. 'Yet there was the ultimate Hollywood bombshell, Marilyn Monroe, flashbulb-era paparazzi in hot pursuit, splashed all over Dries Van Noten's spring collection. 'Will these black-and-white photo prints — seen on suits, capes, shirts, sweaters, boxer shorts, you name it — be as influential as the designer's silky, boudoir collection a year ago?' Sucha asks. 'This collection was not as compelling, though it echoed other Paris runways in pointing to a more embellished path for men's wear. Van Noten added sparkly embroideries and sequins to his roomy, vaguely Fifties clothes as Elvis Presley crooned Love Me Tender and his models filed into a vast warehouse.'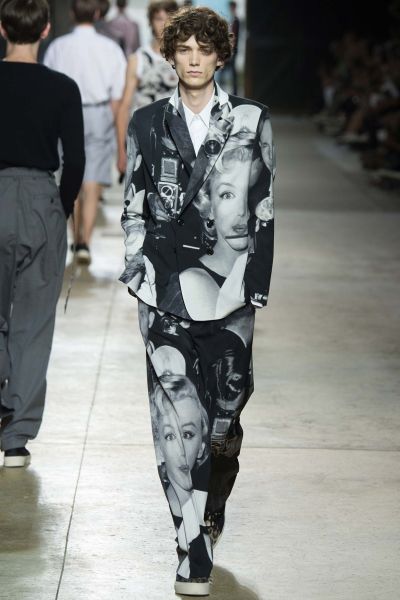 'There would have been some Elvis too, if the estate had been more cooperative,' Tim Banks reveals, over at Style.com. 'Getty Images, on the other hand, was perfectly agreeable, so Van Noten got to use Marilyn on anything from a double-breasted suit to a pair of boxing shorts and a capacious poncho. Knitwear claimed one of MM's eyes and her lips, adapting Erwin Blumenfeld's classic 1950 Vogue cover. A polo shirt featured a photoprint of a beautiful, poignant poolside snap.'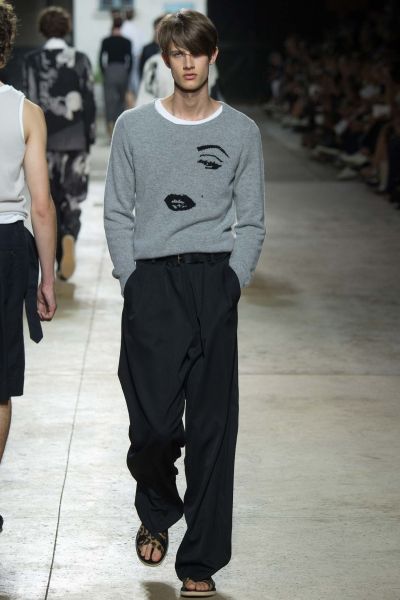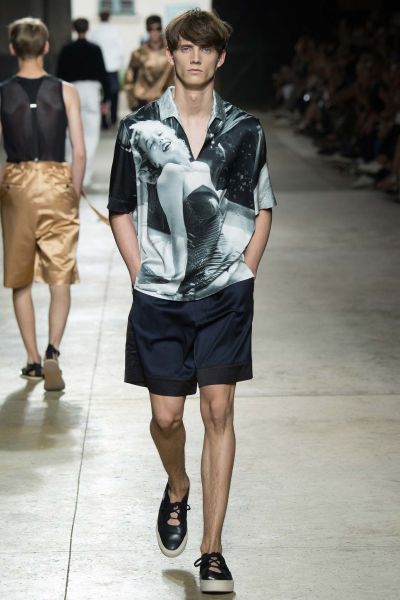 'We got it that Dries was orchestrating icons in his collection,' Banks continues. 'And it was an impressive tribute to her durability that the young models in Van Noten's show actually knew who Marilyn Monroe was. But that didn't diminish the eeriness of seeing tragic Marilyn's face writ so large on a man's suit or a long, fluid robe. And the collection's color palette seemed to recognize that. It had a Hollywood gothic flavor, gilded and shadowy.'
You can look behind the scenes of Dries Van Noten's Marilyn-inspired collection here.