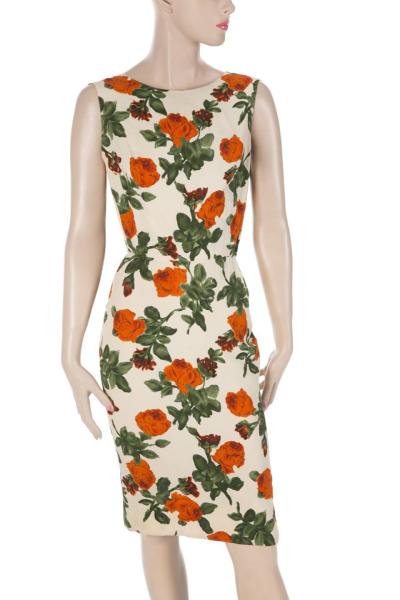 The latest Hollywood Legends sale will take place at Julien's Auctions on June 26-27, reports the New York Daily News. As reported previously on ES Updates, Marilyn graces the catalogue cover in the floral print dress she wore in Something's Got to Give – one of many Monroe-related items on offer.
1) An employment card dated June 8, 1950 (when Marilyn was filming All About Eve at Twentieth Century-Fox); and a change of rate card from the same studio dated November 5, 1953, noting her salary increase from $750 to $1,250 weekly (she was by then starring in Gentlemen Prefer Blondes.) Another letter from Fox's casting director, Lew Schreiber advises Marilyn that filming of Time and Tide will commence on April 14, 1959. (Her role was ultimately played by Lee Remick in the renamed Wild River.)
2) A 'Golden Dreams' calendar from 1953; a 'New Wrinkle' lithograph by Tom Kelley; and the first issue of Playboy, signed by Hugh Hefner.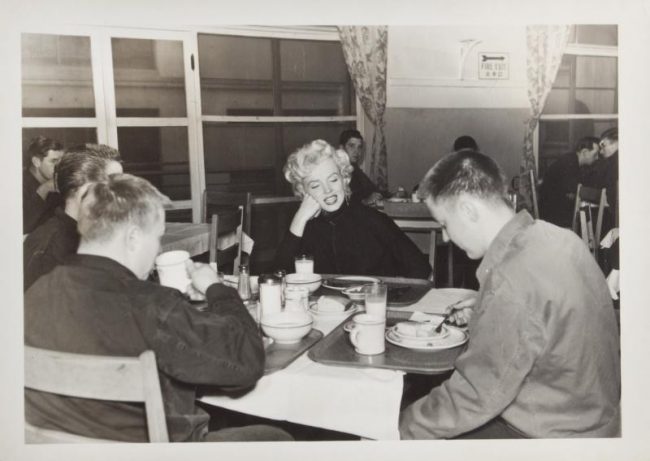 3) Candid photos of Marilyn dining with troops in Korea, 1954; and behind the scenes of Let's Make Love (1960.) Also, a photo of Marilyn with Manfred Kreiner on location for The Misfits, and 3 photographs taken by Gene Daniels at the Golden Globes ceremony, 1962.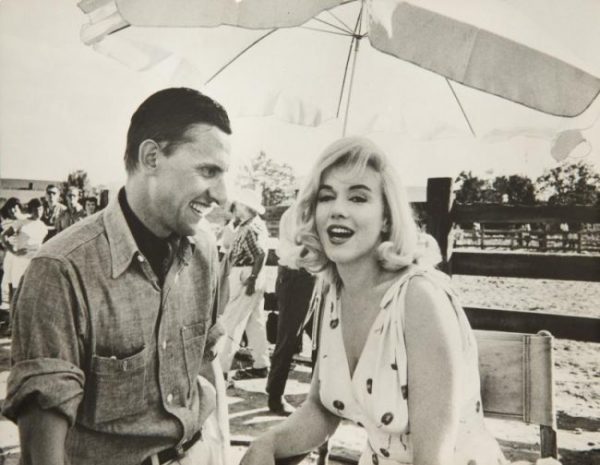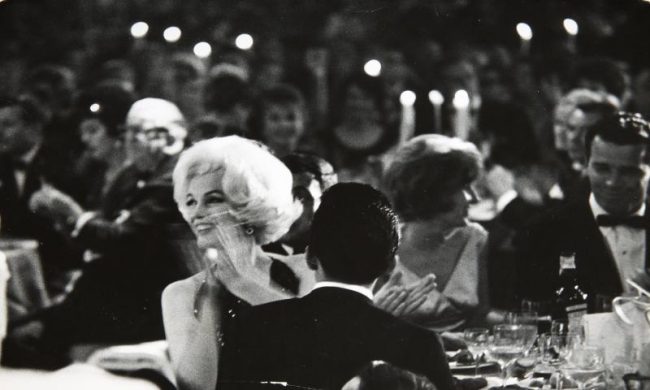 4) A scrapbook commemorating the 40th anniversary of the Princess Cafe, Iowa Falls, in November 1955. A telegram from Marilyn to actress Margery 'Madge' Meredith (once a waitress at the cafe, she gained notoriety in Hollywood after being jailed for complicity in an assault on her former manager – but was freed in 1951 after the court concluded she had been framed) and referring to the cafe's owners, Harry Pergakis and Ernie Karrys, reads, "AM JEALOUS YOU INVITED INSTEAD OF ME. I STRUCK OUT WITH JOE AND CAN'T EVEN GET TO FIRST BASE WITH HARRY AND ERNIE =MARILYN MONROE="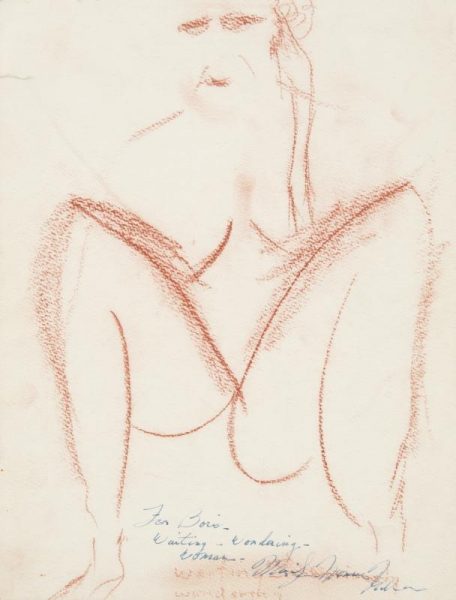 5) A drawing of a nude woman signed by Marilyn, who inscribed and gifted the drawing to Broadway set designer Boris Aronson. Sanguine on paper, inscribed in blue ink "For Boris -/ Waiting – Wondering -/ Woman – Marilyn Monroe Miller" mounted to matteboard and undated. The drawing has been referred to as 'an erotic self-portrait.'
Arthur Miller worked with Aronson on A View From the Bridge around the time of Miller's divorce and budding relationship with Monroe. Aronson, when he first met Monroe, is quoted by Elia Kazan as having said, 'That's a wife?' Kazan shared that quote and evidently its sentiment by answering the question in his autobiography as, 'Hell no!'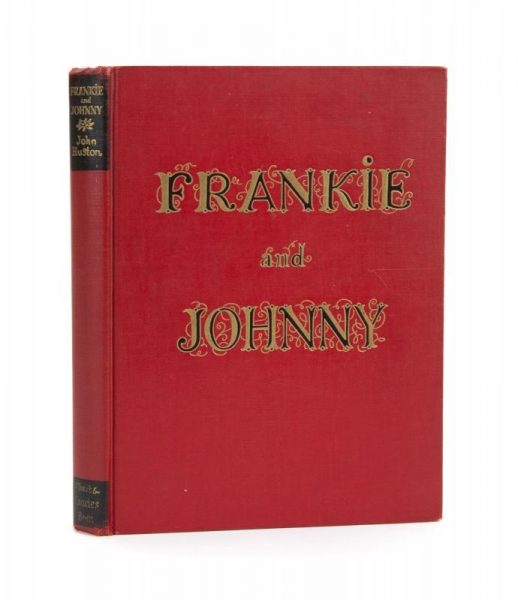 6) Marilyn's own copies of Doctor Pygmalion by Maxwell Maltz, and The Unfinished Country by Max Lerner. A copy of John Huston's 1930 script, Frankie and Johnny, with the inscription, "Marilyn dear/ All those years ago/ when you were hardly/ born I wrote this for/ you – the perfect Frankie/ Johnny (himself)/ Huston." (So much for my theory that it was connected to the Elvis Presley movie!)
7) Personal letters to Marilyn from Jean Negulesco, Inez Melson and William Inge; documents regarding Marilyn moving to Milton Greene's Connecticut home in 1954;
8) A lidded Wedgwood Jasperware trinket box owned by Marilyn, and assorted hair and make-up items, including a container of Erno Laszlo face powder.
9) The chaise longue featured in the title song from Let's Make Love.
10) Limited edition etchings of Marilyn by Al Hirshfeld.
11) An expense form from Marilyn Monroe's public relations agency, Arthur P. Jacobs Company Inc., dated June 11, 1962, for costs incurred through long-distance calls made to Monroe by Pat Newcomb in April 1962. Accompanied by a black and white photograph of Newcomb with Monroe at John F. Kennedy's birthday gala held in May 1962.
12) A Mexican tapestry purchased by Marilyn for her final home in Brentwood, Los Angeles; her script for Something's Got to Give, marked 'revised screenplay', from February 1962; a letter from Westwood Memorial Park to Marjorie Plecher (future wife of Allan 'Whitey' Snyder), thanking Plecher for helping to dress Marilyn for her funeral; and the original grave marker, which has been replaced.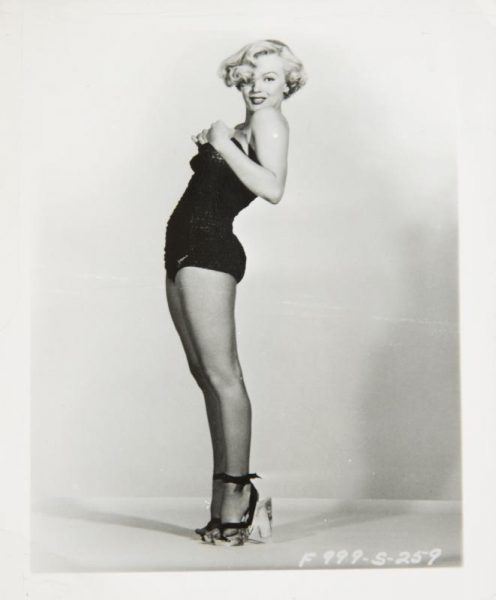 13) Photos by Joseph Jasgur, Andre de Dienes, Phil Burchman, George Barris, Bruno Bernard, Milton Greene, Philippe Halsman, John Bryson, Sam Shaw, Jack Cardiff, Lawrence Schiller.