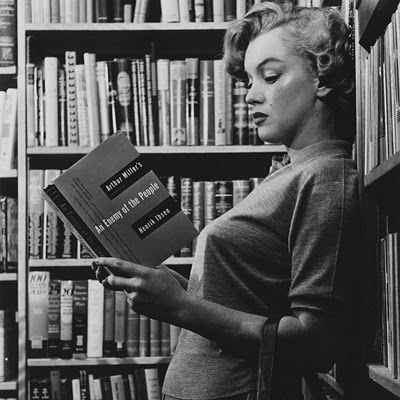 The Hook, Arthur Miller's long-buried screenplay about troubled dockers on the New York waterfront – a district still known as Red Hook – is finally being staged at the Royal and Derngate Theatre in Northampton (of all places) after more than sixty years on the shelf, Matt Trueman writes in today's Guardian.
"This is the script – 'a play for the screen,' he called it – that indirectly triggers Miller's summons to the House Un-American Activities Committee (HUAC). It sowed the seeds of his marriage to Marilyn Monroe and his professional split from director Elia Kazan. Without The Hook, he probably wouldn't have written The Crucible or A View from the Bridge, nor would Kazan have made On the Waterfront. It might be the most influential film never made.

Don't think staging it is an exercise in theatrical history, though. Sixty-six years on, The Hook is unnervingly prescient. Its focus is the exploited workforce and union corruption in New York's docks. 'It talks about the living wage, zero-hours contracts and industrial communities on the brink of enormous change,' says director James Dacre, adamant that he wouldn't programme it otherwise. 'Why here? Why now?'"
This play is of special interest to Marilyn fans, because Miller originally pitched it as a movie to Columbia's Harry Cohn in 1951, during his first visit to Hollywood with director Elia Kazan. Marilyn, who was then dating Kazan, even accompanied them to a meeting with Cohn, disguised as a secretary.
As noted in Miller's autobiography, Timebends, Marilyn's attendance was intended as revenge on the tyrannical Cohn, who had fired her in 1948 after she rejected his sexual advances. Cohn, furious at his humiliation, dismissed The Hook as communist propaganda.
In 1954, Kazan would direct an Oscar-winning film with a very similar theme for Columbia: On the Waterfront. By then, Kazan had appeared before the House Un-American Activities Committee and named several colleagues as communists, in what many (including Miller) saw as a self-serving bid to save his own career.
In his own testimony before HUAC in 1956, Miller admitted to having attended a few communist meetings many years before, but refused on principle to name others. Marilyn stood by her husband, and he was acquitted in 1958.