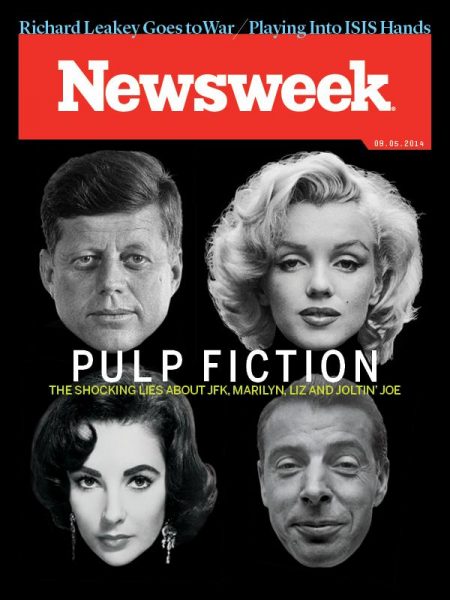 Last month I posted a less-than-stellar review of C. David Heymann's posthumously published Joe & Marilyn: Legends in Love. The latest issue of Newsweek – due out on Friday – includes an extraordinary cover feature by David Cay Johnston about Heymann's 'career as a serial fabulist.'
Johnston challenges Heymann's long-standing claim that Marilyn attacked Robert Kennedy with a knife on her last day alive:
"In both A Woman Named Jackie and RFK, Heymann recounts Marilyn Monroe's last afternoon alive, August 3, 1962*. (Keep in mind that Heymann maintains that both JFK and Bobby Kennedy had affairs with Monroe.) In both of those books, Heymann wrote that just a few hours before Monroe killed herself, Bobby Kennedy and the actor Peter Lawford visited her home in L.A.'s tony Brentwood neighborhood. Heymann said that at one point Monroe pulled a knife and lunged at Kennedy, and that the two men wrested the weapon from her.

When he later told that tale in Joe & Marilyn, Heymann wrote that Monroe tossed a glass of champagne in Kennedy's face.

In the back of that book, Heymann explained how the knife had turned into bubbly. 'In an interview with the author, Peter Lawford originally claimed that Marilyn threatened RFK with a kitchen knife; he then revised the anecdote to indicate instead that she threw a glass of champagne at him.'

Unexplained is when Lawford changed this story. Lawford died on Christmas Eve 1984, long before any of the three books were published. Putting the best possible spin on things, that means Lawford revised his story before the first book was published. And if that's the case, why did Heymann tell the knife story in the first two books?

The answer, according to Lawford's widow, Patricia, is that Heymann made it all up. She told Newsweek Heymann could not have interviewed her husband on any of the occasions he cited because he was under her care around the clock. Asked if Heymann could have somehow gotten past her, she said Lawford was close to death and hardly able to make coherent statements, much less conduct a lengthy interview.

The Heymann archive at Stony Brook includes his handwritten notes of the purported interview with Lawford. The dying man's supposed words flow smoothly, the way a writer's do after polishing. Most people in interviews meander off-topic, digress and revise their stories as they draw on their memories, especially those who are sick and dying.

A handwriting expert said Heymann's handwritten notes of the purported Lawford interview bore a striking resemblance to the writing in Heymann's purported Hutton notebooks."
* Marilyn's last afternoon alive was on August 4th, not the 3rd.
Johnston also questions Heymann's oft-repeated claim that Marilyn told Jacqueline Kennedy she wanted to marry her husband, John F. Kennedy:
"In Joe and Marilyn, Heymann drew heavily on the rich trove of books about the Yankee Clipper and the iconic blonde. He also cited interviews with writer George Plimpton; Salinger, the Kennedy White House press secretary; and [Jack] Newfield. All three men were dead by 2005. Plimpton, in a tape recording in Heymann's own archive, declined to be interviewed. Salinger, in a letter also in the Heymann archive, said Heymann wrote 'dramatic lies' and refused to cooperate. We already know that Newfield wrote a column in the Post denouncing Heymann. Despite this, Heymann 'quoted' all three men in his book… long after they had been buried.

Among the many statements presented as fact in Joe and Marilyn that might have raised eyebrows at CBS was the one on Page 315. Heymann quoted the late actor and masseur Ralph Roberts as saying that Marilyn Monroe called the White House and 'actually told the First Lady she wanted to marry the president,' and that Jackie Kennedy, humoring the actress, said 'she had no objection.'

Yet years earlier, in 1989's A Woman Named Jackie, Heymann attributed that story to Lawford. Only in that version 'Jackie wasn't shaken by the call. Not outwardly. She agreed to step aside. She would divorce Jack and Marilyn could marry him, but she [Monroe] would have to move into the White House.'"
Johnston also probes some of Joe & Marilyn's other main sources:
"[Emily] Bestler, Heymann's longtime editor, insists that independent fact-checking established the reliability of Joe & Marilyn, but most of Chapter 3 is fabricated. It consists primarily of long quotes attributed to 'Rose Fromm, a German Jewish refugee' who Heymann said treated Marilyn Monroe as a therapist. Heymann writes that Fromm told him:

I have to stress that I work as a psychotherapist in Europe but not in the United States and I made that perfectly clear to Marilyn. My doctorate in clinical psychology had been awarded abroad and I had no interest in going through the process all over again.

Heymann wrote that Fromm moved to Los Angeles for six months in 1952, when she treated Monroe, whom she met through two Hollywood journalists she describes as friends, James Bacon of The Associated Press and Sidney Skolsky, then a syndicated Hollywood columnist.

Fromm was born in Sztetl, Poland, not Germany. She arrived in America at age 17, according to her 2007 autobiography. She graduated from the Dante School in Chicago in 1931 and the University of Illinois medical school in 1938, facts supported by photographs and her medical licensing records. Nowhere in her autobiography did Dr. Fromm mention Marilyn Monroe, James Bacon or Sidney Skolsky.

In Joe and Marilyn, Heymann cites Joe DiMaggio Jr., the slugger's only son, as a source on more than 50 of the book's 393 pages. Joe Jr. died in 1999, long before Heymann started work on the book, and he routinely turned reporters away. Public records contradict many of the quotes attributed to him in the book – Heymann wrote that he left Yale for San Francisco, almost immediately married a woman he barely knew, quickly divorced her and joined the Marines. In fact, records and interviews with his friends show, he moved to Los Angeles, joined the Marines before Monroe died (he was photographed in uniform at her funeral) and nine months after her death married a 17-year-old San Diego woman in Southern California.  George Milman, a Beverly Hills lawyer who was Joe Jr.'s roommate back then, and Tom Law, a contractor who worked with him, said Joe Jr. was circumspect about his father and devoted to his stepmother.

Heymann also wrote that Joe Jr.'s mother, Dorothy Arnold, took her son and Milman on overnight trips to Mexico where, panty-less, she would do handstands in an apparent effort to channel Monroe's sexual allure. Milman, chuckling, said he recalls a few trips to Baja, but not the rest of that tale."