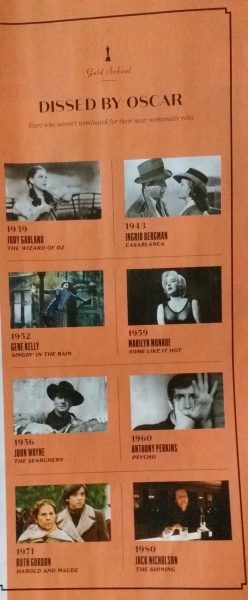 Anticipating this year's Oscar ceremony, the current issue of Entertainment Weekly (dated February 23-March 2) features extensive coverage of the Academy Awards' 90-year history. Of course, Marilyn never won an Oscar, nor was she even nominated. But her role in Some Like It Hot, which won her a Golden Globe, is mentioned in a list of legendary 'Oscar disses.'
Although Some Like It Hot is her best-known film, Marilyn's screen time was less than her co-stars. Were it not for her top billing, her performance would arguably be more suited to the Best Supporting Actress category. Marilyn's bombshell image and flair for comedy both worked against her being taken seriously by the Hollywood establishment. But perhaps the most decisive factor was her rebellion against Twentieth Century Fox.
After winning her contractual battle with the studio, her acclaimed comeback in Bus Stop (1956) was overlooked by the Academy – a snub she never forgot. Her next performance, in The Prince and the Showgirl (1957), won awards in Europe, while her last completed film, The Misfits (1961), was also her most mature dramatic role. But at the time, neither were particularly well-received in the US.
In 1964, columnist Sheilah Graham petitioned unsuccessfully for Marilyn to be given a posthumous Lifetime Achievement Award. However, this is not standard practice within the Academy and thus is highly unlikely to happen now. Nonetheless, Marilyn's films remain hugely popular and for many, she is the most enduring symbol of movies and glamour – proof, if proof were needed, that you don't need an Oscar to be a legend.