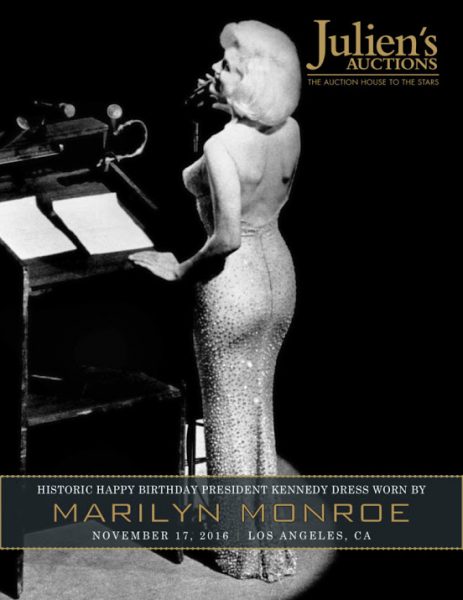 Film critic David Thomson is not Marilyn's biggest fan. "Monroe wasn't a serious actress," he once wrote. "I don't think she could really carry more than a line or two at a time." Nonetheless, he seems drawn to her image, having penned a snarky introduction to Marilyn Monroe: A Life in Pictures (2007.) In anticipation of the November 16 auction at Julien's, Thomson has written another gossipy article for The Guardian about the Jean Louis dress worn by Marilyn as she sang 'Happy Birthday' to President John F. Kennedy in 1962. 
"You can say that only demonstrates her victimhood and makes her wishing more wistful. But then you have to see the plain delight with which she did these preposterous things, these moments, as if she could not resist or do without the comfort that came with the gasps and the whistles at Madison Square Garden when she came into the platinum light, shrugged off her wrap and stood there, with her massed blonde waves jutting off to one side, like the control on tower an aircraft carrier, in a dress that could have been painted on her. And she did not seem like the hesitant neurotic of fame and constant lateness when she broke into the birthday song. Just take a look. She seems happy, and an actress is hired to give us some sort of good feeling. This is maybe her greatest moment – the most reckless – and she knows it, even if the summer of 1962 is her hell."
UPDATE: The 'Happy Birthday' dress was sold at Julien's for $4.8 million on November 16, 2016, making it the most lucrative dress in auction history. The buyer is Ripley's Believe It Or Not museum, who plan to showcase the dress in future exhibitions. Read a full report from Scott Fortner on his MM Collection Blog.