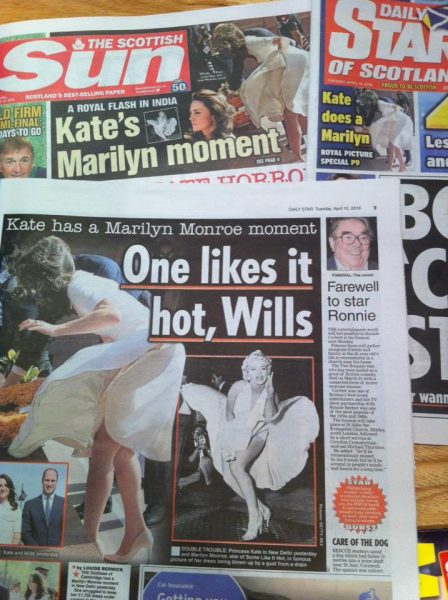 Paparazzi shots of Kate Middleton, Duchess of Cambridge, having a 'Marilyn Monroe' moment during a trip to India have made front pages across the globe today, as her dress blew up while laying a wreath at the Amar Jawan Jyoti at India Gate. A bit like that 'subway scene' in The Seven Year Itch, except that was staged with MM's full consent.
Similar 'Marilyn moments' featuring numerous female celebrities are constantly reported in the media, but few inspire the protective feeling and deference reserved for royalty – with many on social media condemning the coverage as sexist, as Suresh Matthew reports for The Quint.
While it's fun to see Marilyn's name in the news, there's something rather tacky about potentially embarrassing moments being exploited in this way – and after all, Kate was simply paying her respects to the dead when the incident occurred.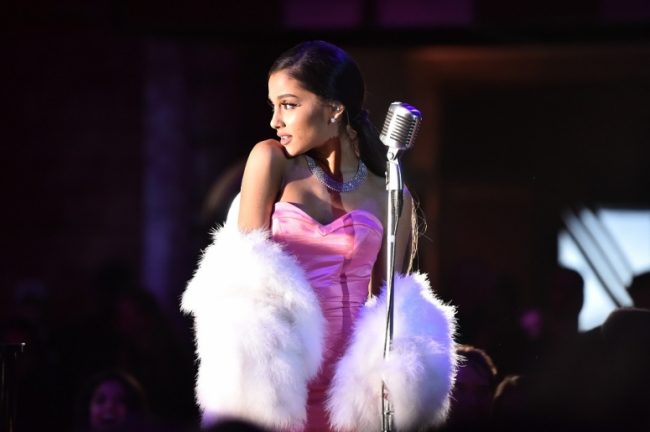 Meanwhile, Ariana Grande has paid tribute to Marilyn at the 2016 MTV Movie Awards, with her performance of new single 'Dangerous Woman' while wearing a white fur stole and strapless pink satin gown, reminiscent of Marilyn's attire in her iconic 'Diamonds Are a Girl's Best Friend' number from Gentlemen Prefer Blondes.
Ariana has made no secret of her admiration for Marilyn, wishing her a happy birthday on Twitter back in 2014, and offering a spirited defence of MM. However, her look may also be inspired by another of her idols, Madonna, who famously recreated the 'Diamonds' setpiece for her 'Material Girl' video back in 1985.
As Christopher Rosa reports for VH1, Ariana's performance was also reminiscent of Madonna's 'Sooner or Later' number at the Oscars in 1991, when La Ciccone once again paid homage to Monroe.