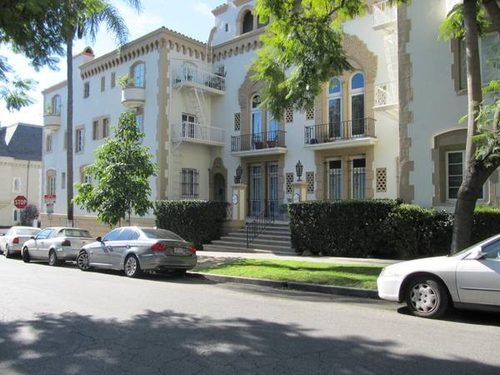 'Marilyn Monroe lived in this apartment – now it's your turn!' promises a new classified ad posted on Craigslist, offering an apartment in a 'Romanesque villa' for rent at $3,500 per month. The address is 1309 North Harper Avenue.
Writing for the L.A. Curbed website, Pauline O'Connor notes that during her starlet years, Marilyn often stayed at the home of her dramatic coach, Natasha Lytess, on North Harper Avenue, West Hollywood. She also spent a great deal of time with the Karger family, who were Natasha's neighbours.
Randall Riese and Neal Hitchens' 1987 book, The Unabridged Marilyn, cited 1309 as Natasha's address – the same apartment now on Craigslist. Adam Victor, author of The Marilyn Encyclopedia (1999), listed the same address.
However, while the location is undoubtedly of historic interest, the reality is complicated. For clarity's sake, it should be noted that while Marilyn was a frequent guest, and at times an informal resident, she never 'officially' became a tenant.
In the 2004 book, Hometown Girl, Eric Woodard states that Marilyn first stayed with Natasha at a Harper Avenue address in 1948, around the time of her short-lived relationship with Fred Karger. She remained close to his mother, Anne, and sister Mary after the affair ended.
Then in 1950, Natasha moved to a smaller apartment on Harper Avenue. Marilyn stayed with her again following Johnny Hyde's death in December that year.