Actor Mickey Rooney has died aged 93. Born Joseph Yule Jr in Brooklyn, his parents were vaudeville players, and their son joined them onstage at fourteen months old. By the age of six, he had moved to Hollywood with his mother, Nell, and began appearing in silent comedy shorts for Hal Roach's Our Gang series.
He then played Mickey McGuire in 78 eponymous shorts. His mother suggested 'Mickey Looney' as a stage name, though he later changed it to 'Rooney'. He would later claim that Walt Disney named Mickey Mouse after him (although this has been disputed.)
With the coming of sound, Mickey graduated to bit-parts, signing with MGM in 1934. One of his first assignments was to play Clark Gable's character as a boy in Manhattan Melodrama. The film is remembered today mainly because the gangster John Dillinger had just seen it when police shot him dead outside Chicago's Biograph Theatre that July.
In 1935, Rooney played Puck in A Midsummer Night's Dream. He then won a supporting role as bootblack Dick Tipton in Little Lord Fauntleroy (1936), and played Jean Harlow's kid brother in RiffRaff.
Rooney's big break came in 1937, when he was selected to play Andy Hardy, teenage son of a small-town judge, in A Family Affair. Thirteen more Andy Hardy films would follow. He proved himself an actor in Boys Town (1938), opposite Spencer Tracy. In 1939, he played the title role in Huckleberry Finn. He then starred in Young Tom Edison (1940) and A Yank at Eton (1942.)
Another of MGM's child stars, Judy Garland, formed an enduring song-and-dance team with Rooney. They starred in several films together, including Babes in Arms (1939) and Babes on Broadway (1941.)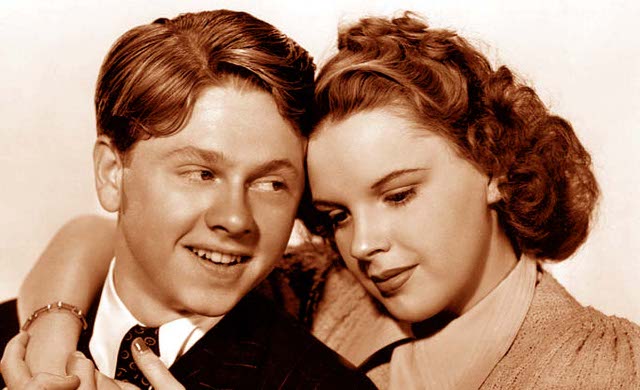 'Judy and I were so close we could've come from the same womb,' he recalled in 1992. 'We weren't like brothers or sisters but there was no love affair there; there was more than a love affair. It's very, very difficult to explain the depths of our love for each other.'
In 1942, he was briefly married to Ava Gardner, first of his eight wives. Offscreen, Mickey was far removed from the wholesome Andy Hardy – Ava divorced him after discovering his rampant infidelity.
After starring alongside another child actress, Elizabeth Taylor, in her breakout movie, National Velvet, Rooney joined the war effort in 1944, and enlisted in the US Army. Unfortunately, his film career slumped after his return to Hollywood, but he kept on working, onstage and in television.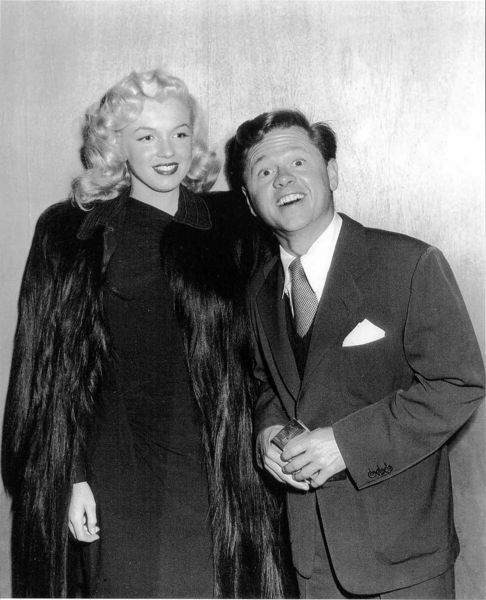 In 1948, Mickey attended the premiere of Billy Wilder's The Emperor Waltz with a little-known starlet, Marilyn Monroe. It was customary in those days for studios to send their young actors on public 'dates'.
Monroe would play a small role in The Fireball (1950), a rollerball drama starring Rooney. In his 1991 biography, Life Is Too Short, Mickey claimed to have given the former Norma Jeane her stage name at the time, but she had already been using it for four Marilyn with James Brown and Rooney in 'The Fireball' (1950)He also alleged that she had offered him sexual favours in return for the part. This seems unlikely, as she was then under the wing of one of Hollywood's most powerful agents, Johnny Hyde. In old age, Rooney discussed MM on numerous TV chat shows.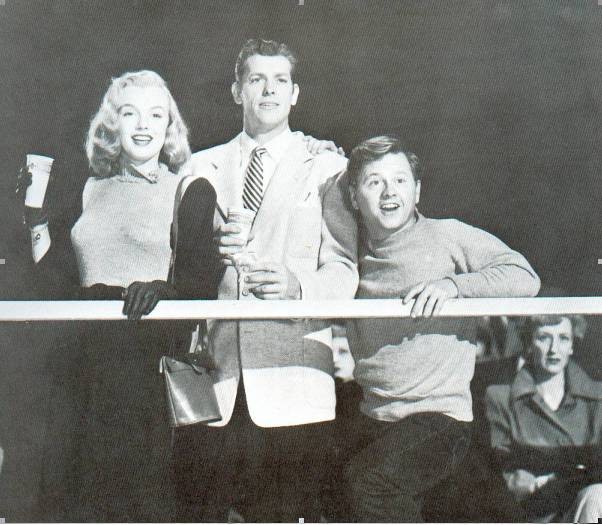 Actor James Brown, who also appeared in The Fireball,  told John Gilmore, author of Inside Marilyn Monroe (2007), 'She seemed nervous when we talked about Mickey Rooney, she said, "he's really terrible, isn't he?" She thought he would have been a nice person from all the movies she'd seen him, like when he was a kid…She said he'd whispered dirty things and she was frightened of him…'
By 1952, Marilyn was a huge star. Her first date with Joe DiMaggio at the Villa Nova Restaurant was interrupted by Mickey, who regaled the baseball legend with sycophantic banter. DiMaggio listened politely before returning to his lovely companion.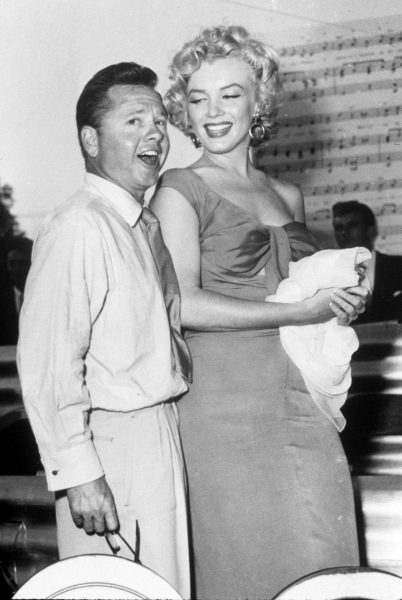 An illustration of how their fortunes had reversed is the appearance of Mickey at public events showcasing Marilyn, including a drumming stint in bandleader Ray Anthony's launch party for a new hit song, 'My Marilyn', in August 1952. They would both participate in an all-star charity football game that September.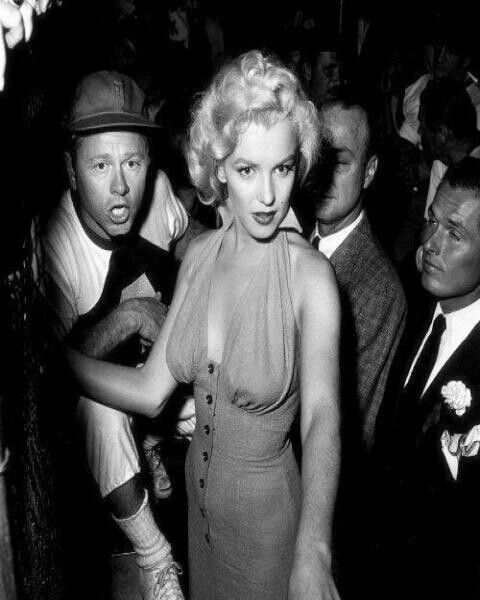 Rooney's later film roles included The Bridges at Toko-Ri (1954), The Bold and the Brave (1956), for which he received an Oscar nomination; Requiem for a Heavyweight (1962), and It's a Mad, Mad, Mad World (1963.) But his comedic performance as Japanese landlord Mr Yunioshi in Breakfast at Tiffany's (1961) led to accusations of racist stereotyping.
He appeared in many TV series, including The Twilight Zone, Rawhide, The Golden Girls, Full House, The Simpsons, E.R., and The Muppets. He scored a late movie hit in The Black Stallion (1979), and provided the voice of Tod, the fox, in Disney's The Fox and the Hound (1981.) He played a handicapped man in the 1981 TV movie, Bill.
Among Rooney's stage successes were Sugar Babies, with Ann Miller, The Wizard of Oz with Eartha Kitt, and A Funny Thing Happened On the Way to the Forum. In 2006, he starred alongside Ben Stiller in the big-screen hit, Night at the Museum.
At the time of his death, Rooney was said to be filming an adaptation of Dr Jekyll and Mr Hyde, with two other projects in pre-production. In 2011, he accused a stepson of elder abuse. He separated from his wife of 37 years, Jan Chamberlin, in 2013.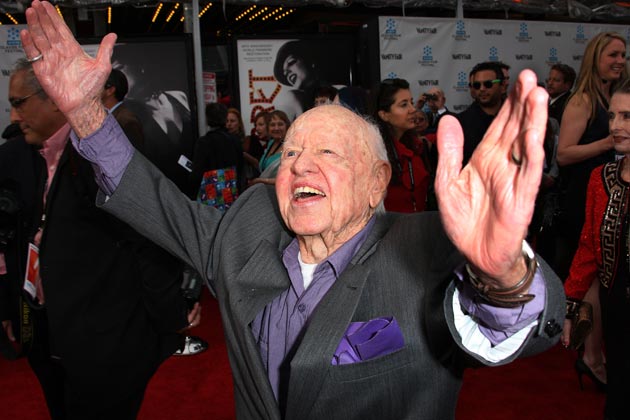 Mickey Rooney died at his Hollywood home, surrounded by family. Rooney is survived by 8 children, 2 stepchildren, 19 grandchildren and several great-grandchildren.
He was one of the last remaining stars of the silent era, and was once described by Sir Laurence Olivier as the greatest film actor America has ever produced.