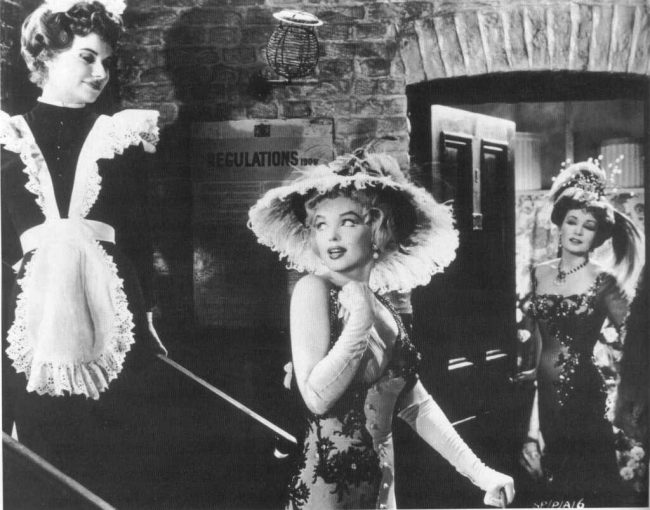 Actress Jean Kent – who appeared alongside Marilyn in The Prince and the Showgirl (1957) – will be honoured by the British Film Institute at 6.10 pm today (her 90th birthday), at the National Film Theatre on London's Southbank.
Former Daily Express critic Michael Thornton will introduce a screening of her 1946 film, Caravan. (Jean met her husband, Josef Ramart, while filming. They were together until his death in 1989.)
In The Prince and the Showgirl, Kent's character, Maisie Springfield, is the leading lady of 'The Coconut Girl', a musical play in which the American showgirl Elsie Marina (played by Marilyn) is part of the chorus. Maisie is also Elsie's rival for the affections of the visiting Grandduke of Carpathia (Sir Laurence Olivier.)
Speaking to BBC News, Jean alluded to the tensions between Monroe and Olivier:
"We were supposed to do a musical number in that, with me doing the song and she (MM) was mucking it up at the back, but it was cut because they ran so over budget," Kent said.

"She wasn't very well and not an easy person and Olivier, who was directing, had a quite a lot of difficulty."
Jean made her stage debut aged just eleven, and later found fame on the big screen playing haughty, seductive women (rather like Maisie Springfield.)
Jean Kent's films include 'bodice-rippers' like Madonna of the Seven Moons, Fanny by Gaslight and The Wicked Lady (all from 1945); and 1951's The Browning Version. Her favourite role was in Trottie True (1949.) Jean has also worked extensively on television, with her last screen credit dating to 1991.