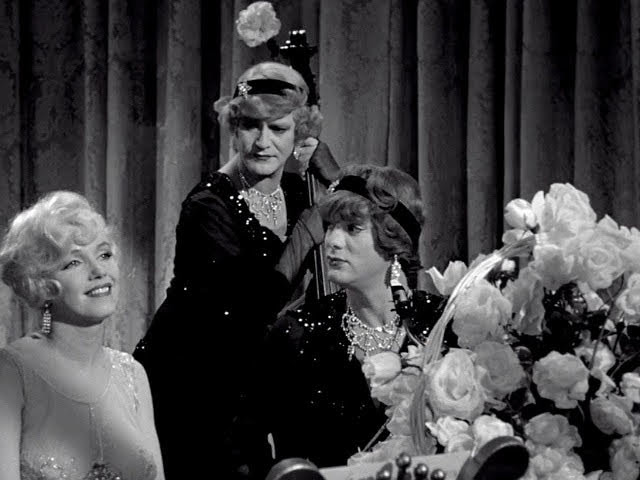 If you needed an excuse to watch Some Like It Hot again, Tony and Manohla at the New York Times are hosting a virtual viewing party all weekend – leave your feedback here.
"Everyone could use a little candy right now, and we can't think of a sweeter way to spend time than with Sugar and her pals Jo and Daphne watching Some Like It Hot.


Even if it's your first encounter with this 1959 comedy — directed by Billy Wilder from a script that he wrote with I.A.L. Diamond — it spoils nothing to know that Jo and Daphne are really Joe and Jerry, and are played by Tony Curtis and Jack Lemmon. Marilyn Monroe, at the height of her comedic powers, is Sugar, who sings 'I Wanna Be Loved By You' (and she is) and whose walk Jerry likens to 'Jell-O on springs.'


Do movie lovers still like it hot — do you? In his review in The New York Times, A.H. Weiler warned that 'a viewer might question the taste of a few of the lines, situations and the prolonged masquerade.' That may still be true, though perhaps for different reasons than Weiler thought. Nobody's perfect.

And here's another taste from the Times' 1959 review…

"As the hand's somewhat simple singer-ukulele player, Miss Monroe, whose figure simply cannot be overlooked, contributes more assets than the obvious ones to this madcap romp. As a pushover for gin and the tonic effect of saxophone players, she sings a couple of whispery old numbers ('Running Wild' and 'I Wanna Be Loved by You') and also proves to be the epitome of a dumb blonde and a talented comedienne."
UPDATE: Marilyn Spoofs Sex in Some Like It Hot