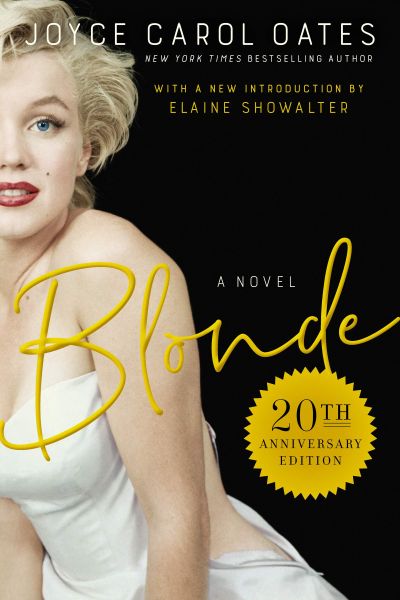 Joyce Carol Oates' controversial novel, Blonde, turns 20 this year. With a Netflix adaptation starring Ana de Armas on the way, the book has been reissued with a cover photo by Milton Greene (from the 1954 'ballerina' session), and a new introduction by literary critic Elaine Showalter.
In an excerpt published in The New Yorker, Showalter describes Blonde as 'the definitive study of American celebrity,' but many readers feel that Oates did Marilyn a disservice by blurring fact and fiction, and depicting her as a sacrificial lamb of Hollywood.
This is illustrated most strongly by an entirely imaginary rape scene, referred to below. While Marilyn was certainly frank about her experiences with predatory men in the film industry, her shrewdness in keeping the worst of them at bay and using the best to her advantage has been distorted by Oates' misrepresentation.
"Oates found herself obsessed by the intricate riddle of Marilyn Monroe. Blonde expanded to be her longest novel, and, indeed, the original manuscript is almost twice as long as the published book. As Oates writes on the copyright page, Blonde is not a biography of Monroe, or even a biographical novel that follows the historical facts of the subject's life. Indeed, Monroe's dozens of biographers have disagreed about many of the basic facts of her life. Blonde is a work of fiction and imagination, and Oates plays with, rearranges, and invents the details of Monroe's life in order to achieve a deeper poetic and spiritual truth. She condenses and conflates events in a process she calls 'distillation,' so that, in place of numerous foster homes, lovers, medical crises, and screen performances, she 'explores only a selected, symbolic few.' At the same time, Oates develops and deepens background themes inherent in Monroe's story, including the growth of Los Angeles, the history of film, the House Un-American Activities Committee's witch hunt for Communists in the film industry, and the blacklist. Each of these story lines could be a novel in itself, but, like the chapters on cetology and whaling in Moby Dick, they heighten the epic quality of the novel.


Of the hundreds of characters who appear in the book, some are identified by their real names, including Whitey, the makeup artist who created and maintained Monroe's iconic look, although the name also ironically suggests the white-skinned, platinum-haired doll he crafted. Others, including two gay sons of Hollywood, Cass Chaplin and Edward G. Robinson, Jr., are invented. Monroe's famous husbands are given allegorical names—The Ex-Athlete and The Playwright—and are fictional characters rather than portraits of Joe DiMaggio and Arthur Miller. Similarly, fragments of poems by Emily Dickinson, W. B. Yeats, and George Herbert appear along with bits of poetry attributed to Norma Jeane, which Oates composed herself.

Oates also drew on the literary traditions of the fairy tale and the Gothic novel. In a 1997 essay on fairy tales, she notes their limited view of female ambition and the way they promote simplistic wish fulfillment … The Hollywood version of that fairy tale is the romance of the Fair Princess and the handsome Dark Prince, the plot of the first movie Norma Jeane ever sees, and the recurring fantasy of her life … Moreover, in the Gothic version of the fairy tale, the Dark Prince is a powerful male who imprisons the princess in a haunted castle. The Studio stands for this macabre space, as Norma Jeane works her way up through a system run by ruthless, predatory men she must pacify, satisfy, and serve.


When Blonde was published, in 2000, it was nominated for literary prizes and widely reviewed as Oates's masterwork. But it was also called lurid, eccentric, and fierce. Darryl F. Zanuck, the model for Mr. Z, had been called a cynical sexual predator—but that was just rumor. Readers of Blonde today, however, will recognize in that hellish rape scene a script from the casting couch of Harvey Weinstein and other Hollywood moguls, whose years of molestation, harassment, abuse, and sexual assault of aspiring actresses were brought to light in 2017, when accusers came forward to create the #MeToo movement … Just a few years ago, it could still be read as sensationalizing the story of Monroe. Now it must be seen as a passionate and prophetic defense."