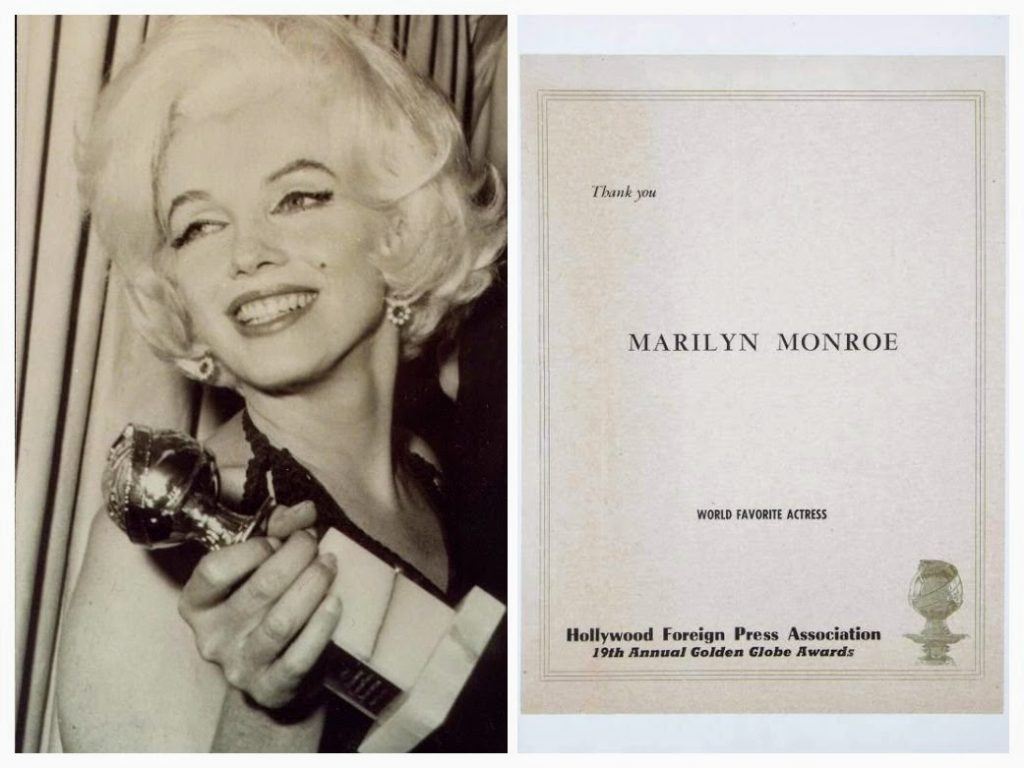 Another selection of items featured in Property From the Life and Career of Marilyn Monroe, going under the hammer at Julien's Auctions on Thursday, November 1. (You can read all my posts on the sale here.)
"A single page removed from a trade publication such as Variety or The Hollywood Reporter with text reading in part 'Thank you / Marilyn Monroe' — an ad the star placed in the publication to thank the Hollywood Foreign Press Association for her 1962 Golden Globe win for 'World Favorite Actress,' mounted to cardboard; found in Monroe's own files. "

SOLD for $512


A framed still photo showing Marilyn with co-stars June Haver, William Lundigan and Jack Paar in Love Nest (1951); and a costume test shot for Don't Bother to Knock (1952.)
Photo sets SOLD for $640 and $896, respectively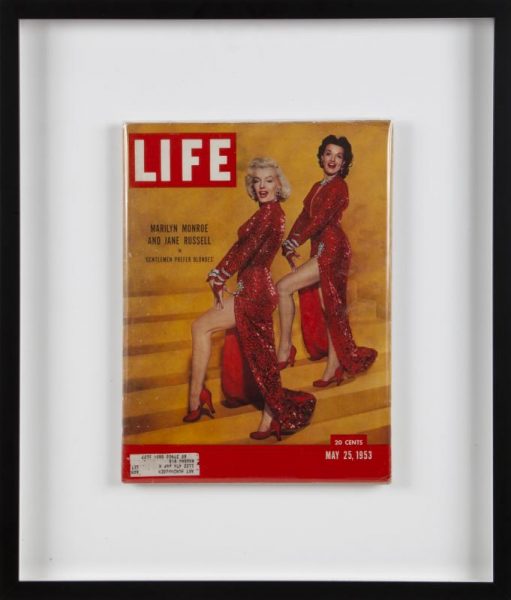 Marilyn and Jane Russell performing 'Two Little Girls From Little Rock' in Gentlemen Prefer Blondes, as seen on the cover of LIFE magazine in 1953. Marilyn's costume is expected to fetch a maximum $80,000 – see here.)
Magazine SOLD for $896; costume SOLD for $250,000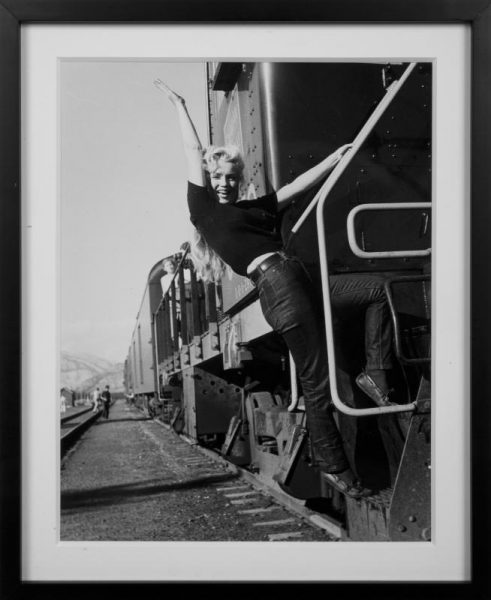 A still photo of Marilyn during filming of River of No Return in 1953. The gown she wore while performing the theme song is expected to fetch a maximum $80,000 – see here.
Photo set SOLD for $1,152; costume SOLD for $175,000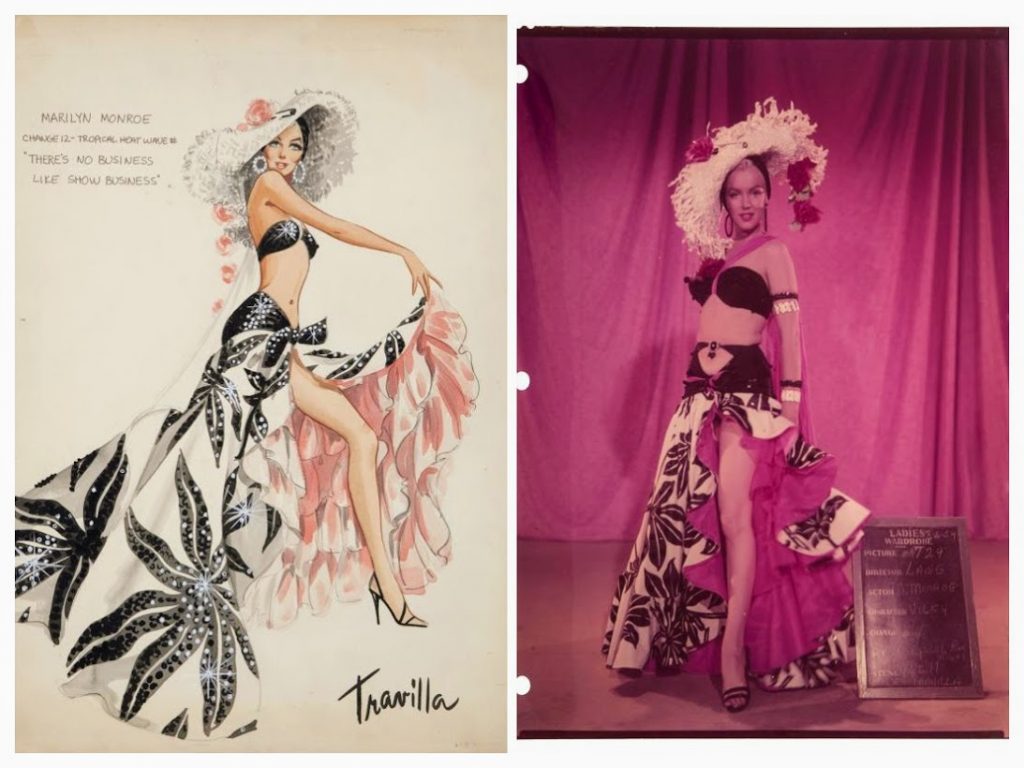 Travilla's costume sketch for the 'Heat Wave' number in There's No Business Like Show Business (1954), and a colour transparency of Marilyn in costume for a wardrobe test shot. (The costume itself is estimated to fetch up to $80,000 – see here.)
Sketch SOLD for $11,520; photo SOLD for $750; costume SOLD for $280,000
A framed still photo of Marilyn performing 'Heat Wave', and a custom-made, one-of-a-kind poster made for the Century Theatre in the Hamilton, Ontario area to advertise a raffle to win tickets to see There's No Show Business Like Show Business.
Photo SOLD for $750; poster SOLD for $1,280
"A group of three, all original prints with a glossy finish, depicting the star behind-the-scenes on the set of her 1956 20th Century Fox film, Bus Stop; all have typed text on the bottom margin noting to credit Al Brack who was a 'Sun Valley, Idaho photographer.'"

SOLD for $576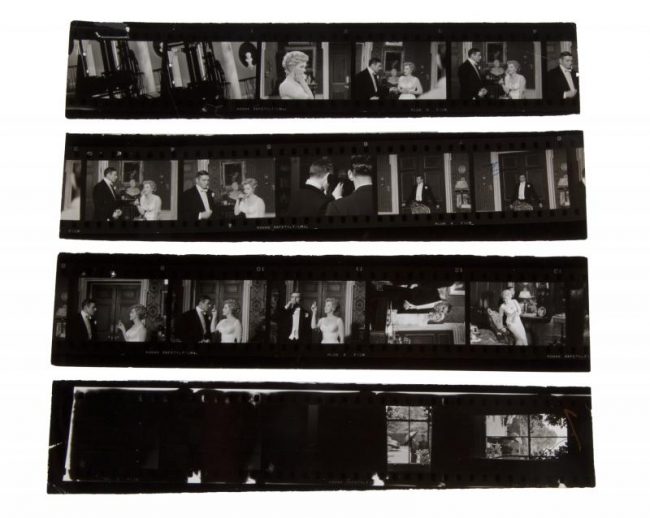 A pair of memos regarding Milton Greene's photos from the set of The Prince and the Showgirl; and, sold separately, a contact sheet. The second memo reads in part, 'Dear Mike, The print you sent me, that Marilyn Monroe said she had killed, is incorrectly numbered. Marilyn is right – she did kill it.' Both memos are dated April 11, 1957, and are addressed to 'Meyer Hunter.' Lois Weber, one of Monroe's publicists at the time, authored both memos."

Memos SOLD for $312.50; contact sheet SOLD for $500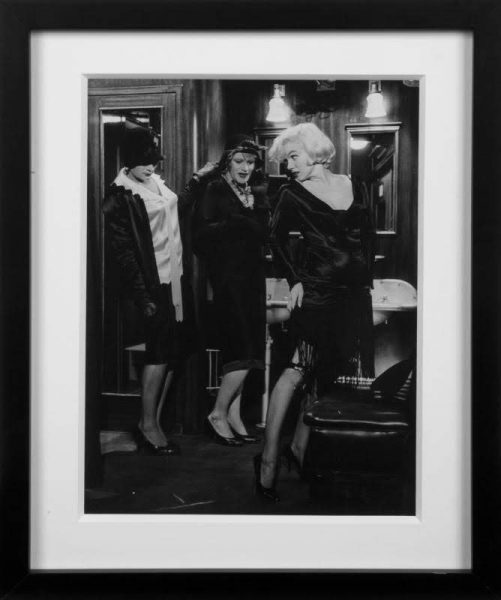 Still photo of Marilyn with co-stars Tony Curtis and Jack Lemmon in a scene from Some Like It Hot (1959.)
Photo set SOLD for $576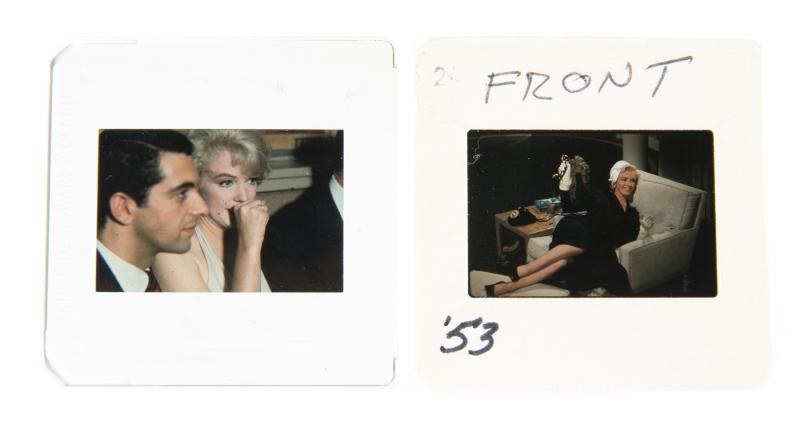 "A pair of colour slides of Marilyn Monroe in a scene from How To Marry a Millionaire (1953), and during a press conference for Let's Make Love with co-star Frankie Vaughan on January 16, 1960."

SOLD for $512


Still photos of Marilyn performing 'My Heart Belongs to Daddy', and with director George Cukor, both taken on the set of Let's Make Love.
SOLD for $512 and $640, respectively
Candid photos taken during filming of The Misfits in 1960.
Photo sets sold for $1,562.50 and $1, 920, respectively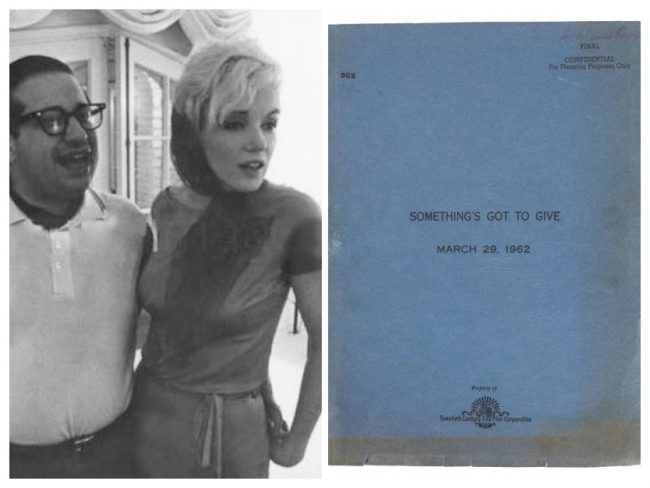 Producer Henry Weinstein's screenplay for the unfinished Something's Got to Give (1962.)
SOLD for $768
Still photos taken by Lawrence Schiller during filming of the 'pool scene' in Something's Got to Give.
Photo sets sold for $1,280 each
"A collection of approximately 65 pieces comprising only photocopied scripts and documents, all related to Marilyn Monroe's films. Some film titles have more than one copy of the script, and some feature the working title and not the final one. All are bound into 20th Century Fox covers of various colors and appear to be the studio's 'loan out' or 'library' copies. Pieces include (in alphabetical order): All About Eve (a treatment only), As Young As You Feel (2 scripts ), Bus Stop (3 scripts), Dangerous Years (1 script), Don't Bother to Knock (2 scripts), The Full House (1 script), Gentlemen Prefer Blondes (2 scripts plus 4 related documents), How to Marry a Millionaire (3 scripts plus 1 related document), Let's Make Love (2 scripts), Love Nest (2 scripts), Monkey Business (2 scripts plus 2 related documents), Move Over, Darling (1 script), Niagara (2 scripts plus 4 related documents), O. Henry's Full House (2 scripts plus 1 related document), River of No Return (1 script plus 5 related documents), The Seven Year Itch (3 scripts), Something's Got to Give (1 script), There's No Business Like Show Business (3 scripts plus 7 related documents), Ticket to Tomahawk (2 related documents), and We're Not Married (1 script plus 1 related document). Also included are a few miscellaneous pieces related to Monroe. "

SOLD for $896