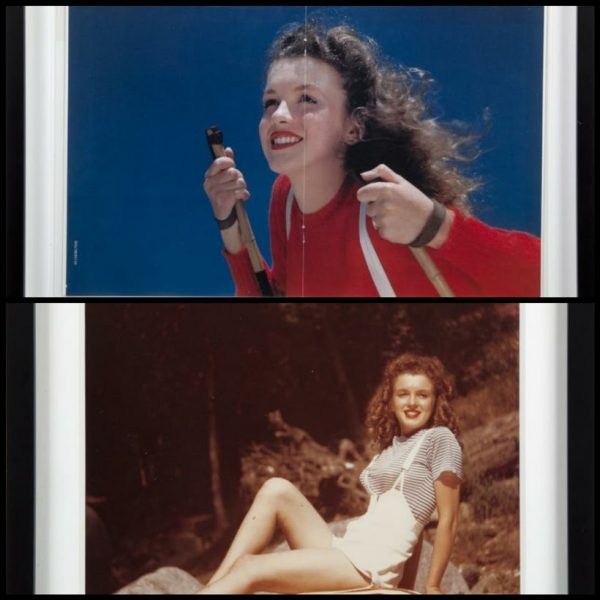 Property From The Life and Career of Marilyn Monroe, coming to Julien's on November 1, features images from all stages of her life, starting with David Conover, the photographer who first discovered Norma Jeane Dougherty in 1945. (You can read all my posts on the sale here.)
Photo sets SOLD for $256 and $384, respectively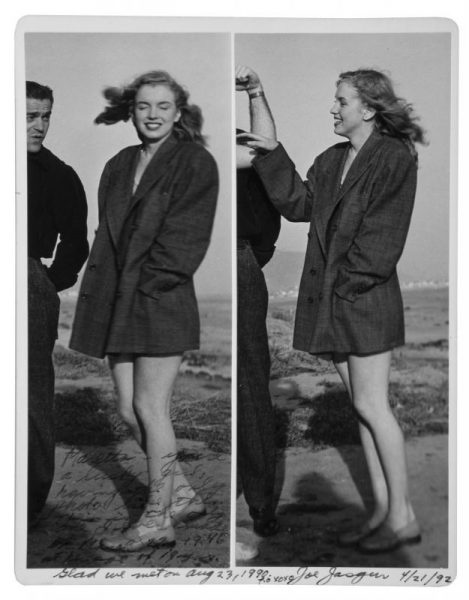 Norma Jeane poses here with another of her early photographers, Joseph Jasgur (includes his later inscription to a fan.)
SOLD for $1,024
"Original pages from Andre de Dienes' manuscript that were used 17 years later to create Hollywood, the small soft cover book (with the black elastic band) included with the Taschen box set, Marilyn; approximately 180 pages, the document is typed with De Dienes' black fountain pen, felt-tip, or ballpoint ink annotations throughout, exactly as they appeared in the miniaturized version that was released to the public; of particular interest are all the original print black and white photographs of Monroe that De Dienes glued to these pages as well as magazine cut-outs and other photographs he used to 'decorate' his manuscript; his black ink credit stamps can be seen on the versos of most of the photographs if the pages are held up to the light; frustratingly, the document starts with page 157 (just like the black booklet does) as this was all that was found after De Dienes' death in 1985."

SOLD for $3,200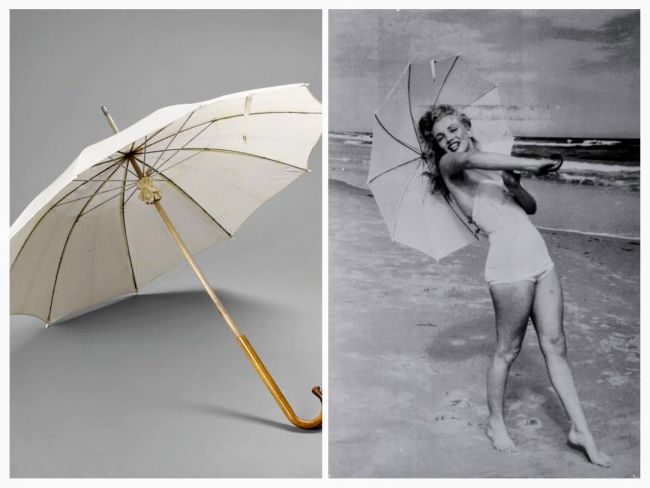 "A standard design parasol made of crème-colored nylon with a wooden hook handle; used by the then-called Norma Jeane in 1949 when Andre De Dienes took photographs of her at Jones Beach and at Tobey Beach on Long Island in New York; saved by the photographer for the rest of his life."

Parasol SOLD for $21,875; photo SOLD for $640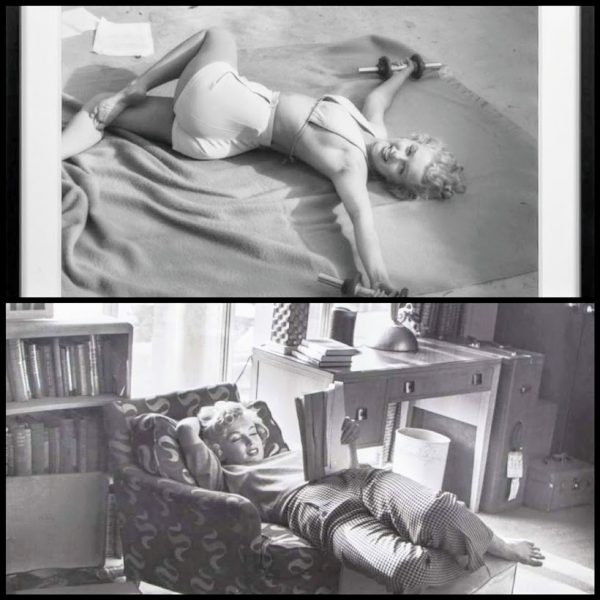 Selected photos by Andre De Dienes.
SOLD for $1,152 each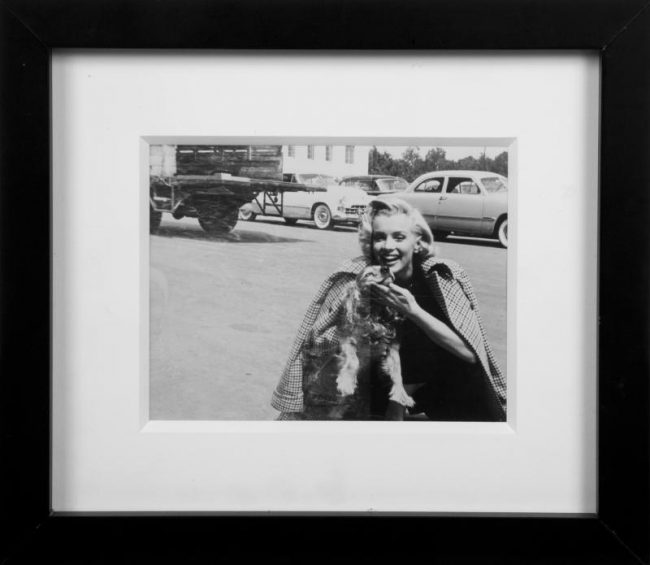 A candid snapshot of Marilyn holding a cocker spaniel on the Fox parking lot during her 1953 photo shoot with Alfred Eisenstadt for LIFE magazine.
Photo set SOLD for $896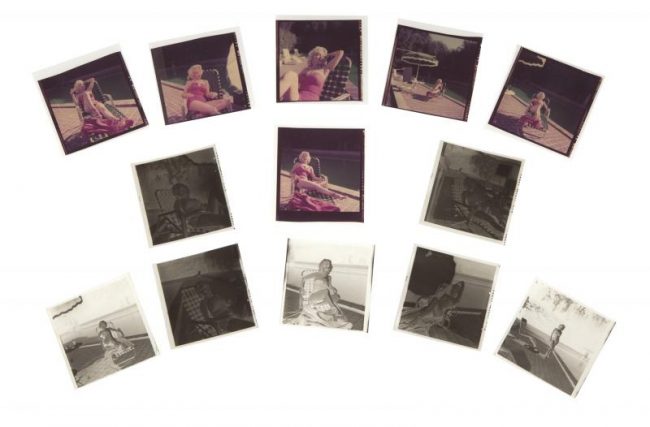 "A collection of 6 color transparencies and 7 black and white negatives, all originals, all depicting Marilyn wearing her red bathing suit from the 1953 20th Century Fox film, How to Marry a Millionaire; shot at Harold Lloyd's 'Greenacres' Beverly Hills home by the Air Force photographer Harold Davidson, who was likely working on the odd PSA commercial Marilyn filmed there where she purrs 'I hate a careless man.'"

SOLD for $5,000


Framed print from Marilyn's 1956 'Black Sitting' with photographer Milton Greene.
SOLD for $768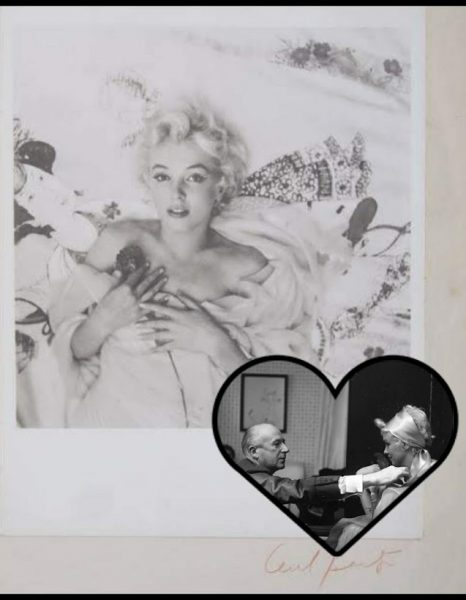 "An original Cecil Beaton print with a matte finish, depicting Marilyn in 1956 as she lays against a Japanese print holding a flower, mounted to a mat board which is signed by Beaton in red pencil in the lower right corner … according to MM lore, this was her favorite photograph …"

SOLD for $3,437.50


And finally, selected photos by Bert Stern and George Barris.
Stern photos SOLD for $7,500 and $1.920; Barris photos SOLD for $1,250, $768, and $896.