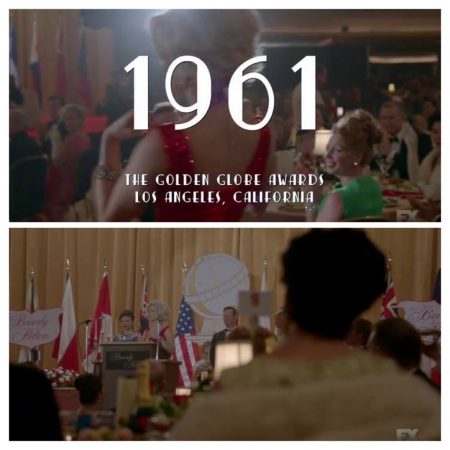 As reported by ES Updates last week, Marilyn's spat with Joan Crawford was recreated in the opening scene of FX's Feud: Bette and Joan, although the date (and the dress) has been changed. In an article for Vanity Fair, Joanna Robinson explores the true story, which unfolded at the Photoplay Awards back in 1953.
There's still some confusion, though – while Robinson concedes that Marilyn won a Golden Globe for Some Like It Hot in 1960, not '61 as depicted in Feud, she goes on to say that both Crawford and MM were 'intoxicated' that evening. It's not entirely clear which year she is referring to, but her source is Golden Globes veteran Judy Solomon.
In fact, Marilyn did not attend the 1961 ceremony. She returned in '62, however, to collect an award as 'World Film Favourite'. The red dress worn by actress Alisha Soper as MM in Feud appears to be inspired by the 'nude' gown she wore to sing 'Happy Birthday, Mr President' a few months later.