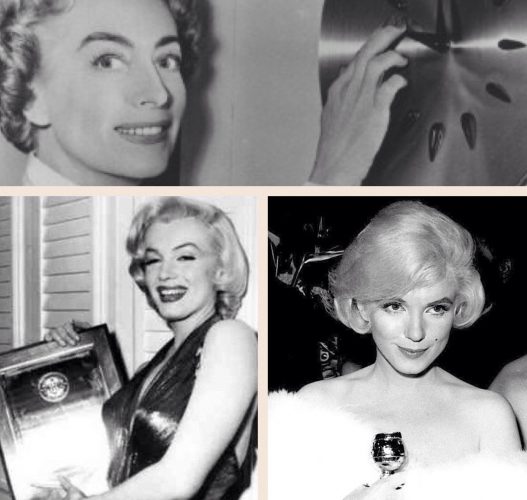 The upcoming TV series, Feud: Bette and Joan, stars Susan Sarandon as Davis and Jessica Lange as Crawford, the rival actresses whose mutual enmity peaked when they collaborated on Robert Aldrich's 1961 shocker, Whatever Happened to Baby Jane?
As Carolyn L. Todd reveals in an article for Refinery 29, Crawford also bore a grudge against Marilyn, which will be depicted in the show's opening scene. The older star decried Marilyn's daring attire – the iconic gold lamé dress – when she accepted a Photoplay award as most promising newcomer. However, while the basic story is true (as recorded by columnist Bob Thomas – more details here), the producers have transposed the event to an occasion closer to their main storyline. In this telling, Crawford makes her dig at Marilyn at the 1960 Golden Globes, where she was named Best Actress in a Musical or Comedy for Some Like It Hot.
However, Marilyn's appearance on this occasion was relatively demure and while Joan's original remarks had drawn criticism because Marilyn was, in 1953, a rising star, by 1960 she was a far more established figure. After the public backlash, Joan had made no further comments on Marilyn's later career. Citing her attack on Marilyn's overt sexuality as an early example of 'slut-shaming', Todd seems unaware that the chronology has been altered.
While switching the date may fit the Feud narrative more neatly, it is also anachronistic and leaves one wondering how many other 'alternative facts' will be presented to viewers. Feud will have its premiere on Sunday, March 5, on the US cable channel FX, so for better or worse, we'll soon find out.