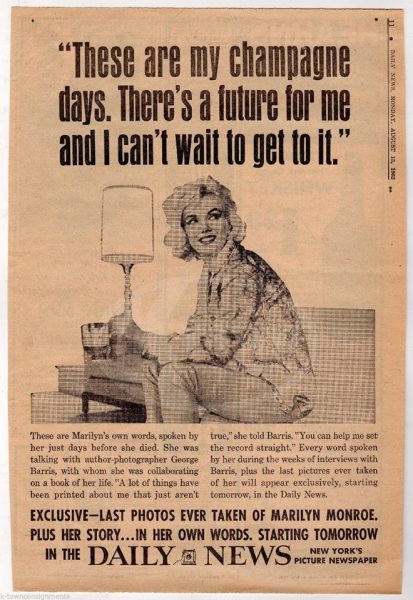 As so many outlandish conspiracy theories have arisen in the 53 years after Marilyn's death, it is instructive to look back at how the tragic event was covered in the days after the news broke. Firstly, an extract from Time magazine's obituary, which focused on the ill-fated production of Something's Got to Give, claiming that only a few minutes of usable footage were shot. This myth persisted until 1990, when Marilyn's impressive, if unfinished work was shown in public for the first time. (Headlined 'The Only Blonde in World', Time's obit inspired a painting of the same name by British pop artist, Pauline Boty.)
"She had always been late for everything, but her truancy was never heedlessness. Beset by self-doubt and hints of illness, she would stay alone, missing appointments, keeping whole casts waiting in vain. In the past year, her tardiness was measured in weeks instead of hours … She seemed euphonic and cheerful, even while 20th Century-Fox was filing suit against her in hopes of salvaging $750,000 damages from the wreckage of Something's Got to Give."
The New York Times noted the gulf between Marilyn's 'golden girl' image and her sad demise, echoing the shock felt by many fans:
"The life of Marilyn Monroe, the golden girl of the movies, ended as it began, in misery and tragedy.

Her death at the age of 36 closed an incredibly glamorous career and capped a series of somber events that began with her birth as an unwanted, illegitimate baby and went on and on, illuminated during the last dozen years by the lightning of fame.

Her public life was in dazzling contrast to her private life.

No sex symbol of the era other than Brigitte Bardot could match her popularity. Toward the end, she also convinced critics and the public that she could act.

During the years of her greatest success, she saw two of her marriages end in divorce. She suffered at least two miscarriages and was never able to have a child. Her emotional insecurity deepened; her many illnesses came upon her more frequently.

In her last interview, published in the Aug. 3 issue of Life magazine, she told Richard Meryman, an associate editor: 'I was never used to being happy, so that wasn't something I ever took for granted.'

Considering her background, this was a statement of exquisite restraint."
Writing for The National, Lincoln Kerstein – co-founder of the New York Ballet – praised Marilyn's comedic gifts and unabashed sexuality:
"Marilyn Monroe was supposed to be the Sex Goddess, but somehow no one, including, or indeed first of all, herself, ever believed it. Rather, she was a comedienne impersonating the American idea of the Sex Goddess … When people paid their forty millions to see Monroe, it was for an aesthetic performance, not a simple provocation. And she, perhaps even consciously, exemplified a philosophy which had come to her pragmatically, and which a lot of American women don't like very much—a philosophy at once hedonistic, full of uncommon common sense, and, even to some intellectuals, deeply disturbing. Her performances indicated that while sex is certainly fun, and often funny, it is only one of many games … Marilyn Monroe's life was not a waste. She gave delight. She was a criterion of the comic in a rather sad world. Her films will continue to give delight, and it is blasphemy to say she had no use. Her example, our waste of her, has the use of a redemption in artists yet untrained and unborn."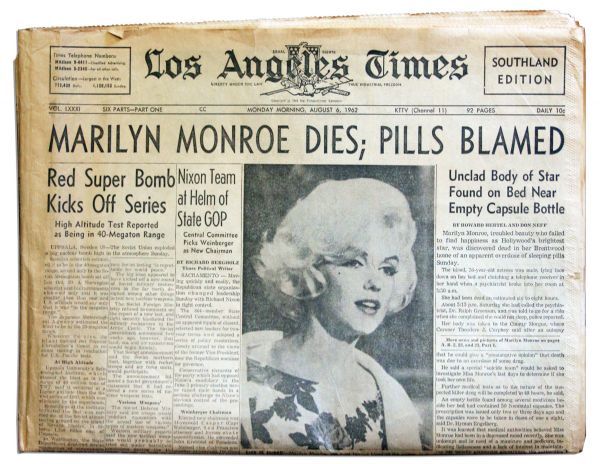 The Los Angeles Times gave a detailed report about Marilyn's final days, and the still-disputed circumstances of her death, under the headline 'Marilyn Monroe Dies; Pills Blamed'…
"Two motion pictures executives were bidding for her services at the time of her death. One of them was reportedly J. Lee Thompson, director of the film The Guns of Navarone, who planned to meet with her Tuesday.

Producer Sam Spiegel also wanted her to star in a picture for him, it was reported.

Miss Monroe had received an offer of $55,00 a week to star in a night club appearance in Las Vegas recently, but she turned it down.

Further evidence that her career was on the upswing was indicated by a typewritten message on a table in her home.

It was from a representation of Anita Loos, creator of Gentlemen Prefer Blondes, and said:

'Dear Miss Monroe: On behalf of Anita Loos, now in Europe, we would like to know if you would be interested star role new musical based on French play Gogo. Book by Anita Loos, lyrics by Gladys Shelley and enchanting music by Claude Leville. Can send you script and music if you express interest. (signed) Natalia Danesi Murray.'"
Finally, The Guardian's W.J. Weatherby published a personal tribute to Marilyn (click to enlarge.) He would later write a book about their friendship, Conversations With Marilyn.