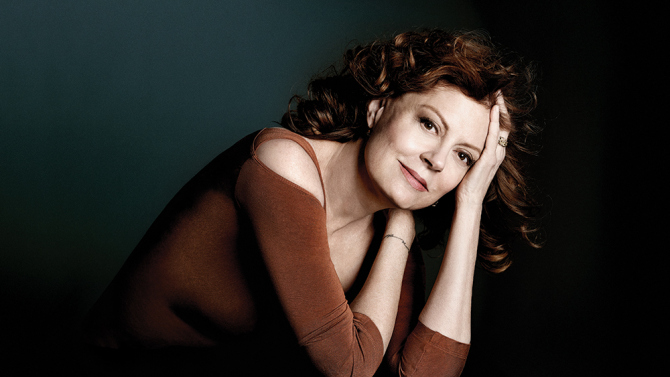 Oscar-winning actress Susan Sarandon will play Gladys Baker, Marilyn's ill-fated mother, in Lifetime's upcoming adaptation of J. Randy Taraborrelli's The Secret Life of Marilyn Monroe, according to the Hollywood Reporter. It is set to be filmed in Ontario and Los Angeles, reported GlobalNews.ca earlier this week.
Taraborrelli focused heavily on Marilyn's relationship with Gladys, although some of his claims have been disputed (more details here.) Gladys was previously played by Sheree North (in the 1980 TV movie, Marilyn: An Untold Story) and Patricia Richardson (in Blonde, the 2001 mini-series based on an eponymous novel by Joyce Carol Oates.) As Gladys was only 24 when Marilyn was born, I would hope that Sarandon – now 68 – will be playing her in later life.
Finally, there are two major errors in Secret Life's synopsis: firstly, Gladys's mother did not commit suicide; and secondly, Marilyn's first marriage did not end because she was frigid. She divorced her husband because he disapproved of her career.
"Sarandon will portray the blonde bombshell's mentally ill mother, Gladys Mortenson. The character is described as a diagnosed paranoid schizophrenic, who is the product of a mother who committed suicide as a result of her own mental illness, and a father who died of syphilitic insanity. Frequently delusional, sometimes violent, Gladys sexually adventurous in her youth but taught her daughter that sex should be avoided at all costs. Deeply devoted to Christian Science, she urges Marilyn to reject her reliance on drugs and that her salvation will be achieved by returning to the tenets of the faith. (The role of Monroe has not yet been cast.)

24 and The Kennedys' Stephen Kronish is on board to pen the mini, with Sherrybaby's Laurie Collyer attached to direct the Marilyn Monroe entry.

Here's Lifetime's official description of the mini: 'Marilyn is both the personification of sex, whose first marriage ironically collapses because of her frigidity, and a fragile artist who seeks the approval and protection of men.  But after tumultuous marriages with Joe DiMaggio and Arthur Miller, she realizes she has the strength to stand on her own. She becomes the face and voice of an era, yet wants most of all to be someone's mother and someone's little girl. She's the Marilyn you haven't seen before, the artist who, by masking the truth with an image, gives her greatest performance.'"