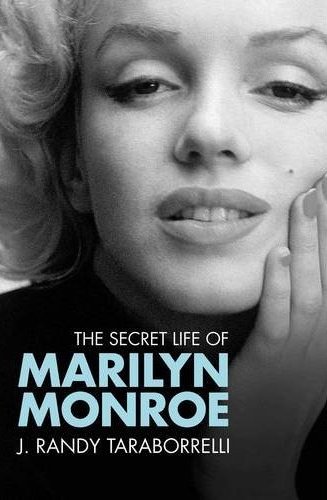 The Secret Life of Marilyn Monroe, celebrity author J. Randy Taraborrelli's 2009 biography, is being adapted into a mini series for the Lifetime Channel, according to the Hollywood Reporter.
"Lifetime is poised to find out if blondes really do have more fun…24 and The Kennedys' Stephen Kronish is on board to pen the mini, with Sherrybaby's Laurie Collyer attached to direct the Marilyn Monroe entry. The entry hails from Asylum Entertainment, the production company behind Lifetime's June Carter Cash biopic Ring of Fire as well as Reelz Channel's ratings hit The Kennedys.

Asylum's Jonathan Koch and Steven Michaels will exec produce alongside Kronish and Keri Selig. Selig was attached to exec produce Reelz's Kennedys follow-up, After Camelot, which, like Marilyn, was based on a book by Taraborrelli.

Taraborrelli's book is considered the most definitive Monroe biography. Published in 2010 [actually, it was 2009], the title explored the actress/pin-up girl's relationship with her mentally ill mother, her foster mother and her legal guardian as well as Monroe's own mental illness and her relationships with her family and the Kennedys."
The Secret Life of Marilyn Monroe is a sympathetic take on MM, and avoids conspiracy theories about her death. Director Laurie Collyer has enjoyed critical acclaim. However, Lifetime's recent biopics (such as Liz and Dick, starring Lindsay Lohan) have been widely panned. And screenwriter Stephen Kronish's prior depiction of Marilyn in The Kennedys was rather disappointing.
One of Taraborrelli's more contentious allegations about Marilyn is that she suffered from schizophrenia, which has never been proved. Some authors have also raised doubts about Taraborrelli's use of unnamed sources. In Marilyn: The Passion and the Paradox (2012), Lois Banner criticised the author for not using footnotes, arguing that this made it 'impossible' to check his sources and evaluate his conclusions.
Banner judged Taraborrelli's allegation that Grace Goddard put Norma Jeane in the orphanage because she wasn't getting along with Doc's daughter, Nona, as 'incorrect', adding, 'I can find no evidence that Nona lived with them in 1935. [Fred Lawrence] Guiles [in Legend] mentions a visit that summer.'
Banner also challenged Taraborrelli's claim that Marilyn took liquor to Rockhaven Sanatorium to drink with her mother (Gladys Baker Eley, a residential patient from 1952-1967) as 'inaccurate,' adding that 'Gladys considered drinking a sin, and Marilyn never visited her…Marilyn wasn't present when Grace discussed placing Gladys at Rockhaven, and Gladys was taken to Norwalk State Mental Hospital before Grace took her to Rockhaven some months later.'
You can read my review of The Secret Life of Marilyn Monroe here.