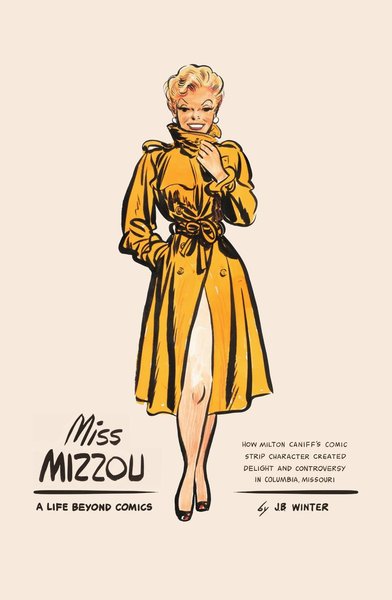 In a new book, Miss Mizzou: A Life Beyond Comics, J.B. Winter explores how, back in 1952, a rising star called Marilyn Monroe was rumoured to have inspired cartoonist Milton Caniff to create Miss Mizzou, a trench-coated blonde bombshell, featured in his popular Steve Canyon adventure series about an Air Force pilot. She became a cult figure, and was even the subject of a lookalike contest, reports CAFNR News.
'For some time I had been mulling over a girl character who would be what a Marilyn Monroe type might be like if she had not hit the jackpot in Hollywood,' Caniff once said in an interview. 'Every college town has girls who live and work on the edge of the campus and who are very much a part of the life of the school,' Caniff is quoted as saying in a letter to the Missouri Alumnus magazine in 1954." – Columbia Missourian
According to Wikipedia, the Marilyn connection was confirmed in the May 1953 issue of Pageant magazine, although it was actually actress Bek Nelson-Gordon (nee Stiner) who provided Caniff with a visual model. Another character, Madame Lynx, was based on Madame Egelichi, the spy played by Ilona Massey in the 1949 Marx Brothers swansong, Love Happy, which also featured MM – and Massey also posed for Caniff. 'Pipper the Piper', who appeared just once, was modelled on John F. Kennedy.
A cartoonist himself, Winter – who lives in Columbia, Missouri – talked about Miss Mizzou and her local connections in an interview with Move, student magazine of the University of Missouri (or 'Mizzou'.)
"Winter said he seeks to prove that the Miss Mizzou character was not simply a 'one-line footnote in local history.' Though his nonfiction book originally arose from pure curiosity, his research, which included sifting through plenty of microfilm, soon became much bigger.

'I found out about Miss Mizzou in 2007,' Winter says. 'There was a blog post on a comic historian's website. He just posted a picture or two, not a lot of context. So, I was just like, What is this character? I thought it was just a character who appeared and that was it. I had no idea that there was all this campus interest. That continually surprised me.'

Dirk Burhans, a fellow cartoonist and creator of the Epiffany Jones comic strip, helped Winter with his book by reading early versions and making comments and suggestions. Burhans said he is also familiar with the importance of Caniff in the comic world.

'Caniff was such a big deal,' Burhans says. 'Caniff's Terry and the Pirates and Steve Canyon were the archetypal adventure strip that others used as their model. His artwork was characterized by simple lines and strong, confident use of light and shadow.'

Oddly enough, Caniff was not even a Columbia native; he lived mostly in New York City. Caniff only spent 24 hours in Columbia, to give a speech entitled 'Comic Strips Are Serious Business.'

Those hours must have been serious business for Caniff, because three years later, Miss Mizzou made her seductive grand entrance, dressed only in a golden trench coat.

'It's such a strange story,' Winter says. 'Caniff only came here for 24 hours and for it to just be such a big thing, it's just strange.'

The Marilyn Monroe-influenced Miss Mizzou immediately gained popularity. Winter cites numerous reasons for her fame, especially the inspiration behind her character and alumni interest.

'Initially I think it might have been Marilyn Monroe, the fact that Marilyn Monroe was becoming popular the same time Miss Mizzou was,' Winter says. 'When Caniff made that character, I don't think he realized how big Marilyn Monroe was going to be.

'You also have alumni interest. Specifically, you have a journalism school. They were interested because they were newspaper people, so they were interested in a newspaper strip.'

Burhans also says Miss Mizzou gained popularity because she wasn't like any other female comic character.

'Caniff's strips cycled through a number of sexy femme fatale characters who had the thick eyelashes and pouty lips. Miss Mizzou does not seem to be one of these, but rather was an ally of Steve Canyon's,' Burhans says."