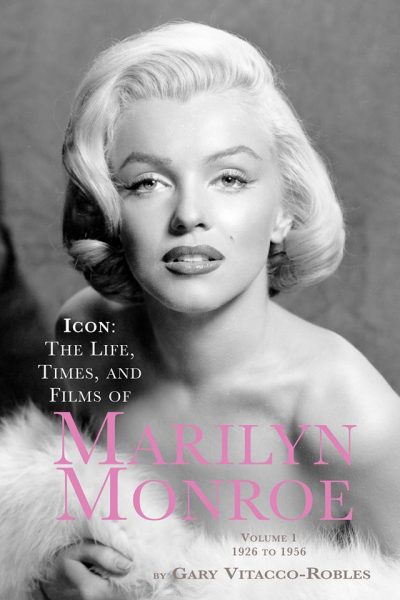 Icon: The Life, Times and Films of Marilyn Monroe is a new, two-part biography by Gary Vitacco-Robles, author of the much-admired Cursum Perficio. Volume I (covering 1926-56) is now available, with its companion to follow by summer. With the first volume alone clocking in at a massive 788pp (no pictures, all text), Icon is a very ambitious project. Elvis Presley and more recently Barbara Stanwyck are among the few entertainers to merit such extensive study. With so much published material on MM, and yet still so many mysteries, it could be the answer to this bibliophile's prayers.
Here's the synopsis:
"Goddess…Legend…Icon… You thought you knew her…but never before like this. Marilyn Monroe (1926-1962) survived a childhood marked by abuse, neglect, & chaos to become a psychological, cultural, & spiritual phenomenon of the Twentieth Century. Her remarkable life, brilliant film career, & posthumous legend have been deconstructed in over 600 biographies. Psychotherapist & author Gary Vitacco-Robles reframes & redefines the fascinating woman behind the iconic image through an analysis of her psyche and an appreciation of her film & stage performances. After a decade of meticulous research, Vitacco-Robles offers a treasure trove of facts comprehensively documenting each year of Monroe's inspiring life within the context of her tumultuous times & through her relationships with literary, entertainment, & political figures. Monroe is resurrected a half-century after her tragic death in this detailed & sensitive biography which intelligently explores her passionate desires: to be loved, become a serious actress, & have a family. Based upon interviews, diaries, & personal files–and void of sensationalism–Icon: The Life, Times, & Films of Marilyn Monroe dispels many myths & reveals the ultimate truth about Hollywood's most charismatic, beloved, & enduring star."
Icon is available directly from publisher BearManor Media; and in hardback or paperback from all good online bookstores.
You can read an interview with Gary at Immortal Marilyn
Icon also has a Facebook group – join here