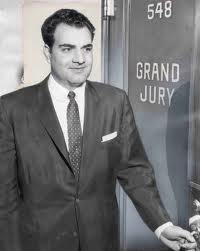 Yesterday's Hollywood Reporter contained allegations – not new, but still sensational – regarding the notorious 'private eye' Fred Otash's alleged tapes of Marilyn and John F. Kennedy.
"Now unveiled for the first time to The Hollywood Reporter by the detective's daughter, Colleen, and her business partner Manfred Westphal (a veteran publicist with APA, whose parents were Otash's neighbors), the records fill 11 overflowing boxes that for two decades have been hidden inside a storage unit in the San Fernando Valley."
In his 1985 book, Goddess: The Secret Lives of Marilyn Monroe, biographer Anthony Summers claimed that Otash began surveillance on her in 1961. And crime novelist James Ellroy is currently adapting his novella, Shakedown, for an HBO series about Otash's exploits in 1950s Los Angeles.
Otash wrote a manuscript, Marilyn Monroe and the Kennedys, before his death in 1992. It has never been published.
Stephen Galloway, author of the article, doesn't mention whether he actually listened to the tapes, or read Otash's notes on the case. Without confirmation that the recordings exist – and hard evidence that they are, indeed, of Marilyn – I remain unconvinced.
I also think that her personal life should remain private – but as we all know, sex sells.
Here is an excerpt from yesterday's article:
"TAPING MARILYN MONROE

'Marilyn wanted a mini-phone listening device,' Otash claims in the notes, adding that he spied on her even while she was paying him to install recording equipment so that she could tape her own phone calls. 'You could hide it in your bra. The microphone was a wristwatch. You could also put a suction cup on the phone. Later on, she wanted a sophisticated system put in her house. We wired up her phone because it started looking stupid with a suction cup.'

Otash listened in on Marilyn having sex with Kennedy when he was watching Lawford's house in Malibu, allegedly while working for Howard Hughes, who was seeking general information with which to discredit the Democrats. 'When the original Lawford house was wired, Monroe was not part of the plan,' Otash says in the files. 'It was to find out what the Democrats were up to on behalf of Howard Hughes and Nixon. Monroe became a by-product.'

The files include notes that he left for Colleen, in which he says he was conducting surveillance of Marilyn Monroe on the day she died.

'I listened to Marilyn Monroe die,' he claims in the notes, without elaborating, adding that he had taped an angry confrontation among Bobby Kennedy, Lawford and Monroe just hours before her death: 'She said she was passed around like a piece of meat. It was a violent argument about their relationship and the commitment and promises he made to her. She was really screaming and they were trying to quiet her down. She's in the bedroom and Bobby gets the pillow and he muffles her on the bed to keep the neighbors from hearing. She finally quieted down and then he was looking to get out of there.'

Otash only learned that Monroe had died when Lawford called him in the early hours of the following day and asked him to remove any incriminating evidence from her house. There is no record of what was removed, and the alleged tapes have since disappeared.

Shortly before Otash's death in 1992 at the age of 70, he told Vanity Fair: 'I would have kept it quiet all my life. But all of a sudden, I'm looking at FBI files and CIA files with quotes from my investigators telling them about the work they did on my behalf. It's stupid to sit here and deny that these things are true…'"