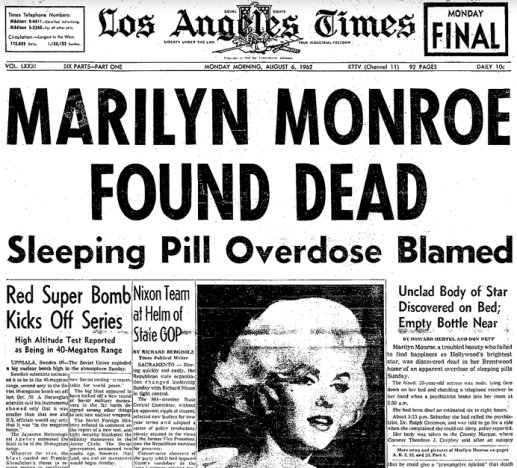 UK television's Channel 5 will broadcast a new, hour-long documentary – Marilyn Monroe: Missing Evidence – tonight at 8 pm. It is produced by Dan Chambers, the channel's former Director of Programmes, and David McNab, who has an extensive track record in innovative, CGI-led factual TV. Director Renny Bartlett is best known for his work on the Animal Planet series, I Shouldn't Be Alive.
The synopsis seems to indicate a theory akin to Donald Wolfe's in his controversial book, The Last Days of Marilyn Monroe, while the claim of recordings made inside Marilyn's home suggests either detective John Miner's widely-disputed 'transcripts' of tapes made by Marilyn for psychoanalyst Dr Greenson (still not found), or Private Investigator Fred Otash's unconfirmed allegations of wire-tapping.
At this stage, it's very unlikely that any new or conclusive evidence will emerge. I remain sceptical, but will give you my verdict after I've seen the documentary.
"Investigating the evidence that supports some of the world's most notorious conspiracy theories. Though she officially committed suicide, some people have long claimed that the FBI, the Mafia and even the Kennedy family may have been involved in Marilyn Monroe's death. This programme looks at some of these claims, and also reveals the contents of tape recordings made inside Monroe's house on the fateful day of August 5, 1962, which suggest her psychiatrist may have been responsible for her death, working under pressure from eminent individuals in high places." – Radio Times
UPDATE: You can read Andrea Pryke's review over at her blog, The Monroe Report.