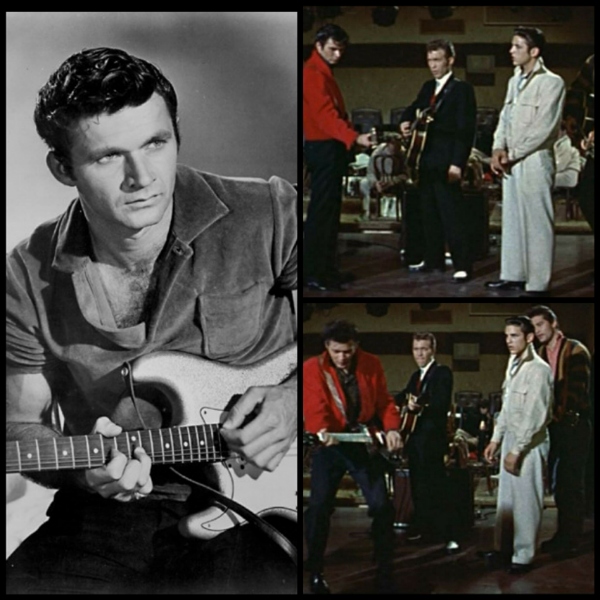 Richard Anthony Monsour was born in Boston, of Lebanese and Polish-Belarusian descent. His family moved to Quincy, Massachusetts when he was a child, and he had learned to play several musical instruments before buying a guitar from a friend (paying back the $8 cost in instalments.) In 1954, his father began working for the Hughes Aircraft Company and the family moved to El Segundo, California. At 17, the aspiring musician began playing at country bars, where TV presenter 'Texas Tiny' suggested he adopt the name Dick Dale.
Born left-handed, Dale played the guitar upside-down, and later partnered with Leo Fender to test new equipment. His love for Arabic music inspired him to use Middle-Eastern scales in his compositions, and his experiments with reverberation would make him a pioneer of surf rock.
But in 1956, Dick Dale was just like every other teenage boy who wanted to be the next Elvis Presley; and that year, he won an Elvis Sound-A-Like Contest in Los Angeles.
This led to an uncredited bit part in Let's Make Love (1960.) In a short scene just after Marilyn sings 'My Heart Belongs to Daddy', a group of Elvis impersonators audition for a part in a revue. Dick Dale, wearing a red jacket, is the first to perform and by far the best. (You can watch the clip here.)
But the role is won by another impersonator, played by 16 year-old John Gatti Jr., who dons the red jacket for his cameo in Marilyn and Frankie Vaughan's duet, 'Specialization.'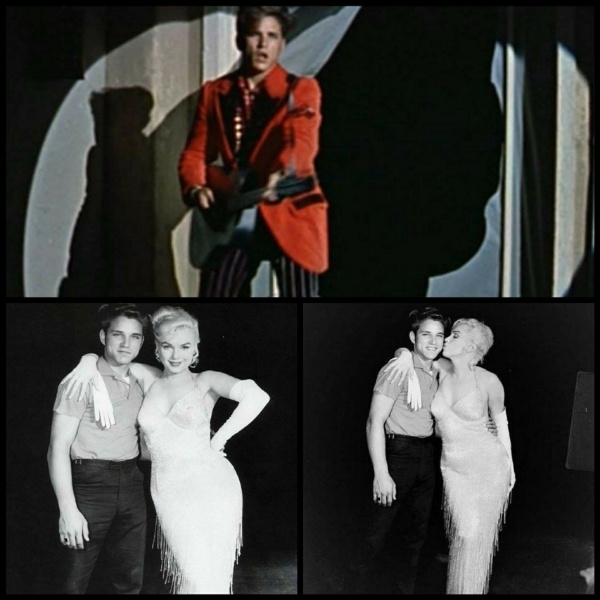 In 1961, Dale began playing surf guitar with his new band, the Del-Tones, at the Rendezvous Ballroom in Balboa. His first hit single was 'Let's Go Trippin''. They appeared on TV's Ed Sullivan Show, and in two of the popular Beach Party movies, and released two seminal albums. Among his many fans was a young Jimi Hendrix. As the British Invasion put an end to the surf craze, Dale battled cancer for the first time. He later returned to music and became an environmental activist.
Dale's career enjoyed a resurgence when his early hit, 'Misirlou', was featured in Quentin Tarantino's 1994 film, Pulp Fiction. A teetotaller and vegetarian, Dale also practiced karate. In later years, he continued touring to pay his medical bills. Dick Dale died in Lorna Linda, California,  on March 16, aged 81.
Thanks to Fraser Penney